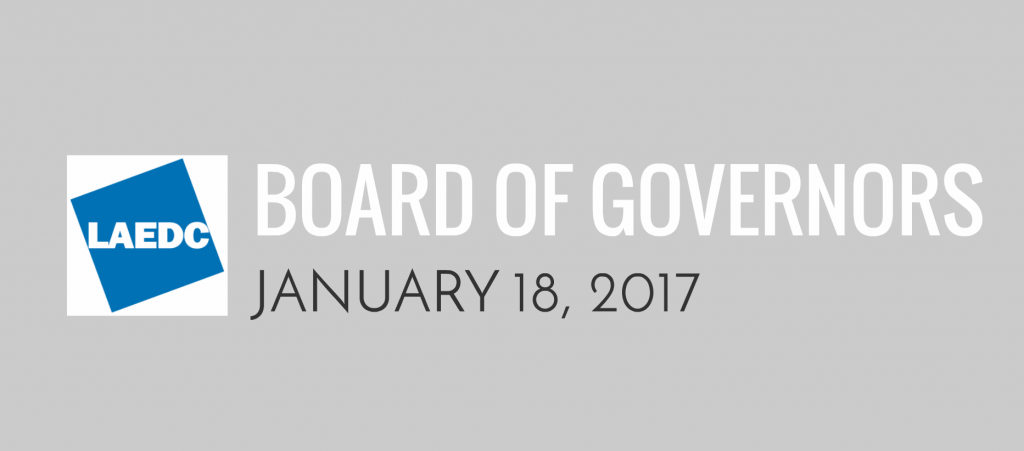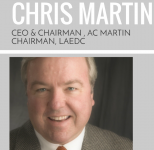 LAEDC welcomed 90 guests to its quarterly Board of Governors meeting on January 18, 2017 at the California Club. Chairman of the LAEDC, Chris Martin welcomed attendees and set the stage for an eventful morning.
Following Chris' welcoming remarks and member introductions, Elsa Flores, LAEDC's VP of Strategic Relations, announced three new LAEDC members: Seth Levy (Managing Partner) of Nixon Peabody, John Murnane (VP Global Operations) of Northrop Grumman, and Mike Quendazzi (Managing Director) of PricewaterhouseCoppers.

After Ms. Flores introduced our newest members, Bill Allen, LAEDC's CEO, shared how the LAEDC assisted Priom, Inc., in West Covina, CA to find better ways to utilize their existing space, reduce costs, and with additional funding, help retain their employees and potentially hire more in the near future. The CEO of Priom was delighted and grateful for the assistance. He mentioned, "LAEDC-We are so EXCITED! Thank you for all you do for a small business that needs an advocate like you. It was amazing to meet with us. We had no idea of all that is out there for a small business. Great information and we will take advantage of it. This will help us grow and be more successful. We believe the timing could not be any better. Thank you."
Other news reported by the LAEDC included the progress on the LA County Strategic Plan for Economic Development. The implementation plan requires $600,000 per year or a total of $3 million. We have secured about $1 million from generous stakeholders and are actively interviewing candidates for an executive director position to lead the implementation team. Chris Rico (Director of Innovation at the LAEDC) shared highlights from InLA2016, and his vision for how InLA2017 will grow and evolve with the continued support of LAEDC's members and partners.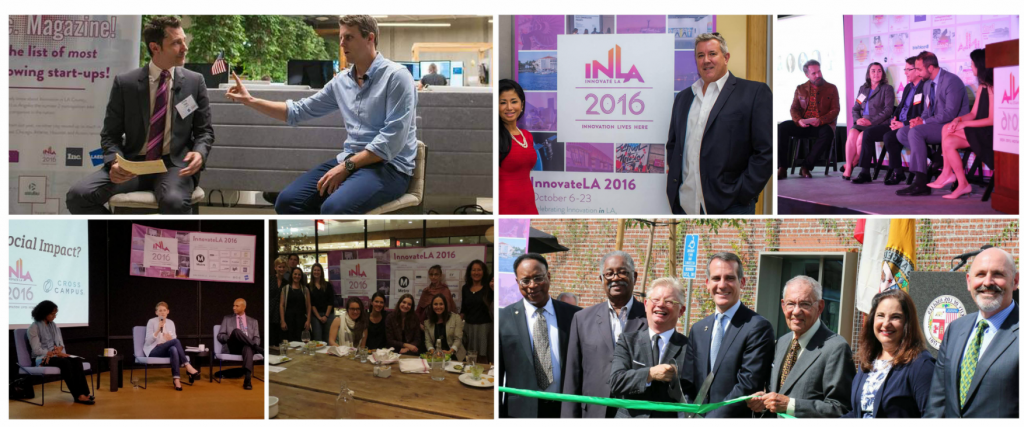 Stephen Cheung (President of WTCLA) also provided a update on his incredibly busy travel schedule which included trips to Cuba, Japan, China and NYC, to name a few.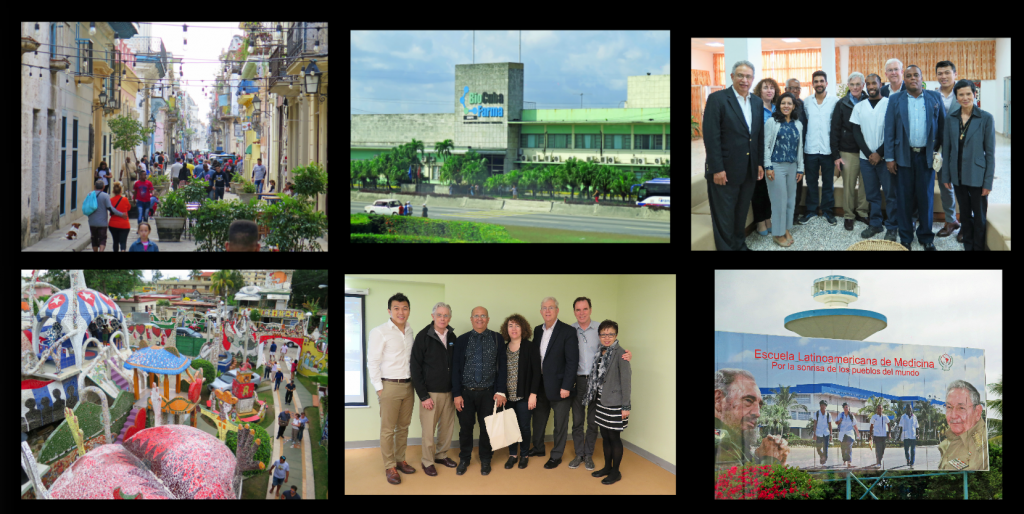 Dr. Christine Cooper (VP of the Institute for Applied Economics) gave a presentation that included highlights on Measure M, the economic impact of Van Nuys Airport, and Construction in Southern California. Measure M is projected to add almost $42 billion to the region's investment in transportation infrastructure, creating 465,000 jobs.  The report on the Van Nuys Airport correlated the fundamental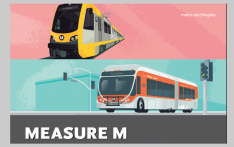 importance of one of the busiest general aviation airports in the nation. It is a critical asset in the region's air services and a significant job and wage creator. Dr. Cooper also shared a general economic overview of our region that showed that despite our region's ability to create jobs following the great recession, many of those jobs are in the service industry and pay lower wages than the jobs they replaced.
Dr. Cooper's presentation set the stage for an eye-opening video from the LAEDC's content partner, Working Nation, produced by Marshall Curry (Academy Award Documentarian) called "Slope of the Curve", which does a fantastic job outlining the looming jobs crisis our region and the larger global economy must confront in order to ensure continued economic prosperity. Please watch it if you haven't yet.
Our keynote speaker Dr. Francisco Rodriguez (Chancellor of the Los Angeles Community College District), closed out the meeting with an overview of the Los Angeles Community College District. He covered the enrollment by college, student profiles, and educational goals for its students. Dr. Rodriguez also announced local bond funding that is helping rebuild the systems infrastructure, the future needs, and the college district strategic initiatives.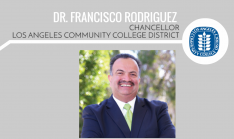 If you were unable to attend the meeting, or would like to access the presentations, please click here.