Los Angeles: Where business and pleasure converge
Despite what you see in the movies, there's more to Los Angeles than stars and cars. True, the glitz and glamour of Hollywood beckons thousands of newcomers each year. This year, LA's population–second only in the US to New York City, exceeded 4 million for the first time and Los Angeles County boasts more than 10 million residents.
People are attracted to LA and its environs for two primary reasons: work opportunities and quality of life. The city's legendary year-round temperate climate and varied topography enable residents to enjoy an outdoor lifestyle where one can hike a mountain and visit a beach on the same day, any day of the year.  With an incredibly diverse population, Angelinos speak as many as 350 languages, integrating multiple cultures into the ever-growing melting pot.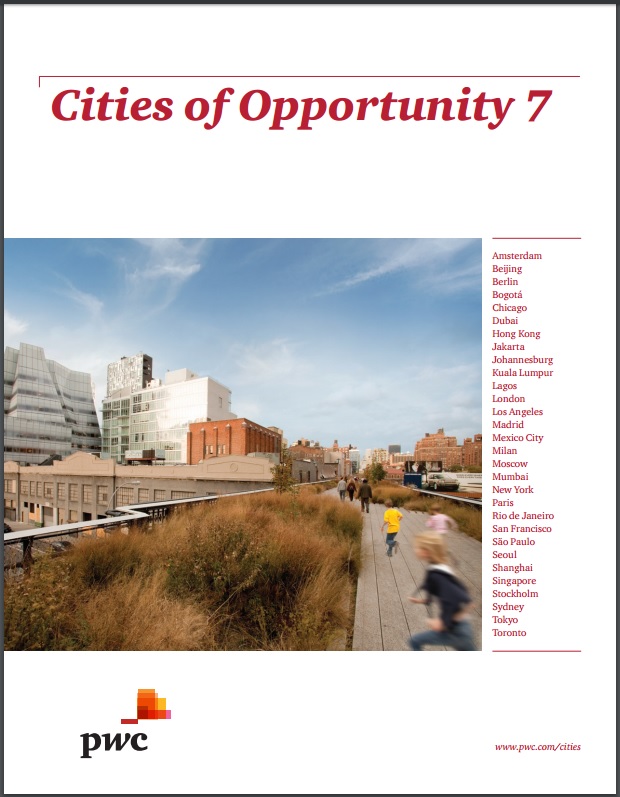 This September, PwC published the seventh edition of Cities of Opportunity, benchmarking the social and economic health of 30 of the world's leading cities of business, finance, and culture, including Los Angeles. The rise in prominence of cities in the global economy has been truly unprecedented. Fifty percent of the world's population lives in cities, and 1.5 million people are added to this total every week.[1] At a time when cities drive the world's growth, credible, transparent data helps us clearly understand future potential.
LA by the numbers
Los Angeles is a vibrant city, ranking #4 out of 10 in the demographics and livability indicator. It takes the lead among 30 cities in city brand (#1). LA scores #5 in senior well-being, #6 in relocation attractiveness, #7 in entertainment and attractions, and #9 in the "Youthful Cities" Index.
Among the 30 cities evaluated in the PwC Cities of Opportunity study, LA's desirable lifestyle makes it a strong force for attracting and retaining businesses. Some say these numbers bear out in the recent phenomena of Silicon Valley tech entrepreneurs using LA as their business hub, making LA a clear rival to the Silicon Valley.
Another reason for LA's desirability as a business mecca is its educational resources. Top-notch talent from more than 120 institutes of education call LA and its surrounding area home, including engineering schools at Caltech, UCLA, USC, and Harvey Mudd. Graduates in computer science, aerospace, and electrical and mechanical engineering have few incentives to leave Los Angeles, and many choose to work or start their own businesses here. LA's easy access to capital enables many successful entrepreneurs to bring their ideas to fruition, adding to the city's thriving startup scene. It is no accident that startups like Hulu, Hyperloop One, and more mature companies like SpaceX have chosen LA as their home base.
LA is making room for new residents and visitors. In Cities of Opportunity, LA advanced 19 places to #6 in the major construction activity measure. LA has experienced one of the biggest building booms in its history, with some $7 billion spent on new construction and remodels in 2015 (the highest since the 1980s), particularly on hotels and luxury apartment buildings.
But LA's traffic woes continue. Out of 30 cities in PwC's benchmarking, LA ranks #23 in mass transit coverage, #24 in traffic congestion, and #27 in ease of commute. But the city is doing something about it, funding a $40 billion, long-term plan to overhaul LA's entire transit system. As the first major city to synchronize its traffic lights, LA has already reduced travel times by 12%. The city is also making an effort to bring affordable housing closer to rail stations, reserving 35% of its land for housing at below-market rates for low-income residents.
The bottom line
Like all major metropolises, LA is a complex city with its share of pros and cons. While Hollywood's rich and famous attract visitors the world over, entrepreneurs find both creative talent and funding for bold new ideas, engineers push new media through old boundaries, and aerospace companies transcend the barriers of space and time.
PwC's Cities of Opportunity paints a picture of LA as a vibrant city committed to addressing critical growth factors. The study provides an objective perspective on where large, global cities are working best, and where challenges lie. With its rich history, vibrant present, and promising future, Los Angeles has much to offer the businesses and people who call the city home.
Mitra Best is the Chief Innovation Officer and Principal in New Ventures at PwC.  Follow her on twitter @MitraInnovates as she shares thought-provoking ideas from around the world.  @MitraInnovates
PwC is also an LAEDC member
[1] United Nations, Department of Economic and Social Affairs, Population Division (2012)