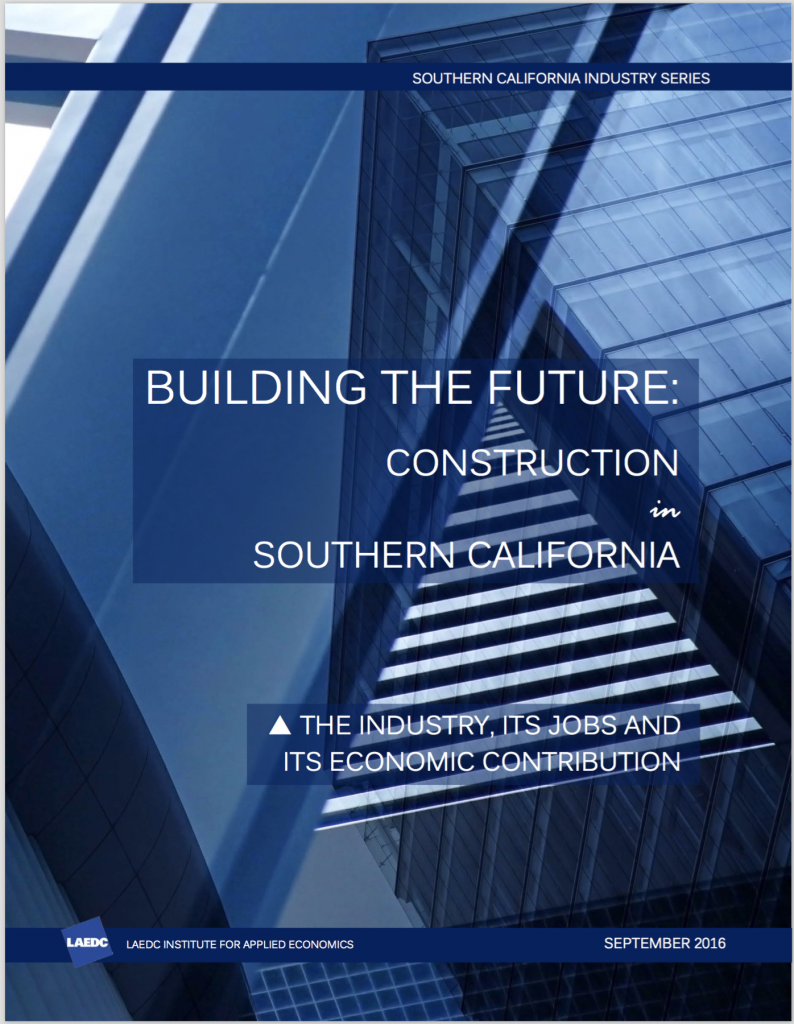 LAEDC's Institute for Applied Economics has released a study of the construction industry, focused on Southern California including Los Angeles County, titled Building the Future: Construction in Southern California, the Industry, its Jobs and its Economic Contribution.
The study was generously funded by JPMorgan Chase & Co. and provides a comprehensive look at the jobs and economic contribution of the construction industry.  The study reveals that the regional construction industry has finally rebounded from the Great Recession and there is significant job opportunity.  In addition, the composition of projects is changing.
The industry, which currently employs more than 313,000 workers across Southern California, is expected to generate 95,000 job openings during the next five years, including as many as 30,000 for skilled trade workers in occupations such as carpenters, electricians, plumbers and cement masons.  The data indicates significant economic opportunity for workers who are experienced or trained for these careers in our region.  Additionally, construction occupations often have career pathways that allow workers to begin entry-level positions and increase wages over time. Skills attainment programs are offered through more than 100 regional apprenticeship providers, as well as the many vocational training, certification, degree-related workforce development programs and through on-the-job training.  In all, the report indicates a strong demand for skilled workers, and a well-developed workforce training ecosystem, to provide economic opportunity for our region's residents.
Here are some details from the report:
·       Construction employment is taking longer than many industries to recover after the Great Recession, but is finally doing well again in Southern California.
·       Industry employment is 313,000 jobs in SoCal construction industry, and rising.
·       Trends in the report show the changing nature of the built environment, such as a trend towards more multi-family residential units.  In fact in LA County it's been dramatic — in the past ten years the percentage of permits for multi-unit construction has moved from 53% to 81%.
·       Trends suggest good economic opportunity for workers in the construction trades, like electricians, plumbers, cement masons, and related.
·       Housing affordability continues to be a major issue, with some sources projecting a need for an additional 100,000 units per year to be built in California in addition to the 100,000 to 140,000 units expected to be built to mitigate the affordability problem.
Read media coverage in the nine newspapers in SoCal News Group HERE.
Read media coverage in the LA Business Journal HERE.
Save