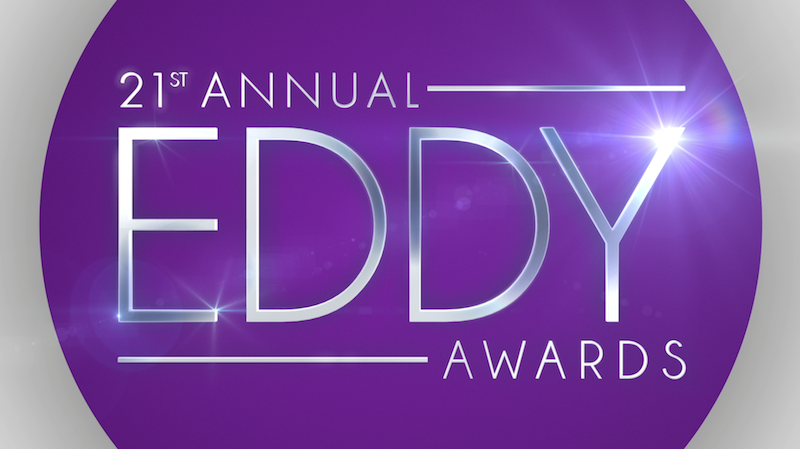 Santa Clarita and Pico Rivera Recognized as Los Angeles County's "Most Business-Friendly" Cities at LAEDC Eddy Awards
California State University–Long Beach, AECOM and Brian Lee, Co-Founder of The Honest Company, also honored for economic contributions
LOS ANGELES, CA – (November 10, 2016)  Tonight at the 21st annual Eddy Awards, the Los Angeles County Economic Development Corporation (LAEDC) recognized the City of Santa Clarita as the Most Business Friendly City with a population greater than 68,000 and the City of Pico Rivera as the Most Business Friendly City with a population under 68,000, which is the median population size for California's cities.
"This year's Most Business Friendly City awardees understand that communities and families thrive when good jobs are created," said Bill Allen, Chief Executive Officer of LAEDC. "And because business location is by choice in a globalized economy, these cities also appreciate that private sector job creation depends greatly on having business-friendly practices."
The winners were selected based on the following criteria:
Demonstrated commitment to economic development as a priority
Programs and services designed to facilitate business entry, expansion, and retention
Economic development activity over the past three years
Competitive business tax rates and fee structures
Availability of economic incentives
Regular communication with business clients
More details can be found at http://laedc.org/eddy-awards
Photos of the event are available at https://www.flickr.com/photos/laedc/albums/72157676325574255
Hear KNX radio host Frank Mottek interview Honoree Brian Lee and LAEDC Chair Chris Martin, at this LINK.
CITY OF SANTA CLARITA – 2016 Eddy Award Winner in the category of Population over 68,000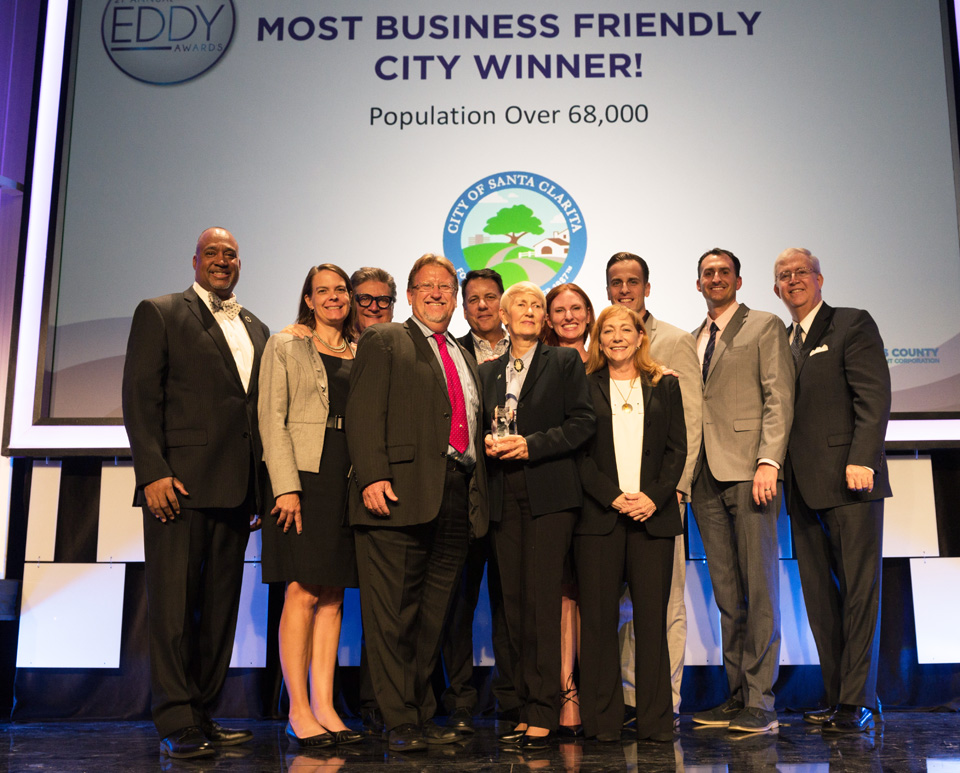 Santa Clarita is community minded and business driven, and businesses have a support team helping them navigate the challenges of sustaining growth. A strong network of city departments, business associations, community organizations, and governmental agencies work collaboratively to make Santa Clarita a business friendly haven in L.A. County. This unified approach cuts through red tape, streamlines permits, and ultimately provides more efficiency for local businesses.  The Panel of Judges also noted the extensive programs and incentives including targeted industry incentives, and strong collaboration with College of the Canyons for workforce development, a Film Friendly ordinance, and an Economic Development Element within the City's General Plan as factors demonstrating commitment to business friendliness.  City of Santa Clarita was the Winner of the Award in 2008, and a Finalist in 2006, 2007, 2014, and 2015.
Watch a video about Santa Clarita here.
CITY OF PICO RIVERA – 2016 Eddy Award Winner in the category of Population under 68,000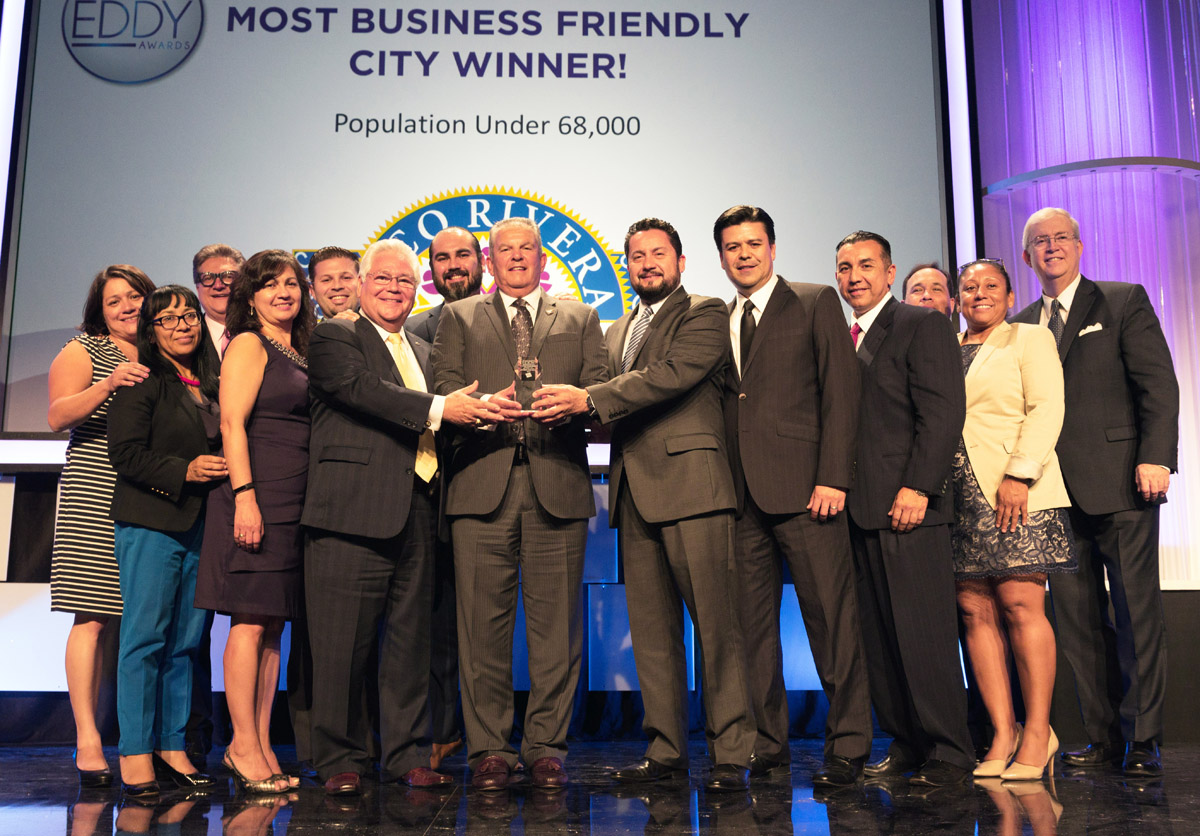 Over the years, The City of Pico Rivera has had a vision to become the most business friendly city in L.A. County. City officials have made developing relationships with the business community a priority. Ongoing city staff training focuses on customer service and continuous re-evaluation of services to increase value.  What is of utmost importance to the city is creating a dialogue with businesses, and assuring them that they have the backing of all the city's leaders and staff with one common goal…success.  The Panel of Judges also noted that Pico Rivera's new, dedicated economic development division, which was created in 2016 with three full-time staff, is a significant commitment to economic vitality and job opportunity. The city also looks at every aspect of delivery of services, and asks, "How does this add value and benefit our residents and businesses?" In addition, the city is developing alternative strategies such as sales tax rebate strategies that serve to attract new businesses and retain existing businesses.  Pico Rivera was a finalist for the Eddy Awards in 2012, 2013, 2014, and 2015.
Watch a video about Pico Rivera here.
EDDY AWARD HONOREES – 2016
LAEDC also recognized corporate, education and individual honorees for their outstanding leadership in economic development throughout L.A. County: AECOM, California State University – Long Beach, and co-founder of The Honest Company, Brian Lee.  Learn more about the Honorees at www.laedc.org/eddy
About the Eddy Awards®    www.laedc.org/eddy
The Eddy Awards were introduced by LAEDC in 1996 to celebrate exceptional contributions to economic development in the L.A. region, consistent with LAEDC's focus on increasing shared prosperity for our residents and communities. The Eddy Awards gala dinner, where our region's leaders come together, also includes California's only "business-friendly city" award, highlighting programs and services that are a factor in job-creation.
About LAEDC   www.laedc.org
Los Angeles County Economic Development Corporation (LAEDC) is focused on raising standards of living for residents of L.A. County by increasing economic opportunity and regional prosperity.  Through collaborative economic development leadership, LAEDC promotes a globally competitive, prosperous and growing L.A. County economy to improve the health and wellbeing of its residents and communities and enable those residents to meet their basic human need for a job.  Offering objective economic research and analysis, strategic assistance to government and business, and targeted public policy, LAEDC is guided and supported by the expertise and counsel of its business, government and education members and partners. LAEDC was established in 1981 as a private, non-profit, public benefit corporation.
Media contact: Lawren Markle, LAEDC, 213-236-4847, [email protected]