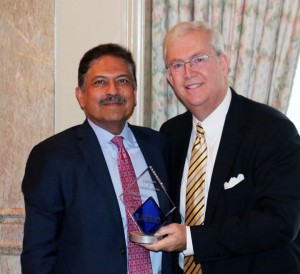 The opportunity to serve as Chairman for the Los Angeles County Economic Development Corporation this past year (2015-2016) has been incredibly rewarding and memorable for me. It has been an honor to partner with the inspiring talent that makes up this organization to help build a strong framework for LAEDC and the Los Angeles community. We have seen many positive development this past year and there have been numerous opportunities to dream big in building a better Los Angeles region.
LAEDC partnered with a wide range of stakeholders this past year as we worked on the L.A. County Strategic Plan for Economic Development. Throughout the process we heard a wide range of ideas, and our ability to build consensus on common priorities has helped me gain a greater appreciation for the diversity and culture that is unique to Los Angeles. It has been a pleasure to participate directly in the mission, programs and public policy initiatives of the LAEDC in helping to shape the region's economic future. I have thoroughly enjoyed working with various civic and business leaders to address public policy issues critical to the region's economic vitality and quality of life.
After facilitating the development of the region's five-year plan, it was a great privilege to also lead the LAEDC on an internal strategic planning process. As a team we were able to further align LAEDC resources with emerging challenges for the economy while supporting the goals that were identified in the L.A. County Strategic Plan.  For example, you will see an increasing LAEDC focus on fostering job growth in our key export-oriented industries, an important element of economic opportunity for all our residents.
As we to continue to promote a globally competitive, prosperous and growing LA area economy, I have been most impressed by the LAEDC's ability to bring people together in support of common goals and economic prosperity. The LAEDC has a long tradition of promoting business growth, job creation, and industry innovation and it has been an honor to support LAEDC's mission of improving the health and well-being of our residents and communities. As my term as Chairman comes an end, I remain focused on supporting the continued growth and vitality of greater Los Angeles by serving as an advisor on strategic matters related to partnerships and stimulating improved economics. I'm also excited to see our new Chairman and fellow builder, Chris Martin, taking the helm for the coming year with his rich knowledge of where we've been and his passion for continued growth and prosperity. Thank you to Bill Allen, CEO of the LAEDC and our members for an extremely rewarding year and for allowing me to be your chairman.
Praful Kulkarni, President and CEO of gkkworks
Outgoing Chair of LAEDC