v.20 n.23 – Released June 27, 2016
This Week's Headlines:
California Home Sales and Median Prices in May
The California Association of Realtors (CAR) released their May report covering California existing home sales and median prices. The statewide median price rose over the year by 6.3 percent to $518,760. This was the second consecutive month in which the median price rose above $500,000, following a nine-year span that saw the median price in California fall to $245.23 in February 2009 from a high of $594.54 in June 2007. A mismatch between supply and demand are driving up median home prices. The demand drivers of economic growth and household formation are still running ahead of supply in spite of declining affordability.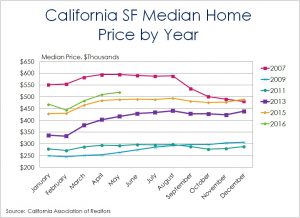 Sales of single-family homes declined by 3.2 percent over the year in May to 410,090 units (annualized rate, adjusted for seasonality). This was the second year-to-year decline after five-months of statewide growth. Lack of inventory continues to hinder home sales. Eight of the nine counties in the expensive San Francisco Bay region, where inventories are exceptionally tight, posted sales declines, while more affordable areas with better inventory like the Inland Empire and the Central Valley, saw increases. The statewide unsold inventory index in May was 3.4 months, down marginally from 3.5 months in April. Prior to the housing crisis, a seven-month supply was considered normal for the state. That level of inventory has not been seen in years, so perhaps it's time to ask if the current situation is the new normal.
Mortgage interest rates were essentially flat in May, with the 30-year, fixed-mortgage interest rate averaging 3.60 percent, compared with 3.61 percent in April but down from 3.84 percent in May 2015.
Below is a year-over-year summary of sales and price activity in Southern California by county. Although the statewide sales figures are seasonally adjusted, regional and county figures are not.
Los Angeles County: unit sales moved lower by 1.2 percent over the year to May, while the median price rose by 8.0 percent to $467,040.
Orange County: sales were up by 4.3 percent and the median price edged higher by 2.5 percent to $735,910.
Riverside County: sales of existing homes rose by 6.0 percent, while the median price moved higher by 6.4 percent to $353,900.
San Bernardino County: sales edged up by 1.9 percent in May as the median price jumped by 11.0 percent to $245,080.
San Diego County: unit sales increased by 4.2 percent, while the median price rose by 9.9 percent to $591,800.
Ventura County: sales were up by 1.9 percent over the year and the median price increased by 1.7 percent to $631,140.
Source: California Association of Realtors
California State Tax Revenues Increase by 3.7% in 1Q16
The U.S. Census Bureau released figures for first quarter state and local tax collections by state and type of tax. At $222.3 billion, total tax revenues collected across all fifty state (excluding Washington, DC) were up by 1.6 percent in the first quarter of 2016 compared with the same period in 2015. In California, tax revenues were up by 3.7 percent to $36.9 billion in the first quarter – an indication of stronger economic growth and the improving health of state and local government finances within California.
All three of California's largest tax revenue categories reported increases in collections during the first quarter. General sales tax revenues were up by 1.6 percent to $9.7 billion, but were outpaced by the national increase of 2.5 percent. Personal income tax collections were $18.5 billion in the first quarter, an increase of 4.2 percent. Nationally, personal income taxes were up by 1.7 percent. Personal income taxes are California's largest revenue source (making up half of all tax revenues collected in the first quarter), but personal income tax revenues are also notoriously volatile. Not all states have a personal income tax, relying instead on higher property taxes and/or severance taxes (a tax on the extraction of a natural recourse like coal, crude oil or natural gas).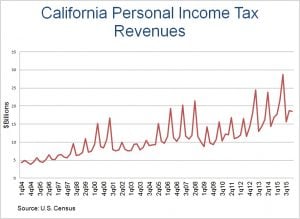 California's corporations paid $2.3 billion in income taxes during the first quarter, an increase of 23.4 period compared with the same period a year ago. Corporate tax payments tend to be even more volatile than personal income taxes, but they count for a relatively small share of California's "Big Three" revenue sources. Across the U.S., corporate income tax revenues were down by 4.9 percent.
Other noteworthy gains include a 6.0 percent increase in California's property tax revenues to $627.6 million, the result of rising home prices, and a decline of 11.1 percent in motor fuel taxes, which help to fund expansion and maintenance of state's roads and highways.
Altogether, sales and personal income taxes made up 67 percent of state revenues nationwide. California relies more heavily on these two revenue sources compared with other states. Sales and personal income taxes regularly contribute 75 percent or more of total tax revenues received in a given quarter. (Kimberly Ritter-Martinez)
Source: U.S. Census Bureau
U.S. Travel and Tourism Spending Accelerates in 1Q16
Real spending on travel and tourism increased by 5.2 percent (seasonally adjusted annualized rate) during the first quarter of 2016. This followed a modest increase of 1.5 percent (revised) in the final quarter of 2015. By way of comparison, real gross domestic product rose by just 0.8 percent during the first quarter. The Bureau of Economic Analysis tracks the travel and tourism industry in the United States because it is an important source of jobs and economic activity, especially here in Southern California. Additionally, foreign visitors traveling to the U.S. and the Los Angeles region are an important source of export revenues.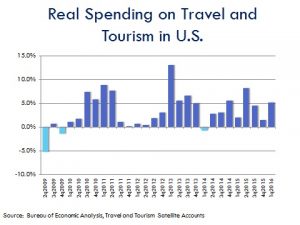 Spending on travel-related goods and services was $835.3 billion during the first quarter of 2016, compared with $824.7 billion in the previous quarter. The leading contributors to the acceleration in first quarter spending were air transportation, which increased by 24.8 percent, other transportation-related goods and services (up by 3.4 percent), and recreation and entertainment (up by 4.5 percent). Food services and drinking places also posted significant gains. The only tourism-related sector to see a decline in spending was traveler accommodations, which fell by 2.7 percent.
Prices for travel and tourism goods and services moved higher in the first quarter, increasing by 3.0 percent after edging down by 1.3 percent in the previous quarter. Prices were up almost across the board. The price index for accommodations increased by 5.5 percent and the transportation price index was up by 4.0 percent. Prices at restaurants and bars rose by 2.6 percent, but the aggregate index for recreation, entertainment and shopping inched down by 0.5 percent.
Following a series of revisions, employment in the travel and tourism industry has been less a source of steady job growth over the last several quarters than originally reported. Direct employment in this sector increased by 1.5 percent during the first quarter after expanding by just 1.0% in the previous quarter, while job counts declined during the first three quarters of 2015. Employment increased in accommodations, food services and drinking places, and recreation, entertainment and shopping. Employment in transportation services fell by 1.6 percent because of a sharp decline (-3.7 percent) in non-air transportation services. During the fourth quarter, nearly 5.4 million workers were employed in the U.S. travel and tourism industry or about 4.0% of total nonfarm employment. (Kimberly Ritter-Martinez)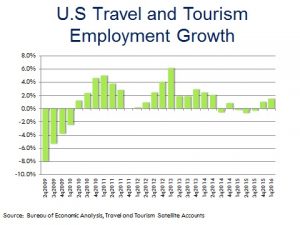 Source: Bureau of Economic Analysis
Events of Interest
Events of Interest
October 18, 2016: Southern California Visitor Industry Outlook Conference
Embassy Suites LAX North Hotel
Please join us for the 28th Annual Southern California Visitor Industry Outlook Conference to be held at Embassy Suites LAX North Hotel . Hear from noted experts, representing a range of travel sectors, offer their best assessment of the southern California economic situation and how it may affect your business. All attendees receive an electronic link of CBRE Hotel's 2017 Lodging Forecast and will be able to enjoy a continental breakfast buffet before the conference begins.
November 10, 2016: The Eddy Awards
Beverly Hilton: 9876 Wilshire Blvd., Beverly Hills, CA 90210
The Eddy Awards annual dinner gala and awards ceremony celebrates exceptional public and private leadership in LA County economic development, with the Most Business-Friendly City Award and recognition of honorees that demonstrate outstanding contributions to economic development in the region. It is an extraordinary opportunity to network with leaders from all sectors in the region. Join us Thursday, November 10th, 2016 at the Beverly Hilton.
This is LAEDC's only fundraiser and your sponsorship make our work possible. LAEDC is the only organization in Southern California focused on a comprehensive approach to raising standards of living, which includes fostering job creation in our leading industry clusters and ensuring our residents can access those job opportunities. LAEDC's initiatives, including the Strategic Plan for Economic Development, address the root causes of poverty and income inequality, and set a foundation for widely shared prosperity. Sponsor the Eddy Awards, and associate your organization's name with this transformative progress.