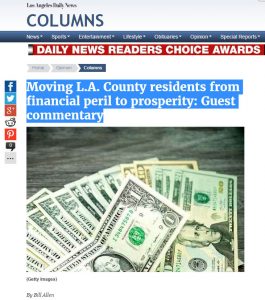 Bill Allen, CEO of LAEDC, wrote guest commentary for the Los Angeles Daily News on Moving L.A. County Residents from Financial Peril to Prosperity. 
Click here for the full article.
Moving L.A. County residents from financial peril to prosperity: Guest commentary
Fifteen percent of Los Angeles County residents live below the official poverty line, but more than three times as many — 49 percent — are "liquid asset poor." They lack sufficient savings to live above the poverty level for three months if they lose a job or suffer a financial emergency.
Many county residents are unable to set aside sufficient funds to create a basic personal safety net for emergencies, or to plan for future education or for business start-up or home ownership.
The problem is not simply low wages. It's lack of access to financial services that help build net worth. Take banking, for instance. The U.S. Census Bureau estimates that L.A. County is the third least-banked region in America. Twenty-eight percent of county households are currently either "unbanked (having neither a checking nor savings account) or "underbanked" (having a checking or savings account but regularly using "alternative financial institutions" such as check-cashing stores or payday lenders).
These "alternatives" drain low-income residents' scant savings. More than $54 million in check-cashing fees and $88 million in payday loan fees each year are paid by county residents. If those consumers had better financial services options, much of that $142 million could go toward building household savings, thus increasing economic stability for their families and communities.
Recently, the county has taken a more aggressive approach to contend with some of these economic, income and wealth disparities by raising the minimum wage and establishing programs to promote social enterprises, help small businesses thrive and prevent people from falling into homelessness when they encounter a short-term financial emergency.
On Tuesday, the Board of Supervisors will consider a motion by Supervisors Sheila Kuehl and Hilda Solis that will bring another important program to help county residents build net worth. Joining a growing number of forward-thinking local governments including Seattle, New York and San Francisco, the supervisors will establish a pilot Center for Financial Empowerment to open this fall.
Everywhere these centers have opened, they have helped thousands of families reduce their debt and save money. In L.A., the Center for Financial Empowerment will initially coordinate and promote the many existing financial services already available for low-income residents such as financial literacy, free tax preparation and helping consumers manage their debt.
The impact could be significant. San Francisco's Center opened nearly 10 years ago. In that time, it has helped more than 75,000 "unbanked" San Franciscans open safe, affordable bank accounts through the Bank On San Francisco program. More than 22,000 college savings accounts have been opened for public kindergarten students; families have saved a total of $1.8 million!
The Internal Revenue Service estimates that low- to moderate-income county residents fail to claim more than $370 million in federal earned income tax credit funds each year.
Last year, the state began offering its own earned income tax credit. An estimated 100,000 L.A. County residents could be eligible. By combining California and federal EITC, a family with three children could receive credits totaling nearly $9,000.
Many local public and private agencies do excellent work teaching financial literacy, providing free tax preparation services, helping consumers manage their debt and related issues. L.A.'s new Center for Financial Empowerment has the potential to make these existing programs much more effective. The $570,000 first-year cost of the pilot program would be funded through the existing Department of Consumer and Business Affairs budget, paired with support and expertise from Citi Community Development, which leads Citi's commitment to financial inclusion. Citi Community Development will leverage its deep experience of co-developing successful financial empowerment programs with local governments, including New York City and San Francisco, to ensure L.A.'s new Center has the best insights, expertise and resources to fulfill its mission.
Getting beyond living paycheck to paycheck is the foundation for financial stability for every family.
The Center for Financial Empowerment and its services could open the door to future small businesses, homes purchased and education savings accounts, and most importantly, to the middle class.
Bill Allen is CEO of the Los Angeles County Economic Development Corporation.