v.20 n.21 – Released June 13, 2016
This Week's Headlines:
California Financial Report for May
The State Controller's office has released the May cash report for the state's General fund. With only one month remaining in the fiscal year (2015-2016), total receipts were up by 4.6 percent to $104.2 billion compared with the same period last year. Total disbursements ($114.1 billion) were up by 6.0 percent, exceeding cash receipts by $9.9 billion. As of May 31, the state's cash balance was in the red by $7.4 billion.
Total revenues (receipts from taxes, licenses, fees and investment earnings) increased by 5.2 percent to $102.6 billion compared with the first 11 months of the previous fiscal year but came in slightly below expectations (-0.2 percent).
Personal income tax revenues increased by 5.8 percent to $69.1 billion, running 0.4 percent ahead of projections.
At $7.2 billion, corporate income taxes, one of the state's most volatile revenue sources, were down by 4.9 percent, missing projections by 5.7 percent. In the month of May, corporate tax refunds were much higher than anticipated, contributing to the overall shortfall of corporate tax revenues.
Revenues from sales and use taxes rose by 6.5 percent to $22.4 billion, but missed expectations by 0.3 percent.
Although the year-to-date figures show an increase in revenues over the same period last year, May marked the second month in a row during which overall revenues have fallen short of expectations.
The schedule of cash disbursements in the Controller's report showed that expenditures on Local K-12 Education were $42.4 billion fiscal year-to-date, an increase of 5.5 percent. Expenditures for Community Colleges jumped by 21.1 percent to $5.3 billion, while the UC and CSU systems received disbursements totaling $6.2 billion, an increase of 5.2 percent over the previous year.
Spending on health and human services was up by 5.7 percent over the year to $2.3 billion, while funds distributed to the Department of Corrections increased by 2.2 percent to $9.1 billion. The amount the state has paid to service its debt obligation so far this year rose by 3.0 percent to $4.9 billion.
As of May 31, the General Fund had $35.5 billion in unused borrowable resources against $7.4 billion in outstanding loans, which are composed entirely of internal borrowing.
Included in the Controller's monthly report was a review of the medium- to long-term risks to the state's fiscal outlook. The first was the onset of a recession, the risk of which is low at this time, but inevitable at some point. The second risk is the possibility of changes to federal government policies that reduce participation in shared programs, thus shifting more of the cost burden of shared programs to the state. The third risk comes from the difficulty of anticipating revenues from capital gains. These are the state's most volatile revenue source. The next is health care inflation in both the Medi-Cal program and provision of health benefits to employees and retirees. Health care costs are expected to outpace overall inflation and are likely to create ongoing pressure on the state budget. The final risk comes from debt, deferrals and long-term liabilities. According to the State Treasurer, "The state's budget challenges have been exacerbated by an unprecedented level of debts, deferrals, and budgetary obligations accumulated over the prior decade…" This means the state faces hundreds of billions of dollars in long-term costs that also include state retiree pensions and health care costs. (Kimberly Ritter-Martinez)
Source: California State Controller's Office
Consumer Credit Growth Slows in April
Total consumer credit outstanding increased by 4.5 percent ($13.4 billion) over the month in April to $3.6 trillion (seasonally adjusted, annualized rate). This followed a surge in consumer credit growth of 9.6 percent in March ($28.4 billion), the largest increase in dollar terms on record. Over the 12 months ending in April, total non-mortgage consumer debt was up by 6.2 percent.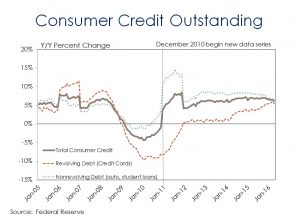 After a sharp increase of 13.3 percent in March, revolving credit (primarily credit cards) increased by 2.1 percent in April, which was somewhat slower than the average growth rate over the past 12 months of 5.6 percent and accounted for much of the overall slowdown in April. On a year-over-year basis, revolving credit was up by 5.5 percent but is still 6.9 percent below the peak level reached in July 2008. Meanwhile, non-revolving credit, which consists mainly of student and auto loans, increased by 5.4 percent ($11.7 billion) over the month and by 6.5 percent over the year.
Consumer credit as a percentage of nominal disposable income held steady at 26 percent for the second month in a row, but this ratio has been climbing at a fairly steady pace since 2011.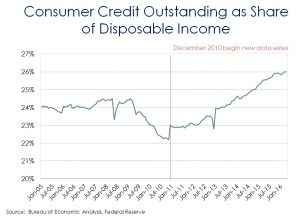 In spite of the slower pace of consumer credit growth in April, the fundamentals of consumer borrowing are basically solid – continuing job growth and rising incomes translate to more disposable income for consumers — and should support consumer borrowing as the year progresses. The composition of consumer credit, however, is expected to change. As growth in student loan debt moderates and the pace of new vehicle sales slows, reducing demand for auto loans, the pace of growth of credit card debt is projected rise and comprise an increasing share of consumer debt. (Kimberly Ritter-Martinez)
Source: Federal Reserve
Events of Interest
Register Now!
June 16-17, 2016: Select L.A. International Investment Summit
JW Marriott at LA Live: 900 West Olympic Blvd., Los Angeles, CA 90015
The 2016 SELECT LA Investment Summit is Southern California's premier international trade event that brings together global investors with business and governmental leaders from Southern California to facilitate and secure foreign direct investment (FDI), and gain exclusive insights on market trends and opportunities in the Los Angeles region.
SELECT LA offers the perfect environment to create and foster new relationships with individuals who are responsible for turning a conversation into an investment opportunity. Just as important is understanding the local processes and protocol for a diverse array of industries and verticals. World Trade Center Los Angeles will facilitate the conference and present many ways to get in the mix, such as table exhibits, one-on-one interactions, seminars and panels led by local and international innovators and executives.