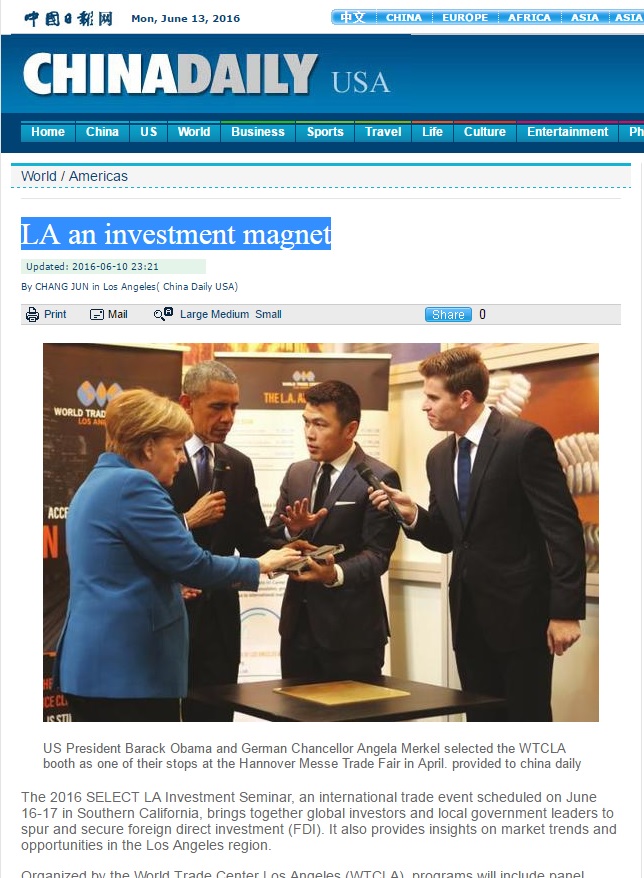 "There is really no comparison when it comes to potential and opportunity"
LA an investment magnet
Updated: 2016-06-10 23:21
By CHANG JUN in Los Angeles( China Daily USA)
US President Barack Obama and German Chancellor Angela Merkel selected the WTCLA booth as one of their stops at the Hannover Messe Trade Fair in April.
The 2016 SELECT LA Investment Seminar, an international trade event scheduled on June 16-17 in Southern California, brings together global investors and local government leaders to spur and secure foreign direct investment (FDI). It also provides insights on market trends and opportunities in the Los Angeles region.
Organized by the World Trade Center Los Angeles (WTCLA), programs will include panel discussions and speaker series on the theme of FDI.
As the second-largest city in the US, Los Angeles continues to be the premier destination for foreign investment. Stephen Cheung, president of WTCLA, said FDI is one of the major reasons for the economic growth of the greater LA region.
"We believe the there is no better market than LA," said Cheung. "LA County's GDP was $644 billion last year, making us the No 1 county economy in the nation. If we were a country, we would be the 20th largest economy in the world. With over 10 billion consumers living in LA County alone and over 18 million in the greater Los Angeles area, this is a market that investors can't afford to miss," he said.
Cheung said that LA had hundreds of booming industries, such as tech, aerospace, bioscience, advanced transportation, entertainment and tourism that support a stable real estate market.
"There is really no comparison when it comes to potential and opportunity," said Cheung.
Among the many sectors in LA, real estate and the entertainment industry have drawn the lion's share of FDI.
"We have seen in recent years that the face of Los Angeles is going through a drastic change," said Cheung. "In downtown LA alone, there are billions of dollars of investment coming from China and other countries that is literally changing our skyline."
Shanghai-based developer Greenland USA is constructing the first and second phases of its $1 billion, 2.1 million-square-foot Metropolis mega project in downtown LA. The first phase, which includes the 18-story, 350-room Hotel Indigo and a 38-story condo tower, is scheduled to be completed this year.
Beijing-based developer Oceanwide in March broke ground on its Oceanwide Plaza. The $1 billion project will have 752,000 square feet across one 49-story tower and two 40-story towers with 504 condominiums and 183 hotel rooms.
Within a two-mile radius of the South Park area of downtown LA, foreign investors from China and other parts of the world have been pouring billions of dollars into real estate projects that will bring new hotels, condos, apartments, retail space and jobs to the region, said Cheung.
Besides real estate, "we are also witnessing huge investment coming from companies like Dalian Wanda and Hunan TV into the entertainment sector," said Cheung.
In March 2015, China's second-largest TV company, Hunan TV & Broadcast Intermediary, announced it would inject about $375 million into the Santa Monica-based film studio Lionsgate over the next three years to enhance cooperation in TV production and Chinese film distribution.
In January, conglomerate Dalian Wanda Group acquired Burbank-based production and finance company Legendary Entertainment for $3.5 billion in cash, the largest Hollywood-China deal to date.
Companies like Virgin Galactic, DJI and Faraday Future are transforming LA's technology and manufacturing industries across the county, said Cheung, adding these were just a few examples.
"Due to the great impact these investments will have on the future of our economy and on Los Angeles, there is no better theme than FDI in the LA region for our summit," he said. "We have targeted these two industries (real estate and entertainment) because we believe there are a lot of great potential opportunities for foreign investors right now."
Concerned that investors might be overwhelmed with such a large region and diverse industries, Cheung and his organization designed matching services.
"We hope that our targeted approach will narrow down the choices for them, and provide useful information that will guide them to successful partnerships and investment opportunities," he said.
Prior to WTCLA, Cheung was the Secretary General for Los Angeles Mayor Eric Garcetti and responsible for managing policies and programs related to the Port of Los Angeles, LA World Airports, International Affairs and Global Trade.
Cheung served on the board of the LA Regional Export Council and the LA Business Council, and was the lead organizer for Mayor Garcetti's international trade missions to Mexico, China, Korea and Japan.
WTCLA has been selected by the California governor's office of business and economic development as the Southern California partner for its newly established California-China trade network.
Cheng said the most defining moment in his role as the president of the WTCLA occurred during its first trade mission to Hannover Germany in April. At the Hannover Messe Trade Fair, the largest industrial trade show in the world, Cheung and his team presented LA investment opportunities on a global stage.
"Of the thousands of exhibitors, US President Barack Obama and German Chancellor Angela Merkel selected WTCLA as one of the few stops during their visit. It was a very defining moment for me as the new president of WTCLA, as well as a career highlight," he said.