v.20 n.20 – Released June 6, 2016
This Week's Headlines:
Disappointing Jobs Report Falls Short of Expectations
The U.S. Labor Market Report covering the national employment situation in May showed a gain of just 38,000 nonfarm jobs. The unemployment rated fell to 4.7 percent, but that was primarily due to a drop in labor force participation. The average workweek was unchanged for the second month in a row at 34.4 hours but the average hourly wage increased by five cents to $25.59 following an increase of nine cents in April. Over the year, average hourly earnings were up by 2.5 percent.
The employer payroll survey reported that total nonfarm employment in the United States increased by 38,000 jobs in May, falling far short of expectations and taking many economists by surprise. There were also significant downward revisions to the March and April job counts resulting employment gains that were 59,000 less than previously reported. Year-to-date job gains have averaged 150,000 per month versus 181,000 during the same period last year.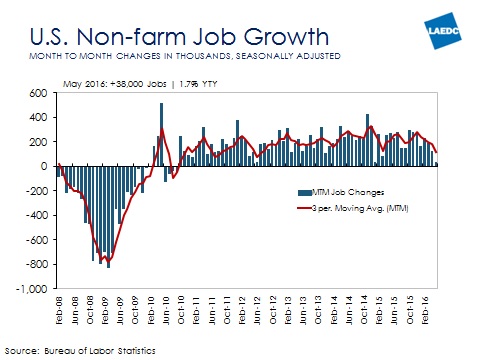 The private sector contributed 25,000 jobs to the May increase, while government jobs rose by 13,000. Within the private sector, the contrast in job creation between the goods-producing industries compared with service-producing industries was stark. Goods producing industries (mining and logging, construction and manufacturing) lost 36,000 jobs last month, while service-oriented industries posted a gain of 61,000 jobs.
The industries that posted the largest gains over the month were health care services (55,400 jobs); professional and technical services (25,800 jobs); educational services (11,700 jobs); retail trade (11,400 jobs); and leisure and hospitality (11,000 jobs). In addition to declines in the goods producing sectors, information employment fell by 34,000 jobs, administrative and waste services jobs were down by 11,800 and wholesale trade fell by 10,300.
On a year-to-year (YTY) basis, U.S. employment expanded by 2.4 million jobs, an increase of 1.7 percent. Mining and logging and durable goods manufacturing were the only major industries to record a decline over the year with a loss of 129,000 and 80,000 jobs respectively. The largest YTY gains occurred in health care and social assistance with 588,000 jobs added over the year, an increase of 3.2 percent. Leisure and hospitality added 394,000 jobs (up 2.6 percent). Retail trade also posted a strong gain (323,000 jobs, 2.1 percent), as did professional and technical services (286,000, 3.3 percent) and construction (219,000, 3.4 percent).
Turning to the household survey, the unemployment rate fell from 5.0 percent to 4.7 percent over the month. However, drop in the unemployment rate was also accompanied by a decline in the labor force participation rate to 62.6 percent (from 62.8 percent in April), as 458,000 people exited the labor force.
The U-6 unemployment rate, which is the most comprehensive of the six unemployment rates published by the BLS held steady at 9.7 percent for the second consecutive month. Unlike the "headline" unemployment rate, the U-6 picks up part-time workers who would prefer full-time work and individuals who would like to work but have given up looking for a job because they think there are no jobs available for them, perhaps due to a skills-mismatch. People sometimes wonder which is the "correct" unemployment rate and the answer is neither because they measure two different things.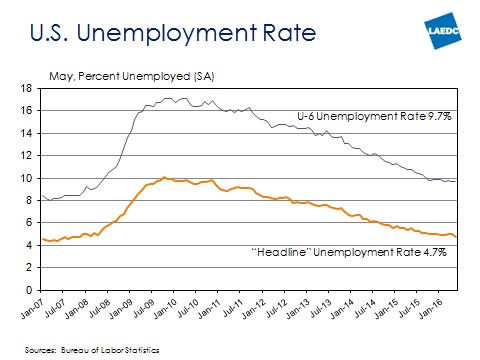 There was some good news in the report. The number of individuals out of work six months or longer fell by 178,000 over the month and by 606,000 over the year. The long-term unemployed now constituted 25.1 percent of all unemployed persons. The average share going back to 2000 is 26.1 percent. The growth rate of the average hourly wage also accelerated slightly, with an average annual gain of 2.44 percent year-to-date versus 2.18 percent for the same period last year.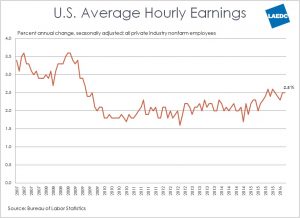 Summary: The employment numbers for May were pretty dismal, which was surprising given the string of positive economic indicators released this week. Normally, we would take a wait-and-see attitude about not reading too much into a single month, but when accompanied by the downward revisions in March and April the overall effect is unsettling and will likely result in the Fed holding off in a June interest rate hike. (Kimberly Ritter-Martinez)
Source: Bureau of Labor Statistics
U.S. Vehicle Sales Fail to Rebound in May
U.S. light vehicle sales slowed in May, declining by 1.5 percent over the year to 17.4 million units. The May selling pace was below the year ago rate of 17.6 million units and was only the second decline in year-over-year sales recorded since the first quarter of 2014. Compared with April, sales were virtually unchanged, edging up by 0.2%. On a per unit volume basis, approximately 1.53 million vehicles were sold last month, a 6.1% decline compared with year ago levels (IHS Global Insight).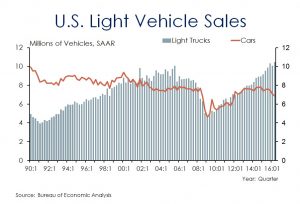 Total passenger car sales, including foreign and domestic models, fell by 11.6 percent over the year to 6.9 million units. This was the slowest sales pace for passenger cars since late 2011. Sales of passenger cars have fallen in 14 of the past 16 months on a year-over-year basis.
Sales of domestic autos declined by 12.0 percent over the year to 5.1 million units
Sales of foreign passenger cars were down by 10.6 percent to 1.8 million units
Compared with April, total passenger car sales were up by 1.0 percent.
Light trucks, SUVs and cross over utility vehicles continue to outpace sales of passenger cars. Sales were up by 6.6% over the year in May to 10.5 million units, accounting for 60.2% of the sales mix last month.
Sales of domestic trucks edge up by 1.3 percent over the year to 8.2 million units
Foreign light truck sales, which account for a much smaller share of the U.S. light truck market, jumped by 31.7 percent to 2.3 million units
Compared with April, sales of pick-ups, SUVs and CUVs inched lower by 0.3 percent
Sales of medium-heavy trucks, which are typically used by businesses for hauling freight and making deliveries, declined by 5.2 percent over the year in May to 435,000 vehicles.
Automobile sales have supported retail sales and real consumer spending growth for the past several years, while auto manufacturing has contributed to GDP growth. While the environment for car and truck sales remains favorable, new vehicle sales, after peaking at 18.1 million units last October, may be leveling off. On the one hand, interest rates and unemployment are low. Strong job and income growth will also continue to support demand for new vehicles. New car loans remain relatively easy to obtain and delinquency rates are low. However, the peak sales levels we saw late last year were not sustainable. Sales should average about 17.1 units through the remaining months of this year. Still a robust pace, supportive of consumer spending, but more reflective of where we are in this economic cycle. (Kimberly Ritter-Martinez)
Source: Bureau of Economic Analysis
U.S. Trade Deficit Widens in April
The U.S Commerce Department reported that while both imports and exports were up in April, imports rose more than exports, leading to an increase in the U.S. trade deficit. The April deficit of $37.4 billion was up $1.9 billion from $35.5 billion (revised) in March, which was the smallest trade gap since December 2013. The increase in the April deficit was the result of an increase in the goods deficit of $1.4 billion and a decline in the services surplus of $0.5 billion. Year-to-date, the deficit was 4.8 percent ($8.1 billion) less than the same period in 2015.
U.S. exports increased by $2.6 billion to $182.8 billion in March, while imports rose by $4.5 billion to $220.2 billion. Gains on the export side of the ledger were led by an increase in exports of industrial supplies and materials (in part due to higher commodity prices); capital goods, consumer goods and automotive vehicles and parts. Over the last year, export growth has been pulled lower by sluggish economic growth among America's major trading partners and the high value of the U.S. Dollar. However, the strong rebound last month suggests trade may boost economic growth in the second quarter. As to imports, the sharp increase in April was due to a rebound in oil prices that helped to push up the value of petroleum imports. Elsewhere, imports of automotive vehicles and parts and consumer goods also rose along with imports of capital goods.
The U.S. bilateral trade deficit with China, the largest trade deficit between the U.S. and any other country, increased in April, rising from $20.9 billion in March to $24.3 billion in April (not seasonally adjusted). However, compared with the year ago deficit of $26.8 billion, the April 2016 figure was down by 9.3 percent. The U.S. also ran trade deficits with most of its other major trading partners, including Canada, Mexico, Japan, the European Union and German.
This report also reflected revisions to the data going back to 2013 that showed smaller deficits – the nation's trade gap was 7.3% lower in 2015 than originally reported, while the 2014 deficit was revised down by 3.6 percent and the 2013 deficit by 3.5 percent.
Bottom Line: The U.S. trade deficit increased in April, reflecting current weakness in global trade and the relatively high value of the dollar. Although trade has been a drag on U.S. growth in five of the last six quarters, the U.S. still holds a relatively strong economic position and, with consumer spending driving the current expansion, expectations are for increased import demand accompanied by an increase in exports as the dollar stabilizes. (Kimberly Ritter-Martinez)
Source: Bureau of Economic Analysis
Events of Interest
Register Now!
June 16-17, 2016: Select L.A. International Investment Summit
JW Marriott at LA Live: 900 West Olympic Blvd., Los Angeles, CA 90015
The 2016 SELECT LA Investment Summit is Southern California's premier international trade event that brings together global investors with business and governmental leaders from Southern California to facilitate and secure foreign direct investment (FDI), and gain exclusive insights on market trends and opportunities in the Los Angeles region.
SELECT LA offers the perfect environment to create and foster new relationships with individuals who are responsible for turning a conversation into an investment opportunity. Just as important is understanding the local processes and protocol for a diverse array of industries and verticals. World Trade Center Los Angeles will facilitate the conference and present many ways to get in the mix, such as table exhibits, one-on-one interactions, seminars and panels led by local and international innovators and executives.