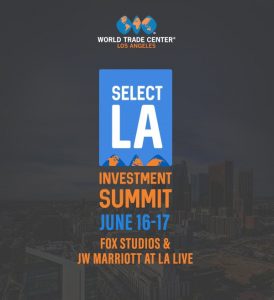 The 2016 SELECT LA Investment Summit is Southern California's premier international trade event that brings together hundreds of global investors with business and governmental leaders from Southern California to facilitate and secure foreign direct investment (FDI), and provide exclusive insights on market trends and opportunities in the Los Angeles region. This summit provides key components of what every foreign investment requires: detailed research and opportunities.
New Speakers for Event Include:
Hilda Solis – Chair and County Supervisor for the First District for Los Angeles County Board of Supervisors
Eric Garcetti – Mayor for the City of Los Angeles
Martin Willhite – General Counsel at Legendary Entertainment
Deborah Flint – CEO for Los Angeles World Airports
George Whitesides – CEO for Virgin Galactic and many more….
New Sessions for the Event Include: 
Investments in Entertainment – Lessons Learned, Capital Flow and Future Opportunities
Insights & Opportunities in the Los Angeles Real Estate Market
Trends in Technology – Deal Flow, Structure & Capital Sourcing
For a Full List of Speakers & Sessions for 2016 SELECT LA Investment Summit
Please click here.