v.20 n.19 – Released May 31, 2016
This Week's Headlines:
The Economic Well-Being of U.S. Households
The Federal Reserve has released the 2016 edition of a survey-based report that examines the economic well-being of American households. This year's report is the third in a series that focuses on how individuals and their families are faring financially. In addition to looking at overall well-being, the survey covers a range of topics including income and saving behaviors, economic preparedness, access to banking and credit, housing decisions, car purchases and auto lending, education and human capital, student loans and retirement planning.
Although extensive in scope, here are a few of the key findings in this year's report:
Sixty-nine percent of the adults surveyed reported they are "living comfortable" or "doing okay". This was up from 65 percent in 2014 and 62 percent in 2013. On the downside, 31 percent or approximately 76 million Americans indicated they are still struggling or just managing to get by.
While 68 percent of working adults saved a portion of their income in 2015, 46 percent said they either could not cover an emergency expense of $400 or would have to sell something or borrow to cover it. Unexpected medical expenses are a source of financial stress for many Americans: 22 percent of survey respondents said that last year they had a major unexpected medical expense that they had to pay out of pocket, and 46% of those who had a major medical expense reported they owe a debt from that expense.
Income volatility also represents a major concern, especially for lower-income households. Thirty-two percent of adults reported their income varies from month-to-month, while 43 percent reported their expenses vary. Forty-two percent of those with volatile incomes said they had trouble paying their bills due to income and expense volatility.
A majority Americans were confident that they could obtain credit if they needed it, but of the 46 percent who desired additional credit last year, 40 percent said they faced "real or perceived" difficulty in obtaining credit.
Seventy percent of adults were mostly or completely satisfied with the quality of their neighborhoods, although only 35 percent of respondents living in high poverty census tracts reported the same level of satisfaction. About half of the homeowners in the survey thought their homes appreciated in value last year and 43 percent expect values to rise again this year.
The likelihood of attending college and the type of college attended appears to be strongly correlated to the background of a person's parents. Just 16% of young adults with parents who have only a high school education or less have obtained a bachelor's degree, whereas 65 percent of students whose parents have completed a bachelor's degree have also completed one.
Over half of adults under age 30 who attended college have debt related to achieving their education in the form of student loans, credit card debt or some other form of debt. Twenty-one percent of those who borrowed to attend a for-profit school are behind on their loan payments, while only seven percent and five percent of those who attended a public or nonprofit institution, respectively, are behind on their payments.
A large share (31 percent) on non-retired respondents reported that they have no retirement savings or a pension; 27 percent of non-retired persons over 60 years of age had no private resources to fund their retirement. At the same time, nearly half of adults with retirement accounts are not very confident in their ability to make good investment decisions, and yet, about a quarter of them do not seek financial advice because they either believe they cannot afford it or do not know where to get it.
On the whole, last year the financial health of American families showed moderate improvement relative to 2014 and 2013. The employment outlook is brighter and more workers reported feeling confident they had the skills to get the kind of job they wanted (77% last year versus 67% in 2013). However, many families still find themselves in a precarious position, at risk for financial disruption because of income volatility, low saving rates and low rates of educational attainment. (Kimberly Ritter-Martinez)
Source: Report on the Economic Well-Being of U.S. Households in 2015
Fewer States Added Jobs in April
According to the Bureau of Labor Statistics, 11 states saw increases in total nonfarm employment over the month in April, while employment in 33 states was essentially unchanged. Six states saw payrolls decline. The largest job gains were in California (+ 59,600) and Florida (+31,100). The steepest declines occurred in Pennsylvania (-16,900) and Ohio (-13,500).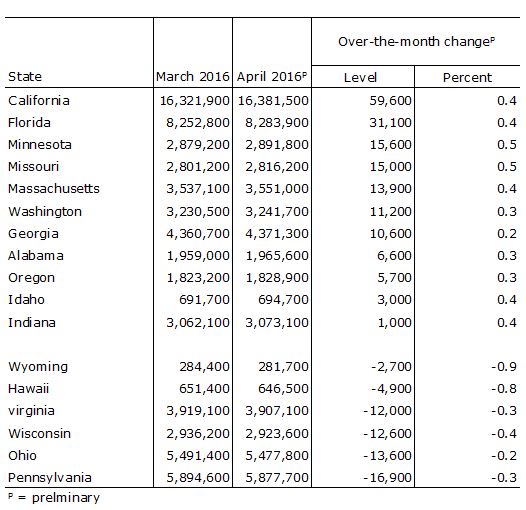 Over the year, nonfarm payroll employment increased in 37 states, while two states lost jobs and 11 were virtually unchanged. Although April saw six fewer states adding jobs compared with March, there were also four fewer states that experienced a decline. Over the year in April, the strongest job growth was again in California (+450,200) and Florida (+254,500), with Texas coming in third with a gain of 189,600 jobs.
South Dakota and New Hampshire had the lowest unemployment rates in April, 2.5 percent and 2.6 percent respectively. The highest unemployment rates were recorded in Alaska and Illinois, both at 6.6%. There were ten states in which the unemployment rate fell in April, while four states suffered notable rate increases. Over the year, 19 states posted unemployment rate declines. The only significant over-the year rate increases were in Wyoming (+1.4 percentage points) and North Dakota (+0.5 point) both states hit hard by the downturn in coal (Wyoming) and low oil prices (North Dakota). In these states and other "energy" states, a decline in the mining and natural resource sectors is spilling over into broader state economy, causing a slow down in the manufacturing, construction and trade sectors.
Overall, there were 19 states that had unemployment rates lower than the national rate of 5.0 percent and 10 states that were higher, including California at 5.3%. Overall, unemployment rates were highest in the coastal states and the Sunbelt. These are the regions that bore the brunt of the housing crisis. Unemployment rates also tended to be higher in rust-belt states that have been hit hard by the loss of manufacturing jobs. (Kimberly Ritter-Martinez)
Source: Bureau of Labor Statistics
Foreign Born Make Up 28 Percent of Labor Force in Pacific States
According to the Bureau of Labor Statistics, in 2015 there were 26.3 million foreign-born workers in the U.S. civilian labor force, or 16.7 percent of the total. The Pacific states had the highest share of foreign born workers at 28.1 percent, followed by the mid-Atlantic states (21.2 percent) and the West South Central states at 17.7%.
Foreign born workers also had a higher labor force participation rate compared with native born Americans, 65.2% versus 62.2%. The highest participation rate among foreign born workers was in the West North Central states (71.5 percent) and the lowest was in the Pacific and Middle Atlantic states (both at 63.7 percent). However, in all nine geographic regions, foreign born workers were more likely to be in the labor force than native born Americans. (Kimberly Ritter-Martinez)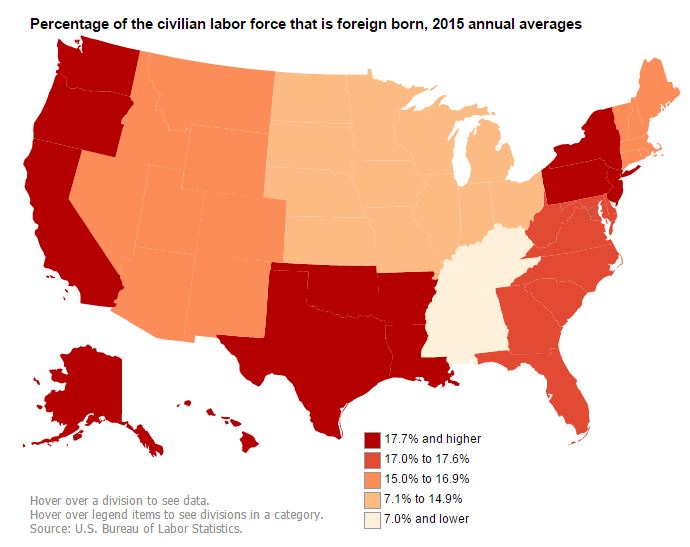 Source: Bureau of Labor Statistics
SoCal Home Sales and Median Prices in April
Home sales in Southern California declined over the year in April, falling by 3.2 percent to 21,312 units (new and resale houses and condominiums). This was only the second time in the last 12 months that sales fell on a year-over-year basis. The April sales figure was 10.5 percent below the average for that month going back to 1988 when this data series began. A closer look at the April sales number shows a marked difference in sales of newly constructed homes versus sales of existing homes: new home sales were 43 percent below average for the month of April, while sales of existing homes were off by just 6.3 percent. Year-to-date, home sales in Southern California are up by just under three percent over the same period last year. The demand is there, fueled by job growth, household formation and low interest rates, but low inventories, credit constraints and affordability continue to keep a lid on sales.
The median price across Southern California rose a little faster last month, increasing by 6.8 percent over the year to $458,000 after posting a gain of 5.6 percent in March, and was the highest for any month since the median price was $462,000 in September 2007, nearly 10 years ago. The median home price in Southern California has know risen for 49 consecutive months on a year-over-year basis and is closing in on the peak median of $505,000 reached in mid-2007. Orange County matched its prerecession peak price last month, while Los Angeles and San Diego counties are now within 5.5 percent.
Sales continue to be skewed toward higher-priced homes. This means that the composition of home sales is having an effect on the rise in median price. The share of homes sold in April that were priced above $500,000 was 43.8 percent (the peak share was of 44.4 percent reached in September 2007), up from 39.1 percent a year ago, while the number of home sold for $500,000 or more was up by 3.5 percent. Meanwhile, home sales in the more affordable price ranges (below $500,000) fell by 14.9 percent. (Kimberly Ritter-Martinez)

Source: CoreLogic
Robust Income Growth and Higher Spending Kick Off Q2
Total personal income in the U.S. increased in April by 0.4 percent on a nominal basis, matching the March increase. Wages and salaries, which make up a little over half of personal income, rose by 0.5 percent. The remaining components of personal income also posted increases over the month: employer contributions to pension funds, medical insurance and government social insurance (+0.3 percent); proprietors' income (+0.6 percent); rental income (+0.4 percent); personal interest and dividends (+0.4 percent); and transfer receipts – primarily government social programs (+0.4 percent).
Real disposable income (adjusted for taxes and inflation) increased by just 0.2 percent primarily because of slightly higher inflation stemming from increases in gasoline prices. On the other hand, real personal consumption expenditures were up by 0.6 percent after remaining unchanged in March. Real spending on goods increased by 1.2 percent, up from 0.4 percent in March, to nearly $4.0 billion, while spending on services rose by 0.4 percent to $7.5 billion.
On a year-to-year basis:
Real disposable income rose by 3.3 percent after posting a 3.7 percent increase in March
Real personal consumption expenditures accelerated from 2.6 percent in March to 3.0 percent last month.
Growth in real spending on goods (4.0 percent) outpaced the increase in spending on services (2.5 percent), but in dollar terms, Americans spend almost two times as much on services as they do goods.
Inflation is showing signs of firming. Consumer prices edged higher over the month in April (0.3 percent) and were up over the year by 1.1 percent. Excluding food and energy, prices advanced by 1.6 percent.
The 0.5 percent rise in wages and salaries (the second such increase this year) is a sign that labor market conditions are tightening. Consumer spending climbed at a faster pace than incomes in April, and while that led to a pullback in the saving rate for the month, Americans continue to save at a elevated rate suggesting consumers remain cautious in their spending habits. (Kimberly Ritter-Martinez)
Source: Bureau of Economic Analysis
Events of Interest
Register Now!
June 16-17, 2016: Select L.A. International Investment Summit
JW Marriott at LA Live: 900 West Olympic Blvd., Los Angeles, CA 90015
The 2016 SELECT LA Investment Summit is Southern California's premier international trade event that brings together global investors with business and governmental leaders from Southern California to facilitate and secure foreign direct investment (FDI), and gain exclusive insights on market trends and opportunities in the Los Angeles region.
SELECT LA offers the perfect environment to create and foster new relationships with individuals who are responsible for turning a conversation into an investment opportunity. Just as important is understanding the local processes and protocol for a diverse array of industries and verticals. World Trade Center Los Angeles will facilitate the conference and present many ways to get in the mix, such as table exhibits, one-on-one interactions, seminars and panels led by local and international innovators and executives.