v.20 n.18 – Released May 23, 2016
This Week's Headlines:
April State and Local Employment Report
The Employment Development Department (EDD) released the state and local employment reports for the month of April. Total California nonfarm employment increased by 59,600 jobs over the month in seasonally adjusted (SA) terms. Additionally, the March increase originally reported as 4,200 was revised up slightly to 5,200. The April year-over-year change showed an increase of 450,200 jobs (SA). This equated to a growth rate of 2.8%, exceeding the national growth rate of 1.9%. California's private sector added 401,500 jobs (an increase of 3.0%) over the year, while employment in the public sector rose by 2.0% (48,700 jobs).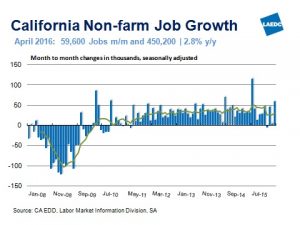 Employment growth continued across most industry sectors in April, with nine of the 11 super-sectors adding jobs over the year: construction; trade, transportation and utilities; information; financial activities; professional and business services; educational and health services; leisure and hospitality; other services and government for a combined gain of 458,500 jobs. For the second consecutive month, educational and health services posted the largest gain on a numerical basis, adding 98,600 jobs (up by 4.1%), while construction continued to claim the largest gain in percentage terms, up by 7.0% and adding 49,800 jobs.
Two sectors continued to show declines: mining and logging employment plunged by 12.0%, a decrease of 3,600 jobs, while manufacturing shed 4,700 jobs (-0.4%).
California's unemployment rate declined again over the month, falling from 5.4% in March to 5.3% in April, further narrowing the gap between the state unemployment rate and national rate of 5.0%. The last time the California unemployment rate was this close to the national rate was the summer of 2006 when the differential was just 0.2%. The number of employed persons now stands at a record high of nearly 18.1 million (an increase of 2.0% over the year), while the number of unemployed workers fell by 17.2% over the year to 1.0 million. California's labor force also grew over the year, increasing by 0.8% to 19.1 million workers.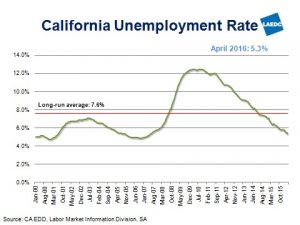 County highlights:
(Note: With the exception of the Los Angeles County unemployment rate, county level numbers are not seasonally adjusted, which means there can be large month-to-month fluctuations in job counts. A truer picture of how local labor markets are faring is revealed by focusing on the year-over-year numbers. Annual trends "correct" for the seasonal factors that influence certain industry sectors over the course of the year.)
In Los Angeles County, the seasonally adjusted unemployment rate improved over the month to 5.1% (falling below the statewide rate) compared with 5.4% in March and was down from the year ago rate of 7.2%. Total nonfarm employment (not seasonally adjusted) rose by 15,900 jobs over the month and was up over the year by 106,800 jobs, an increase of 2.5%.

Private education and health services posted the largest year-over-year increase, adding 37,900 jobs. Most of the gain was in health care (up by 28,800 jobs), while educational services added 9,100 jobs to the total. Trade, transportation and utilities payrolls increased by 15,500 jobs, while leisure and hospitalities expanded by 15,000 jobs. Manufacturing employment was down by 6,400 jobs over the year, while mining and logging shed 100 jobs.

In April, the unemployment rate in Orange County was 3.9%, down from 4.0% in march and below the year-ago figure of 4.3%. Nonfarm payroll jobs increased by 9,600 over the month and were up by 48,200 over the year (an increase of 3.1%).
In the Riverside-San Bernardino area, the unemployment rate in April was 5.6%, down from 5.8% in March and below the year ago estimate of 6.4%. The Inland Empire added 3,100 nonfarm payroll jobs over the month and gained 43,500 over the year. This represented an increase of 3.3%.
In Ventura County, the unemployment rate was 4.8%, down from 5.0% in March and from the year ago estimate of 5.2%. Total nonfarm employment rose by 1,000 jobs over the month and was up by 4,100 jobs over the year (a gain of 1.4%).
Summary: Employment in California and in the Los Angeles five-county region continues to trend up with Los Angeles notably achieving an unemployment rate dipping blow the statewide unemployment rate. Most sectors added jobs over the month in April, while unemployment rates across the region are at their lowest levels since 2006. The year-over-year gains remain on track with impressive job gains in many industries, including health care, professional business services, leisure and hospitality, and construction. (Kimberly Ritter-Martinez)
Source: California Employment Development Department
California Home Sales and Median Prices in April
The California Association of Realtors (CAR) released their April report covering California existing home sales and median prices. The statewide median price rose over the year by 5.1% to $509,100. Although this was the first time in nine years that the median price has been above $500,000, it was still below the peak price of $594,520 reached in May 2007. Compared with March, the median price was up by 5.3%. With demand outpacing supply by a wide margin, housing affordability continues to decline. Many potential buyers are being forced by affordability issues to look further afield to inland regions adjacent to major metro areas and job centers.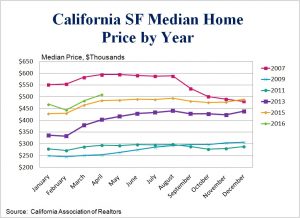 Sales of single-family homes declined by 5.4% over the year in April to 406,800 units (annualized rate, adjusted for seasonality). This was the first year-to-year decline in five months and was the largest drop in sales since August 2004. Hampering home sales are extremely low inventories. The statewide unsold inventory index in April was 3.5 months, down marginally from 3.6 months in March and up only slightly from the year ago supply of 3.4 months. The lack of inventory and competition for what is available in many of California's coastal employment centers continues to exert strong upward pressure on prices.
Mortgage interest rates eased slightly in April, with the 30-year, fixed-mortgage interest rate averaging 3.61%, compared with 3.69% in March and 3.67% in April 2015.
Below is a year-over-year summary of sales and price activity in Southern California by county. Although the statewide sales figures are seasonally adjusted, regional and county figures are not.
Los Angeles County: unit sales edged lower by 2.9% over the year in April, while the median price rose by 7.2% to $457,720.
Orange County: sales were down by 9.6% and the median price increased by 4.2% to $734,650.
Riverside County: sales of existing homes dipped by 3.0%, while the median price moved higher by 6.1% to $354,020.
San Bernardino County: sales edged lower by 0.2% in April but the median price increased by 8.1% to $236,850.
San Diego County: unit sales declined by 3.5%, while the median price increased by 9.9% to $583,490.
Ventura County: sales were fell by 8.1% over the year but the median price increased by 5.3% to $630,100.
Source: California Association of Realtors

Events of Interest
Register Now!
June 16-17, 2016: Select L.A. International Investment Summit
JW Marriott at LA Live: 900 West Olympic Blvd., Los Angeles, CA 90015
The 2016 SELECT LA Investment Summit is Southern California's premier international trade event that brings together global investors with business and governmental leaders from Southern California to facilitate and secure foreign direct investment (FDI), and gain exclusive insights on market trends and opportunities in the Los Angeles region.
SELECT LA offers the perfect environment to create and foster new relationships with individuals who are responsible for turning a conversation into an investment opportunity. Just as important is understanding the local processes and protocol for a diverse array of industries and verticals. World Trade Center Los Angeles will facilitate the conference and present many ways to get in the mix, such as table exhibits, one-on-one interactions, seminars and panels led by local and international innovators and executives.