v.20 n.17 – Released May 16, 2016
This Week's Headlines:
California Financial Report for April
The State Controller's office has released the April cash report for the state's General Fund. Ten months into the fiscal year (2015-2016), total receipts were up by 4.9% to $96.5 billion compared with the same period last year. Total disbursements ($106.4 billion) were up by 4.3%, exceeding cash receipts by $9.9 billion. As of April 20, the state's cash balance stood at minus $7.3 billion.
Total revenues (receipts from taxes, licenses, fees or investment earnings) increased by 5.4% to $95.1 billion compared with the first 10 months of the previous fiscal year but are running slightly below expectations (-0.7%).
Personal income tax revenues increased by 5.5% to $65.2 billion, but fell short of expectations by $1.2 billion or 1.8%.
At $7.5 billion, corporate income taxes, one of the state's most volatile revenue sources, were up by 1.8% and exceeded budget forecasts by 6.8%.
Revenues from sales and use taxes rose by 6.7% to $19.0 billion, but missed expectations by 1.1%.
The schedule of cash disbursements in the Controller's report showed that expenditures on Local K-12 Education were $39.5 billion during the first 10 months of the fiscal year, an increase of 5.1%. Expenditures for Community Colleges rose by 20.8% to $5.0 billion, while the UC and CSU systems received disbursements totaling $5.4 billion, an increase of 6.9% over the previous year.
Spending on health and human services was up by 5.3% over the year to $2.1 billion, while funds allocated to the Department of Corrections increased by 2.1% to $8.2 billion. The amount the state has paid to service its debt obligation so far this year rose by 4.3% to $4.6 billion.
As of April 30, the General Fund had $32.9 billion in unused borrowable resources against $7.3 billion outstanding loans, which are composed entirely of internal borrowing.
The lower-than-expected receipts from personal income taxes in April were a concern. Fiscal year-to-date, revenues are outpacing the previous fiscal year, but April revenues were $215 million lower than the same period a year ago. April is one of the most important months for personal income tax collection, the state's most important revenue source. It is too early to tell if April was a momentary blip or the start of a longer trend, but peaks and valleys are to be expected with this volatile revenue stream. (Kimberly Ritter-Martinez)
Source: State Controller's Office
Retail Sales Rebound in April
Seasonally adjusted U.S. retail and food services sales in April surged by 1.3% after declining by 0.3% in March. Even excluding autos, retail sales were up by a strong 0.8%.
Automobile sales shifted back into high gear last month, increasing by 3.2%. Because retail sales are not adjusted for price changes, higher prices at the gasoline pump (up by 2.2%) also pushed retail sales higher. Other notable gains were posted by nonstore retailers (2.1%); miscellaneous retailers (1.5%); and apparel stores (1.0%). Elsewhere, more moderate gains occurred at furniture and home furnishings stores (up by 0.7%); electronics and appliances stores (0.5%); food and beverage stores (0.9%); health and personal care stores (0.9%); sporting goods, hobby, book and music stores (0.2%); department stores (0.3%); and at restaurants and bars (0.3%). Only one major retail sales category posted a loss over the month – home improvement centers saw sales slip by 1.0%.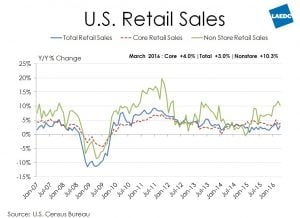 On a year-over-year basis, total retail sales in April were up by 3.0%. Most major sectors continue to report year-over gains with the exception of electronics and appliances stores (-2.0%) and gasoline stations (-9.4%). The strongest growth over the year occurred in: nonstore sales (mainly e-commerce), up by 10.2%; home improvement centers (8.2%); and health and personal care stores (8.1%).
After a weak first quarter, second quarter retail sales were off to a good start in April. This also augers well for personal consumption expenditures, raising expectations for a boost to second quarter GDP growth. (Kimberly Ritter-Martinez)
Source: U.S. Census Bureau

Events of Interest
Register Now!
June 16-17, 2016: Select L.A. International Investment Summit
JW Marriott at LA Live: 900 West Olympic Blvd., Los Angeles, CA 90015
The 2016 SELECT LA Investment Summit is Southern California's premier international trade event that brings together global investors with business and governmental leaders from Southern California to facilitate and secure foreign direct investment (FDI), and gain exclusive insights on market trends and opportunities in the Los Angeles region.
SELECT LA offers the perfect environment to create and foster new relationships with individuals who are responsible for turning a conversation into an investment opportunity. Just as important is understanding the local processes and protocol for a diverse array of industries and verticals. World Trade Center Los Angeles will facilitate the conference and present many ways to get in the mix, such as table exhibits, one-on-one interactions, seminars and panels led by local and international innovators and executives.