Chronicle of Philanthropy has published an article authored by LAEDC's Dave Flaks, on the role economic development plays in philanthropic pursuits.  Read the article below, or subscribers to the magazine can link directly to Chronicle of Philanthropy HERE.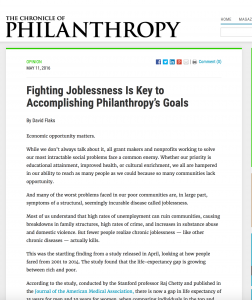 Opinion

May 11, 2016

---
Fighting Joblessness Is Key to Accomplishing Philanthropy's Goals
Economic opportunity matters.
While we don't always talk about it, all grant makers and nonprofits working to solve our most intractable social problems face a common enemy. Whether our priority is educational attainment, improved health, or cultural enrichment, we all are hampered in our ability to reach more people because so many communities lack opportunity.
And many of the worst problems faced in our poor communities are, in large part, symptoms of a structural, seemingly incurable disease called joblessness.
Most of us understand that high rates of unemployment can ruin communities, cause breakdowns in family structures, and lead to high rates of crime and increases in substance abuse and domestic violence.* But fewer people realize chronic joblessness — like other chronic diseases — actually kills.
This was the startling finding from a study released in April, looking at how people fared from 2001 to 2014. The study found that the life-expectancy gap is growing between rich and poor.
According to the study, conducted by the Stanford professor Raj Chetty and published in the Journal of the American Medical Association, there is now a gap in life expectancy of 15 years for men and 10 years for women, when comparing individuals in the top and bottom 1 percent of income in the United States.
Furthermore, life expectancy is not going up for the bottom 5 percent of income earners, while in this studied period it increased by about three years in the top 5 percent.
Extrapolate these finds to the growing numbers of long-term unemployed and underemployed and those working in the underground or low-wage service-sector economies — all of which contribute to structural poverty — and it becomes clear that joblessness is not just sharply shortening the lives of individuals and destroying families but weakening whole neighborhoods and entire regions of our nation. In truth, growing levels of economic hardship are undermining the important work done by all of us in the nonprofit world.
This means that foundations and nonprofits must recommit to increasing economic opportunity in struggling communities if they ever hope to get traction in solving America's problems and carrying out their important missions.
For example, a local philanthropic organization might look not only to establish food banks to feed neighbors in need but also work together with other entities to develop and deploy shared economic and work-force development programs with the goal of reducing the number of people who depend on food banks. It is the role of foundations and nonprofits not only to combat the destructive impact of crime, domestic violence, drug abuse, and other problems in our neighborhoods but also to rally around programs that positively influence the pervasive, unrelenting economic hopelessness that intensifies and contributes directly to those social problems.
No doubt this "joblessness disease" is far too large for any one foundation or nonprofit to cure. So if we are to make a concerted and bona fide attempt for bigger and transformational solutions — a race for a cure for joblessness and all that it wreaks, including poverty and, as we now know, shortened life expectancies, then we must come together, all of us from the foundation and nonprofit worlds, to drive regional solutions to create more high-value, high-wage jobs, and in so doing, advance our shared human development priorities.
Only by working together to devise specific and effective economic-development strategies will we have a chance to truly solve, versus merely relieve, the hardship many people in America's most needy communities face. Economic opportunity matters. It remains the common thread that weaves all our individual philanthropic missions together. America can't afford for us to work in isolation: We need nonprofits to join hands to save lives by focusing on jobs.
David Flaks is president and chief operating officer of Los Angeles County Economic Development Corporation, a nonprofit that seeks to raise standards of living for the needy.

(Excerpt: "High rates of long-term unemployment can devastate local communities, induce a variety of behavioral changes and alter social networks. Being out of work for six months or more is associated with lower well-being for the long-term unemployed, their families, and their communities. Persistent joblessness is linked to breakdowns in traditional family arrangements, increased use of public assistance, and high crime. When more concentrated in a neighborhood, persistent joblessness becomes a source of persistent poverty."
"The mortality consequences of job displacement are severe, with a 50 to 100 percent increase in death rates the year following displacement and 10 to 15 percent increases in death rates for the next 20 years. For a 40-year-old worker, that implies a decline in life expectancy of a year to a year and a half.")
####
---