v.20 n.14 – Released April 6, 2016
This Week's Headlines:
Events of Interest

May 10, 2016: San Gabriel Valley Economic Outlook
June 16-17, 2016: Select L.A. International Investment Summit
Economy Adds 215,000 Jobs Exceeding Expectations
The U.S. Labor Market Report covering the national employment situation in March showed a gain of 215,000 nonfarm jobs. The unemployment rate ticked up to 5.0% as more people entered or returned to the labor force. The average workweek was unchanged at 34.4 hours and the average hourly wage increased by seven cents to $25.43. Over the year, average hourly earnings were up by 2.3%.
The employer payroll survey reported that total nonfarm employment in the United States increased by 215,000 jobs in March, once gain exceeding expectations. The private sector contributed 195,000 jobs to the March increase, while government jobs increased by 20,000. There were also revisions to the January and February figures that resulted in employment gains that were 1,000 less than previously reported.
Job gains continue to be strongest in the service sector with an increase of 199,000 jobs that was partially offset by a decline of 4,000 jobs in goods-producing industries. The goods producing sector includes mining and logging, construction and manufacturing. Last month, job losses were concentrated in mining and logging (-12,000 jobs) and manufacturing (-29,000), while construction employment increased by 37,000 jobs. The industries that posted the largest gains over the month were retail trade (47,000 jobs); health care (44,000 jobs); and leisure and hospitality (40,000 jobs). Over the past three months, job gains have averaged 209,000 compared with 127,000 during the same period last year.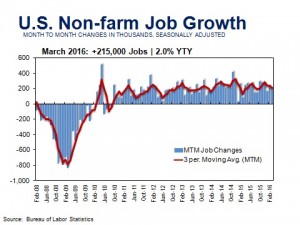 On a year-to-year (YTY) basis, U.S. employment expanded by 2.8 million jobs, an increase of 2.0%. Mining and logging and durable goods manufacturing were the only major industries to record a decline over the year with a loss of 139,000 and 68,000 jobs respectively. The largest YTY gains occurred in health care and social assistance with 647,000 jobs added over the year, an increase of 3.5%. Leisure and hospitality added 472,000 jobs (up 3.1%). Retail trade also posted a strong gain (378,000 jobs, 2.4%), as did construction (301,000, 4.7%).
Turning to the household survey, the unemployment rate edged up to 5.0% (from 4.9%) over the month. There was also an increase in the labor force participation rate (63.0% versus 62.8% in February). The labor force participation rate has now increased five consecutive months and stands above its year-ago level. Over the last 12 months, an additional 2.4 million workers have joined the U.S. labor force.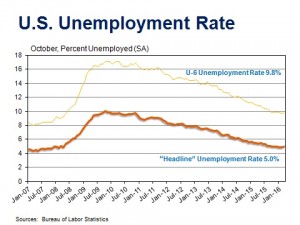 There continues to be some underlying distress in the labor markets. The more comprehensive U-6 unemployment rate ticked up to 9.8% but was down from the year-ago rate of 10.9%. The average for the U-6 measure going back to 1994 is 10.7%. The U-6 unemployment rate is the broadest measure of unemployment, counting part-time workers who would prefer full-time work and individuals who would like to work but have given up looking for a job. The number of individuals out of work six months or longer also remains above prerecession levels at 2.2 million people or 27.6% of all unemployed workers.
Summary: March was another month of solid job growth, coming in above expectations. The economy continues to add jobs on an annual basis of about 2.0%, which is consistent with economic growth continuing over the course of this year. Although wage growth could be better, employment and wage gains appear to be strong enough to be drawing workers back to the workforce. (Kimberly Ritter-Martinez)
Source: U.S. Bureau of Labor Statistics
U.S. Vehicle Sales Ease Up on the Accelerator
U.S. light vehicle sales slowed in March, declining by 3.5% over the year to 16.5 million units even though there were two more selling days last month than the same period last year. The March selling pace was significantly below the year ago rate of 17.1 million units, and the slowest pace of sales since February of last year. On a per unit volume basis, approximately 1.59 million light vehicles were sold last month, a 3.0% increase compared with year ago levels (IHS Global Insight).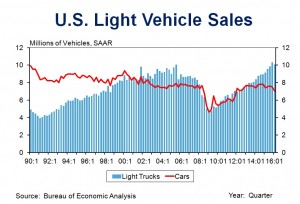 Light trucks, SUVs and crossover utility vehicles continue to dominate the new vehicle landscape, picking up additional market share in March. Sales were up by just 2.8% over the year in March to 9.8 million units, but accounted for 59.3% of the sales mix last month.
Sales of domestic trucks edged up by 0.2% over the year to 7.9 million units.
Foreign light truck sales, which account for 20% of the U.S. light truck market, rose by 15.2% to 1.8 million units
Compared with February, sales of pick-ups, SUVs and CUVs moved lower by 4.9%
Total passenger car sales, including foreign and domestic models, fell by 11.4% over the year to 6.7 million units. This was the slowest sales pace for passenger cars since late 2011. Sales of passenger cars have fallen in 10 of the past 12 months on a year-over-year basis. Through the first quarter of this year, passenger car sales were 92,000 units lower than the same period last year, while sales of light trucks were up by 215,000 units (IHS Global Insight).
Sales of domestic autos declined by 8.9% over the year to 5.0 million units
Sales of foreign passenger cars were down by 18.5% to 1.7 million units
Compared with February, total passenger car sales fell by 6.4%
Sales of medium-heavy trucks, which are typically used by businesses for hauling freight and making deliveries, increased by 1.4% over the year in March to 450,000 vehicles.
The environment for car and truck sales remains very favorable – fuel prices are low, credit is readily available and employment growth continues – but some automakers are having to worker harder for sales by offering more generous incentives. This is particularly true for passenger cars as the market continues to favor light trucks. There has also been in uptick in sales to rental car companies. Although Americans are still buying cars in large numbers, the market may nearing its peak. (Kimberly Ritter-Martinez)
Source: U.S. Bureau of Economic Analysis
Events of Interest
Register Now!
May 10, 2016: San Gabriel Valley Economic Outlook
Pacific Palms Resort & Conference Center: 1 Industry Hills Parkway, City of Industry, CA
Success in the 21st century requires having up-to-date data. The San Gabriel Valley Economic Partnership presents the only study specifically about the economy of the San Gabriel Valley, compiled by the Kyser Center for Economic Research, one of the most renowned economic research facilities in the nation. This special report provides the information business and community leaders need to understand opportunities for investment, business expansion, job creation and how to avoid pitfalls.
This is your opportunity to get the data first hand and ask questions of Economist Kimbery Ritter-Martinez and State Treasurer John Chiang.
June 16-17, 2016: Select L.A. International Investment Summit
JW Marriott at LA Live: 900 West Olympic Blvd., Los Angeles, CA 90015
The 2016 SELECT LA Investment Summit is Southern California's premier international trade event that brings together global investors with business and governmental leaders from Southern California to facilitate and secure foreign direct investment (FDI), and gain exclusive insights on market trends and opportunities in the Los Angeles region.
SELECT LA offers the perfect environment to create and foster new relationships with individuals who are responsible for turning a conversation into an investment opportunity. Just as important is understanding the local processes and protocol for a diverse array of industries and verticals. World Trade Center Los Angeles will facilitate the conference and present many ways to get in the mix, such as table exhibits, one-on-one interactions, seminars and panels led by local and international innovators and executives.