v.20 n.12 – Released March 22, 2016
This Week's Headlines:
February State and Local Employment Report
The Employment Development Department (EDD) released the state and local employment reports for the month of February. Total California nonfarm employment increased by 39,900 jobs over the month in seasonally adjusted (SA) terms. Meanwhile, the January loss of 1,500 jobs was revised down to a loss of 4,000 jobs. The year-over-year change showed an increase of 451,600 jobs (SA). This equated to a growth rate of 2.8%, exceeding the national growth rate of 1.9%. California's private sector added 412,000 jobs (an increase of 3.1%) over the year, while employment in the public sector rose by 1.6% (39,600 jobs).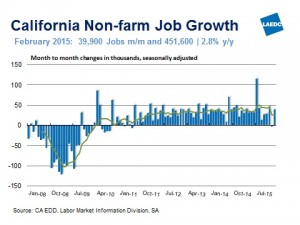 Employment growth continued across most industry sectors in February, with nine of the 11 super-sectors adding jobs over the year: construction; trade, transportation and utilities; information; financial activities; professional and business services; educational and health services; leisure and hospitality; other services and government for a combined gain of 457,300 jobs. Educational and health services posted the largest gain on a numerical basis, adding 102,700 jobs (up 4.3%), while construction continued to claim the largest gain in percentage terms, up 7.6% and adding 53,800 jobs.
Two sectors suffered declines in February: mining and logging employment plunged by 11.0%, a decrease of 3,300 jobs, while manufacturing shed 2,400 jobs (-0.2%).
California's unemployment rate declined over the month, falling from 5.7% in January to 5.5%, and was down from the year ago rate of 6.7%. The number of employed persons now stands at a record high of nearly 18 million (an increase of 1.9% over the year), while the number of unemployed workers fell by 16.4% over the same period to 1.0 million. California's labor force also grew over the year, increasing by 0.7% to 19.0 million workers.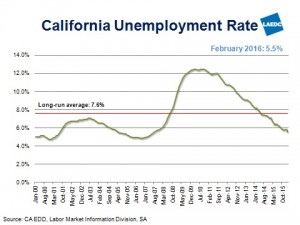 County highlights:
(Note: With the exception of the Los Angeles County unemployment rate, county level numbers are not seasonally adjusted, which means there can be large month-to-month fluctuations in job counts. A truer picture of how local labor markets are faring is revealed by focusing on the year-over-year numbers. Annual trends "correct" for the seasonal factors that influence certain industry sectors over the course of the year.)
In Los Angeles County, the seasonally adjusted unemployment rate improved over the month to 5.6% compared with 5.8% in January and was down from the year ago rate of 7.5%. Total nonfarm employment (not seasonally adjusted) rose by 45,800 jobs over the month and was up over the year by 107,300 jobs, an increase of 2.5%.

Educational and health services posted the largest year-over-year increase, adding 37,000 jobs. Most of the gain was in health care jobs (up by 29,400), while educational services added 7,600 jobs. Leisure and hospitality payrolls increased by 19,500 jobs, while professional business services employment expanded by 13,800 jobs. Manufacturing recorded the only decline over the year, contracting by 8,100 jobs.

In February, the unemployment rate in Orange County was 4.0%, unchanged over the month but below the year-ago figure of 4.7%. Nonfarm payroll jobs increased by 12,800 over the month and were up by 42,300 over the year (an increase of 2.8%).
In the Riverside-San Bernardino area, the unemployment rate in February was 5.8%, also unchanged over the month but below the year ago estimate of 6.9%. The Inland Empire added 3,100 nonfarm payroll jobs over the month and gained 46,800 over the year. This represented an increase of 3.5%.
In Ventura County, the unemployment rate was 5.1%, down from 5.3% in January and from the year ago estimate of 5.9%. Total nonfarm employment rose by 3,200 jobs over the month and was up by 3,500 jobs over the year (a gain of 1.0%).
Summary: Employment in California and in the Los Angeles five-county region continues to trend up. Most sectors added jobs over the month in February, while unemployment rates, already at their lowest levels since 2006, continue to fall. The year-over-year gains remain on track with impressive job gains in many industries, including health care, professional business services, leisure and hospitality, and construction. (Kimberly Ritter-Martinez)
Source: CA Employment Development Department
California Home Sales and Median Prices in February
The California Association of Realtors (CAR) has released their report on California existing home sales and median prices in February. The statewide median price rose over the year by 3.8% to $446,460, but was down over the month by 4.7% breaking a five month run of month-over-month price gains. February's year-over-year increase was the slowest rate of growth in six months and, in a reversal of recent trends, reflects a shift in sales toward lower-priced inland areas. Affordability and tight supply are beginning to drive aspiring home owners away from core urban areas to suburban neighborhoods and beyond.
Sales of single-family homes increased by 6.4% over the year in February to 393,360 units sold (annualized rate, adjusted for seasonality), but this is coming off a very low base of sales during the first quarter of last year. Although slowly improving, sales activity remains muted because of the low inventory of homes for sale – baby boomers are staying in their homes and new home construction remains at very low levels. Over the month, sales were up by 2.6%.
Mortgage interest rates edged down in February, with the 30-year, fixed-mortgage interest rate averaging 3.66%, down from 3.87% in January, and from 3.71% in February 2015. Below is a year-over-year summary of sales and price activity in Southern California by county. Although the statewide sales figures are seasonally adjusted, regional and county figures are not.
Los Angeles County: unit sales edged lower by 0.3% over the year in February, while the median price rose by 6.1% to $445,030.
Orange County: sales were up by 1.5% and the median price increased by 4.7% to $712,560.
Riverside County: sales of existing homes rose by 7.5%, while the median price moved higher by 3.5% to $334,440.
San Bernardino County: sales increased by 5.1% in February; the median price increased by 6.0% to $226,870.
San Diego County: unit sales declined by 4.7% but the median price increased by 7.7% to $537,580.
Ventura County: sales were down by 4.9% over the year, while the median price rose by 7.4% to $610,820.
Source: California Association of REALTORS
Retail Sales Take a Hit in February
Seasonally adjusted U.S. retail and food services sales in February declined by "only" 0.1%, somewhat less than expected. The big disappointment in this report was the sharp downward revision of the January figure from a gain of 0.2% to a decline of 0.4%. Core retail sales (total sales less automobiles, gasoline stations and building supply centers increased by 0.2%.
Sales at gasoline stations plunged by 4.4% last month, the result of declining prices. While a plus for American consumers, the steep decline in gasoline sales helped push overall retail sales into negative territory. Other sectors showing weakness were motor vehicle and parts dealers (down by 0.2%); furniture and home furnishings stores (-0.5%); electronics and appliances stores (-0.1%); food and beverage stores (-0.2%); general merchandise stores (-0.4%); miscellaneous store retailers (-1.1%); and nonstore retailers (-0.2%).
In spite of the overall loss, some retail categories posted strong gains in February including building material and supply centers (up by 1.6%); health and personal care stores (+0.7%); clothing and accessories stores (+0.9%); sporting goods, hobby, book and music stores (+1.2%); and foods service and drinking places (+1.0%).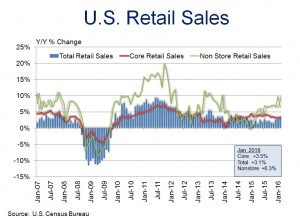 On a year-over-year basis, total retail sales in February were up by 3.1%. Most major sectors continue to report year-over-year gains with the exception of electronics and appliances stores (-3.2%) and gasoline stations (-16.5%). General merchandise stores remained in positive territory, up by 2.3% over the year in spite of the drag inflicted on this sector by declining department store sales (-2.2%). The biggest winners over the year were building material and garden supplies dealers, up by a whopping 12.2%, followed my motor vehicle parts and dealers (+6.8%); and sporting goods, hobby, book and music stores (+6.7%).
While further revisions may be in store next month, perhaps to the upside, some forecasters may be rethinking their expectations for first quarter GDP growth. Still, even the with weak showing for the first two months of 2016, retail sales are expected to move higher in March (helped by a recent uptick in gasoline prices). Consumer spending, of which retail sales are one part, is still doing all the heavy lifting in terms of U.S. economic growth. (Kimberly Ritter-Martinez)
Source: U.S. Census Bureau
U.S. Travel and Tourism Spending Slows in 4Q2015
Real spending on travel and tourism increased by 1.7% (seasonally adjusted annualized rate) during the fourth quarter of 2015. This followed an increase of 4.5% during the third quarter. In comparison, real gross domestic product rose by 1.0% during the final quarter of last year. The Bureau of Economic Analysis tracks the travel and tourism industry in the United States because it is an important source of jobs and economic activity, especially so in Southern California. Additionally, foreign visitors traveling to the U.S. and the Los Angeles region are an important source of export revenue.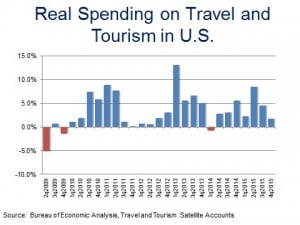 Spending on travel-related goods and services was $843.7 billion during the fourth quarter of 2015, compared with $840.1 billion in the previous quarter. The leading contributors to the deceleration in fourth quarter spending were traveler accommodations, which declined by 4.2% and transportation-related commodities (ex. air transportation), down by 6.8%. Declines in these categories partially offset gains in passenger air transportation (up by 12.7%); food services and drinking places (5.9%); recreation and entertainment (9.9%); and shopping (1.6%).
Prices for travel and tourism goods and services were also down in the fourth quarter, declining by 1.5%. Although prices were up in most sectors: traveler accommodations (6.4%); food services and drinking places (2.3%); and recreation and entertainment (1.0%), the steep decline in prices for transportation (-7.6%) pushed the tourism goods and services price index into negative territory.
The travel and tourism industry continues to be a source of steady job growth, posting consecutive gains since the second quarter of 2010. Direct employment in this sector increased by 1.6% during the fourth quarter after expanding by 2.2% in the previous quarter. Employment across all industries in the United State rose by 1.9%. All travel-related sectors posted a gain in employment, ranging from 4.1% for food services and drinking places to 0.8% for transportation. During the fourth quarter, over 5.7 million workers were employed in the U.S. travel and tourism industry or about 4.0% of total nonfarm employment. (Kimberly Ritter-Martinez)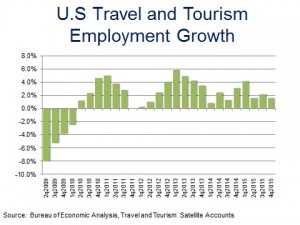 Source: U.S. Bureau of Economic Analysis
Events of Interest
Register Now!
May 10, 2016: San Gabriel Valley Economic Outlook
Pacific Palms Resort & Conference Center: 1 Industry Hills Parkway, City of Industry, CA
Success in the 21st century requires having up-to-date data. The San Gabriel Valley Economic Partnership presents the only study specifically about the economy of the San Gabriel Valley, compiled by the Kyser Center for Economic Research, one of the most renowned economic research facilities in the nation. This special report provides the information business and community leaders need to understand opportunities for investment, business expansion, job creation and how to avoid pitfalls.
This is your opportunity to get the data first hand and ask questions of Economist Kimbery Ritter-Martinez and State Treasurer John Chiang.
June 16-17, 2016: Select L.A. International Investment Summit
JW Marriott at LA Live: 900 West Olympic Blvd., Los Angeles, CA 90015
The 2016 SELECT LA Investment Summit is Southern California's premier international trade event that brings together global investors with business and governmental leaders from Southern California to facilitate and secure foreign direct investment (FDI), and gain exclusive insights on market trends and opportunities in the Los Angeles region.
SELECT LA offers the perfect environment to create and foster new relationships with individuals who are responsible for turning a conversation into an investment opportunity. Just as important is understanding the local processes and protocol for a diverse array of industries and verticals. World Trade Center Los Angeles will facilitate the conference and present many ways to get in the mix, such as table exhibits, one-on-one interactions, seminars and panels led by local and international innovators and executives.