v.20 n.11 – Released March 15, 2016
This Week's Headlines:
Are Wages Growing Faster Than We Thought?
Most U.S. labor market indicators point to an economy near full employment – the unemployment rate is now just below five percent and the economy continues to add over 200,000 jobs per month on average. Economic theory tells us that as unemployment falls, wages should rise. However, that relationship has been tenuous since the recovery. During the recession, average wage growth slowed much less than was expected given the massive increase in unemployment, but has remained relatively flat during the recovery. Over the past two years, wage growth has floated around 2.25%, significantly below the 3.25% average rate that occurred from 1983 to 2015.
A new report published by the Federal Reserve Bank San Francisco sheds some light on this puzzling aspect of the labor markets. In sum, the report finds that slow wage growth is not a sign of slack, but is instead the result of cyclical and secular shifts in labor market composition. Namely, higher-wage baby boomers have been retiring and lower-wage workers sidelined during the recession are now moving into full-time work.
During the Great Recession, while wage growth slowed among workers who held on to full-time jobs, their wages were propped up by the disproportionate firing of low-wage workers. Firms tended to retain their more highly skilled (and higher wage) employees. This shift in the mix of workers (high-skill versus low-skill) had the effect of moderating the cyclical decline in wages. There was also a sharp drop in hiring, which amplified this effect since new entrants are likely to take below-median wages.
In the years that followed the recession, as labor market conditions improved, wage growth increased for full-time workers who remained continuously employed. The drag on aggregate wage growth comes instead from the exit and entry of full-time workers. Many workers who had remained on the sidelines of the labor force or were holding part-time positions are now moving into full-time employment. The vast majority of these new workers (about 80%) earn less than the typical full-time employee so their entry pushes down the average wage growth. Additionally, baby boomers are retiring at an increasing rate, which means a large number of workers who earned higher than median wages are exiting the workforce. The exit of so many full-time, higher-paid workers has also pushed down average wage growth.
Summary: During the recession, changes in the composition of workers propped up wage growth despite the large increase in unemployment. As the labor market recovered, this pattern reversed. Although these patterns are part of the normal dynamics of recession and recovery, the magnitude of the Great Recession and demographic changes (retiring baby boomers) has thrown a wrench in the works.
The implication of these findings is that sluggish wage growth may be a poor indicator of slack in today's labor market. In fact, the report notes that after correcting for worker composition changes, current wages are consistent with a strong labor market that is drawing low-wage workers to full time employment. Therefore, measures of wage growth that focus on full-time and continuously employed workers are probably better indicators of labor market strength. (Kimberly Ritter-Martinez)
Source: Federal Reserve
California Financial Report for February
The State Controller's office has released the February cash report for the state's General Fund. Eight months into the fiscal year (2015-2016), total receipts were up by 6.1% to $72.2 billion compared with the same period last year. Total disbursements ($85.2 billion) were up by 4.1%, exceeding cash receipts by $12.9 billion. As of February 29, the state's cash balance stood at -$10.4 billion.
Total revenues (receipts from taxes, licenses, fees or investment earnings) increased by 6.9% to $71.0 billion compared with the first eight months of the previous fiscal year and are running slightly ahead of expectations (0.4%).
Personal income tax revenues increased by 8.0% to $48.3 billion, exceeding expectations by $90.3 million or 0.2%.
Corporate income taxes, one of the state's most volatile revenue sources, declined by 4.6% to $3.8 billion, but exceeded budget forecasts by 9.6%.
Revenues from sales and use taxes were up by 7.9% to $16.5 billion, but fell short of expectations by 1.2%.
The schedule of cash disbursements in the Controller's report showed that expenditures on Local K-12 Education were $30.8 billion during the first eight months of the fiscal year, an increase of 1.7% compared with the same period last year. Expenditures for Community Colleges rose by 18.3% to nearly $4.0 billion, while the UC and CSU systems received disbursements totaling $4.4 billion, an increase of 7.7% over the previous year. Contributions to CalSTRS (the state teachers' pension fund) increased by 34.1% to $1.3 billion.
Spending for the Department of Corrections was up modestly over the year, rising by 1.7% to $6.6 billion. Funds allocated to health and human services increased by 6.0% to $1.7 billion. The amount the state paid to service its debt obligation rose by 6.5% to $2.6 billion. As of February 29, the General Fund had $33.1 billion in unused borrowable resources against $10.4 billion outstanding loans, which are composed entirely of internal borrowing.
While the Controller's office found it encouraging that revenues remain strong, they continue to stress the importance of setting aside money during good times to protect the state's fiscal position when the next downturn comes. Looking ahead to the 2016-2017 budget, California's Controller expects deficits in eight out of the 12 months, with September, October and March posting the largest shortfalls, and four months with surpluses, the largest occurring in April and June. (Kimberly Ritter-Martinez)
Source: California State Controller's Office
Consumer Credit Growth Slows in January
Total consumer credit outstanding increased by 3.6% ($10.5 billion) over the month in January to $3.5 trillion (seasonally adjusted, annualized rate). This was the slowest pace of growth recorded since late 2013 and was mostly due to a deceline in revolving debt. Over the 12 months ending in January, total non-mortgage consumer debt was up by 6.5%.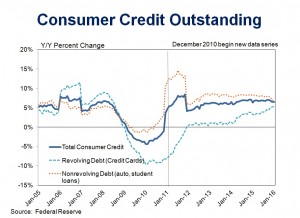 After posting 10 consecutive months of growth, revolving credit slipped in January, declining by 1.4% (-$1.1 billion). On a year-over-year basis, however, non-revolving credit (mainly credit cards) is starting to catch up with revolving credit – 5.3% versus 6.9% last month. Meanwhile, non-revolving credit, which consists mainly of student and auto loans, increased by 5.4% ($11.6 billion) over the month. The recent extraordinary growth rates of both student and auto loans are expected to slow this year, further narrowing the gap between credit card and installment loan borrowing.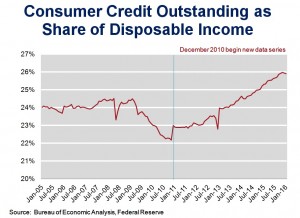 Strong job growth and rising incomes translate to more disposable income for consumers and should lead to an increase in consumer spending. This implies more credit card spending and stronger revolving debt growth. Currently, non-revolving debt is still 8.5% below the prerecession peak, but it has been rising steadily. American consumers appear to be increasingly comfortable taking on debt. Consumer credit as a share of disposble income has risen to nearly 26%. The long-run average ratio going back to 1995 is 23%. Recent stock market volatility may have made some consumers nervous about running up their credit cards, but the overall environment (low energy prices, still-low interest rates and employment growth) for consumer spending should encourage increased consumption. (Kimberly Ritter-Martinez)
Source: Federal Reserve
Events of Interest
Register Now!
May 10, 2016: San Gabriel Valley Economic Outlook
Pacific Palms Resort & Conference Center: 1 Industry Hills Parkway, City of Industry, CA
Success in the 21st century requires having up-to-date data. The San Gabriel Valley Economic Partnership presents the only study specifically about the economy of the San Gabriel Valley, compiled by the Kyser Center for Economic Research, one of the most renowned economic research facilities in the nation. This special report provides the information business and community leaders need to understand opportunities for investment, business expansion, job creation and how to avoid pitfalls.
This is your opportunity to get the data first hand and ask questions of Economist Kimbery Ritter-Martinez and State Treasurer John Chiang.
June 16-17, 2016: Select L.A. International Investment Summit
JW Marriott at LA Live: 900 West Olympic Blvd., Los Angeles, CA 90015
The 2016 SELECT LA Investment Summit is Southern California's premier international trade event that brings together global investors with business and governmental leaders from Southern California to facilitate and secure foreign direct investment (FDI), and gain exclusive insights on market trends and opportunities in the Los Angeles region.
SELECT LA offers the perfect environment to create and foster new relationships with individuals who are responsible for turning a conversation into an investment opportunity. Just as important is understanding the local processes and protocol for a diverse array of industries and verticals. World Trade Center Los Angeles will facilitate the conference and present many ways to get in the mix, such as table exhibits, one-on-one interactions, seminars and panels led by local and international innovators and executives.