v.20 n.10 – Released March 7, 2016
This Week's Headlines:
U.S. Economy Adds 242,000 Jobs; Unemployment Rate Holds at 4.9%
The U.S. Labor Market Report covering the national employment situation in February showed a gain of 242,000 nonfarm jobs. The unemployment rate held steady for the second month at 4.9%. The average workweek edged down by 0.2 hour to 34.4 and the average hourly waged declined by three cents to $25.35. Over the year, average hourly earnings were up by 2.2%.
The employer payroll survey reported that total nonfarm employment in the United States increased by 242,000 jobs in February exceeding expectations. The private sector contributed 230,000 jobs to the February increase, while government jobs increased by 12,000. There were also revisions to the December and January figures that resulted in employment gains that were 30,000 jobs higher than previously reported.
Job gains were concentrated in the service sector with an increase of 245,000 jobs that was partially offset by a decline in goods-producing industries of 15,000 jobs. The goods producing sector includes mining and logging, construction and manufacturing. Job losses were concentrated in mining and logging and construction, while construction employment rose by 19,000. The largest gains over the month were in health care services (57,500 jobs); retail trade (54,900 jobs); and leisure and hospitality (48,000 jobs). Over the past three months, job gains have averaged 228,000 compared with 208,000 during the same period last year.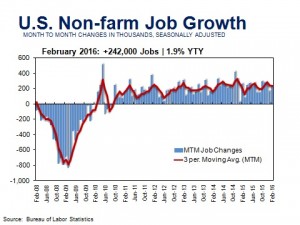 On a year-to-year (YTY) basis, U.S. employment expanded by 2.672 million jobs, an increase of 1.9%. Mining and logging was the only major industry to record a decline over the year with a loss of 141,000 (-16.1%). The largest YTY gain occurred in health care and social assistance with 634,000 jobs added over the year, an increase of 3.5%. Leisure and hospitality added 446,000 jobs (up 3.0%). Retail trade also posted a strong gain (338,600 jobs, 2.2%), as did professional and technical services (297,700, 3.5%).
Turning to the household survey, the unemployment rate remained unchanged over the month at 4.9%. There was also an increase in the labor force participation rate (62.9% versus 62.7% in January). Labor force participation has now increased four consecutive months and stands above its year-ago level. Over the last 12 months, an additional two million workers have joined the labor force.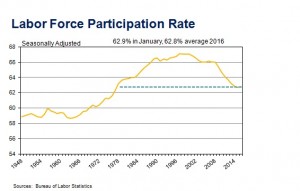 The more comprehensive U-6 unemployment rate declined to 9.7% after holding at 9.9% during the previous three months and was down from the year-ago rate of 11.0%. The average for the U-6 measure going back to 1994 is 10.7%. The U-6 unemployment rate is the broadest measure of unemployment, counting part-time workers who would prefer full-time work and individuals who would like to work but have given up looking for a job.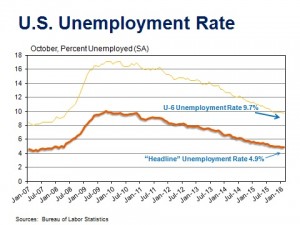 Summary: Job growth in February was decidedly solid, coming in above expectations. The economy continues to add jobs on an annual basis of about 2.0%, which is consistent with economic growth continuing over the course of this year. Although wage growth could be better, employment and wage gains appear to be strong enough to be drawing workers back to the workforce.
(Kimberly Ritter-Martinez)
Source: Bureau of Labor Statistics
January State and Local Employment Report
The Employment Development Department (EDD) released the state and local employment reports for the month of January. Total California nonfarm employment declined by 1,500 jobs over the month in seasonally adjusted (SA) terms. The year-over-year change showed an increase of 444,900 jobs (SA). This equated to a growth rate of 2.8%, exceeding the national growth rate of 1.9%. California's private sector added 406,600 jobs (an increase of 3.0%) over the year, while employment in the public sector rose by 1.6% (38,300 jobs).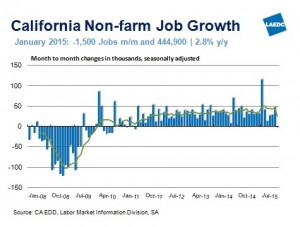 Recent industry employment trends remained largely intact in January, with 10 of the 11 super-sectors adding jobs over the year: construction; manufacturing; trade, transportation and utilities; information; financial activities; professional and business services; educational and health services; leisure and hospitality; other services and government for a combined gain of 449,400 jobs. Educational and health services posted the largest gain on a numerical basis, adding 100,700 jobs (up 4.2%), while construction continued to claim the largest gain in percentage terms, climbing by 6.5% and adding 45,700 jobs.
Only one industry sector recorded a decline in January: mining and logging employment plunged by 4,500 jobs, a decrease of 14.5%.
California's unemployment rate declined slightly over the month, edging down from 5.9% in January to 5.7% and was down from the year ago rate of 6.8%. The number of employed persons (civilian) in California now stands at nearly 18 million (an increase of 1.7% over the year), while the number of unemployed workers fell by 14.8% over the same period to 1.1 million in January.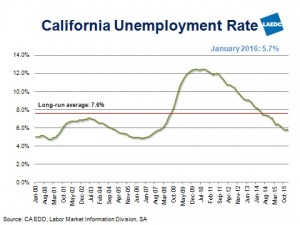 County highlights:
(Note: With the exception of the Los Angeles unemployment rate, county level numbers are not seasonally adjusted, which means there can be large month-to-month fluctuations in job counts. A truer picture of how local labor markets are faring is revealed by focusing on the year-over-year numbers. Annual trends "correct" for the seasonal factors that influence certain industry sectors over the course of the year.)
In Los Angeles County, the seasonally adjusted unemployment rate improved over the month to 5.8% and was down from the year ago rate of 7.6%. Total nonfarm employment (not seasonally adjusted) declined by 87,900 jobs over the month but was up over the year by 93,300 jobs, an increase of 2.2%. The monthly decline was driven largely by a cutback in seasonal jobs.
In January, the unemployment rate in Orange County was 4.0%, down from 4.1% in December and below the year-ago figure of 5.0%. Nonfarm payroll jobs fell by 30,300 over the month but were up by 40,100 over the year (an increase of 2.7%).
In the Riverside-San Bernardino area, the unemployment rate in January was 5.8% compared with 5.9% in December and below the year ago estimate of 7.3%. The Inland Empire lost 21,100 nonfarm payroll jobs over the month but gained 45,800 over the year. This represented an increase of 3.5%.
In Ventura County, the unemployment rate was 5.3%, down from 5.5% in December and from the year ago estimate of 6.4%. Total nonfarm employment decreased by 5,600 jobs over the month but was up by 2,500 jobs over the year (a gain of 2.1%).
Summary: January was marked by significant monthly employment declines that were predominately the result of firms shedding seasonal workers. The year-over-year gains, however, continue on track with impressive gains in many industries, including health care, professional business services, leisure and hospitality, and construction. Unemployment rates, already at their lowest since 2006, declined still further in January. (Kimberly Ritter-Martinez)
Source: California Employment Development Department
Strong Expectations for Light Vehicle Sales
In February, U.S. light vehicle sales were up by 6.8% over the year to 17.4 million units, virtually unchanged from January, but the highest for the month of February in 15 years. On a per unit volume basis, approximately 1.34 million light vehicles were sold last month, up by 6.7% from a year ago (IHS Global Insight).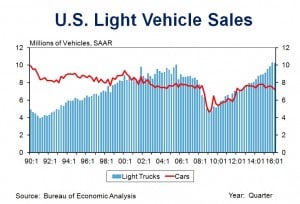 Robust demand for light trucks, SUVs and crossover utility vehicles (CUVs) shows no sign of slacking. Sales increased by 12.4% over the year in February to 10.3 million units and accounted for nearly 59% of the sales mix again last month.
Sales of domestic trucks increased by 8.3% over the year to 8.3 million units
Foreign light truck sales, which account for 20% of the U.S. light truck market, jumped by 34.0% to 1.9 million units
Compared with January, sales of pick-ups, SUVs and CUVs edged higher by 0.1%
Total passenger car sales, including foreign and domestic models, were down slightly, falling by 0.2% over the year to 7.2 million units. Sales of passenger cars have fallen in 10 of the past 12 months on a year-over-year basis. Through the first two months of this year, passenger car sales are more than 47,000 units lower than last year (IHS Global Insight).
Sales of domestic autos rose by 2.6% over the year to 5.4 million units
Sales of foreign passenger cars offset the domestic gain, moving lower by 8.1% to 1.7 million units
Compared with January, total passenger car sales were down by 0.5%
Sales of medium-heavy trucks, which are typically used by businesses for hauling freight and making deliveries, rose by 6.7% over the year in February to 440,000 vehicles.
The environment for car and truck sales remains very favorable – fuel prices are low, credit is readily available and employment growth continues – but recent stock market volatility may have given some consumers the jitters. Manufacturers reported higher inventory levels in January and February, leading to expectations for stronger sales in March as auto-makers increase incentive activity to clear out excess inventory.
Source: Bureau of Economic Analysis
Events of Interest
Register Now!
June 16-17, 2016: Select L.A. International Investment Summit
JW Marriott at LA Live: 900 West Olympic Blvd., Los Angeles, CA 90015
The 2016 SELECT LA Investment Summit is Southern California's premier international trade event that brings together global investors with business and governmental leaders from Southern California to facilitate and secure foreign direct investment (FDI), and gain exclusive insights on market trends and opportunities in the Los Angeles region.
SELECT LA offers the perfect environment to create and foster new relationships with individuals who are responsible for turning a conversation into an investment opportunity. Just as important is understanding the local processes and protocol for a diverse array of industries and verticals. World Trade Center Los Angeles will facilitate the conference and present many ways to get in the mix, such as table exhibits, one-on-one interactions, seminars and panels led by local and international innovators and executives.