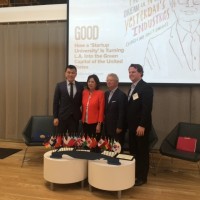 The World Trade Center Los Angeles (WTCLA) and the Los Angeles Cleantech Incubator (LACI) solidified their partnership with the signing of a memorandum of understanding this morning. The agreement between the two organizations will allow the LACI to better serve its 30 portfolio companies in not only navigating international markets, but also assisting in holistic business activities throughout the region.
President of the World Trade Center Los Angeles Stephen Cheung and CEO of the Los Angeles Cleantech Incubator Fred Walti were present to sign the agreement alongside LA County Board of Supervisors Chair Hilda Solis. The event was attended by over 35 individuals of the Los Angeles Consular Corps as well as various representatives of the City and the businesses that make-up the incubator. From Japan to New Zealand, and Mexico to Senegal, the Consular Corps looked on as the signing took place and participated in the presentations of LACI's companies that followed.
Stephen Cheung addressed those in attendance when he stated, "The call to action is to make sure that these companies have the resources available for these innovative products and services to enter foreign markets. Additionally, it's important that foreign investors are aware of LACI's activities."
One of the memorandum's provisions is the establishment of a foreign desk that is staffed by WTCLA. The two organizations will also provide monthly, themes workshops for local businesses and governments to attend and better their understanding of how to do business in Los Angeles. Fred Walti illustrated his enthusiasm for the partnership by outlining the positive synergies of education and action this agreement provides.
The agreement is effective immediately at LACI's Kretz Campus for Innovation.