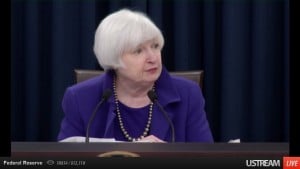 The Federal Reserve Board today raised its benchmark short term interest rate by 0.25 percent, the first rate hike in over nine years.  LAEDC Chief economist Robert Kleinhenz is being interviewed by KNX and KPCC radio today, discussing the move.
The higher rate will affect savers and investors as well as borrowers, although market rates had already adjusted slightly upwards in anticipation of this move.  The interest rate increase is also a factor in the value of the dollar, and would tend to drive the dollar's value higher, which may have a negative impact on the attractiveness of U.S. exports.
Listen to analysis by LAEDC's Dr. Kleinhenz  on KNX radio, in a discussion with Frank Mottek of KNX:
You can also mark your calendars for February 17th, LAEDC's Economic Forecast and Industry Outlook, which will take a deeper look at the trends pertaining to growth in the coming two years, including estimates of future Fed interest rate moves.
More commentary from Dr. Kleinhenz:
"First let's discuss why the Fed has chosen to raise Fed Funds rate at this time.  The Fed Funds rate is a key policy tool that it uses to either stimulate or slow the economy, and with a near-zero rate, it is the equivalent of the Fed keeping the foot on the gas.  But the domestic economy is sufficiently solid and doesn't need that much stimulus now.  We've seen good labor market growth and good economic recovery.  Now the Fed wants to return the Fed Funds rate to neutral position so that it is ready for the next downturn and has policy tools that can be used at that future time.  The Fed will adjust the Fed Funds rate gradually upwards over a couple of years time.  The Fed had hesitated to raise rates until now because of concerns about the soft international economy, and the likely reaction abroad as capital movement goes to the U.S. which might compromise recovery elsewhere around the world.
Rates here in the U.S. and in SoCal will go up gradually.  We don't anticipate this will put a dent in the local economy.  Business borrowing tied to the prime and home equity loans tied to the prime will both see small increases.  Mortgage rates and a lot of other rates are determined in the financial markets and those rates have already likely digested the likelihood of higher Fed rates, so we don't expect any significant short term moves in those interest rates.  However, we can expect rates to edge higher over the next few years, and so there is reason for home buyers to act within the next year or so while rates are still very low.
Consumer credit and car loans may edge up a little, but not enough to take the wind out of the consumer sector.  Savers will see slightly higher rates of return.  The dollar will apreciate somewhat more because of this move today, which makes our U.S. exports slightly less attractive to overseas buyers, and it also makes imports slightly less expensive for U.S. consumers."
#############