v.19 n. 50 – Released December 8, 2015
This Week's Headlines:
U.S. Labor Market Delivers in November
The U.S. Labor Market Report covering the national employment situation in November showed a gain of 211,000 nonfarm jobs. The unemployment rate held steady at 5.0%. The average workweek edged down by 0.1 hour to 34.5 hours, but the average hourly wage increased by four cents to $25.25. Over the year, average hourly earnings were up by 2.3%.
The employer payroll survey reported that total nonfarm employment in the United States increased by 211,000 jobs in November. The private sector contributed 197,000 jobs to the November increase, while the public sector added 14,000 jobs with gains at all three levels of government: federal, state and local. Employment growth was broad based with nearly every major industry sector adding jobs over the month. The exceptions were manufacturing, hurt by weak export growth and the strong dollar, mining and logging (primarily in the energy extraction sector), and information. There was also a positive net revision to the September and October figures of 35,000 jobs. Over the past three months, job gains have averaged 218,000 per month. The 2015 year-to-date average monthly gain was 220,000 jobs, somewhat below the 253,000 figure recorded for the same period in 2014.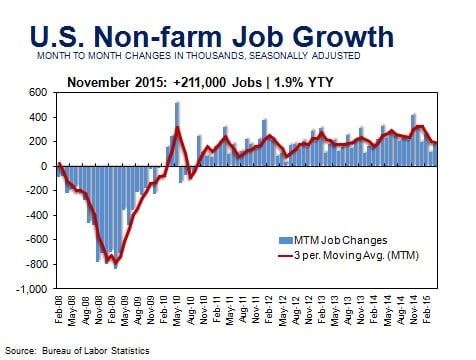 On a year-to-year basis, U.S. employment expanded by 2.637 million jobs, an increase of 1.9%. In year-to-year terms (YTY), mining and logging was the only major industry to record a decline with a loss of 123,000 jobs (-13.5%). The largest YTY gain occurred in health care and social assistance with 580,800 jobs added over the year, an increase of 3.2%. Leisure and hospitality added 438,000 jobs (up 2.9%). Professional and technical services also posted a strong gain (298,400 jobs, 3.5%), as did retail trade (284,200 jobs, 1.8%).
Turning to the household survey, in November, the unemployment rate held steady over the month at 5.0% and was down from the year-ago rate of 5.8%. The labor force participation rate increased slightly over the month, rising to 62.5% and bringing 273,000 workers into the workforce. Last year at this time, it was 62.9%.
The more comprehensive U-6 unemployment rate was 9.9%, well below the 20-year average for this indicator of 10.7%. The U-6 unemployment rate counts part-time workers who would prefer full-time work and individuals who would like to work but have given up looking for a job.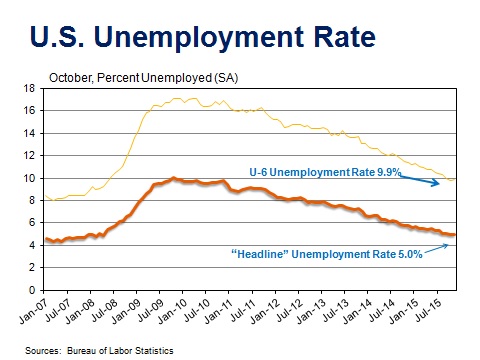 Other indicators also demonstrate labor market slack is diminishing. The share of workers who have been jobless for 27 weeks or more dropped to 25.7% of all unemployed persons, down from the year ago rate of 31.0%. The average rate going back to 1990 is 25%. Over the past 12 months, the number of long-term unemployed persons has fallen by 782,000. The median duration of unemployment is also on the decline, falling from 12.8 weeks in November 2014 to 10.9 weeks last month.
Summary: The labor markets delivered another strong performance in November. With manufacturing jobs edging lower last month, and mining employment falling for the 11th consecutive month, the services sector delivered 163,000 jobs, while the rebound in residential and nonresidential construction pushed construction employment higher by 46,000 jobs. Overall job growth has kept the unemployment rate steady at its lowest rate in seven years, and wage growth continues to outpace inflation. (Kimberly Ritter-Martinez)
Source: U.S. Bureau of Labor Statistics
U.S. Trade Deficit Back on Trend Following September Decline
The U.S. Commerce Department reported that both imports and exports declined in October. Exports were down more than imports, increasing the U.S. trade deficit to $43.9 billion, up from a revised $42.5 billion in September. Although the October increase is slightly below the 12-month average, the trade deficit is up 2.7% relative to this time last year, and year-to-date numbers that even out volatility show the deficit continuing along a path of moderate growth.
Looking at the trade deficit components, U.S. exports decreased in the face of weak global economic growth. Exports declined by $2.7 billion to $184.1 billion in October (down from $186.8 billion in September, revised) led by decreases in foreign demand for U.S. industrial supplies and materials (fuel oil, other petroleum products) and capital goods (industrial engines, civilian aircraft). Relative to this time last year, U.S. exports were down by 6.9%, also reflecting large declines in exports of fuel oil and petroleum products.
U.S. imports decreased by $1.3 billion to $228.0 billion in October (down from $229.2 billion in September, revised). The decline was mainly due to lower U.S. demand for foreign industrial supplies and materials, specifically crude oil. In other sectors, imports were up, reflecting the relative strength of the U.S. economy. When compared to last year, U.S. imports declined by 5.2%, also reflecting large declines in exports of crude oil.
The U.S. bilateral trade deficit with China, the largest trade deficit between the U.S. and any other country, declined in October, decreasing to $33.0 billion from $36.3 billion in September (not seasonally adjusted). Imports were $44.4 billion, while exports were $11.4 billion. Trade with China accounted for approximately half of the total U.S. trade deficit in October, and both imports and exports were down from a year ago. Looking at other trading partners, the U.S. ran a slight trade surplus with Canada for the first time since May (see chart), while trade deficits with South Korea, Japan, the European Union, Germany and Mexico all increased in October.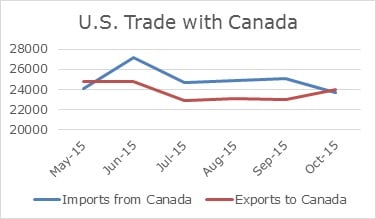 Bottom Line: After late summer volatility, the U.S. trade deficit once again posted monthly and annual increase in October, and year-todate estimates are in line with the overall upward growth path of the last several years. The relatively strong U.S. economy, along with the expected December increase in interest rates, is reinforcing that long-term trend. (Bengte Evenson)
Source: U.S. Bureau of Economic Analysis
U.S. Light Vehicle Sales Setting Records
In November, U.S. light vehicle sales were up by 6.1% over the year to 18.1 million units (seasonally adjusted annualized rate). This marked the first time on record that the pace auto sales surpassed 18 million units for three consecutive months. On a per unit volume basis, 1.31 million light vehicles were sold last month, an increase of 1.5% over year ago levels and the highest November volume in 14 years.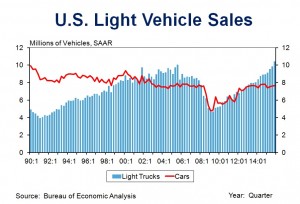 U.S. auto sales continue to be dominated by demand for light trucks, SUV and crossover utility vehicles (CUVs). Sales increased by 14.9% over the year in November to 10.5 million units and accounted for 58.3% of the light vehicle sales mix. This was the highest share since reaching 61% in July 2005. The average share of light truck sales going back to 1996 is 50.7%.
Sales of domestic trucks increased by 8.3% over the year to 8.4 million units
Foreign light truck sales, which account for 20% of the U.S. light truck market, surged by 52.3% to 2.1 million units
Compared with October, sales of pick-ups, SUVs and CUVs edged up by 1.5%.
Total passenger car sales, including foreign and domestic models, declined by 4.2% over the year to 7.5 million units.
Sales of domestic autos were down by 5.5% over the year to 5.6 million units
Sales of foreign passenger cars slipped by 0.2% to 2.0 million units
Compared with October, total passenger car sales fell by 2.8%
Sales of medium-heavy trucks used by businesses for hauling freight and making deliveries, rose by 6.9% over the year in November to 447,000 vehicles.
With one month remaining in this year, vehicle sales are poised to reach 17.8 million units, eclipsing the previous sales record set in 2000. November sales were buoyed by Black Friday close out specials and strong dealer incentives throughout the month. Overall demand continues to be supported by relatively easy credit conditions, employment gains and generally upbeat economic news, while low fuel prices are supporting the continuing popularity of pickup trucks and SUVs. (Kimberly Ritter-Martinez)
Source: U.S. Bureau of Economic Analysis
Events of Interest
Save the Date!
February 17, 2016: LAEDC February Economic Outlook
Omni Hotel: 251 S Olive St, Los Angeles, CA 90012; 7:00 am to 11:00 am
The LAEDC Industry Outlook and Economic Forecast is one of the most accurate and insightful you can attend! More details to follow.