v.19 n. 47 – Released November 19, 2015
This Week's Headlines:
California Financial Report for October
The State Controller's office has released the October cash report for the State's General Fund. Four months into the fiscal year (2015-2016), total receipts were up by 6.6% to $30.3 billion compared with the same period last year. Total disbursements ($43.7 billion) were down by 9.0% over the same period, but still exceeded cash receipts by $13.5 billion. As of October 31, the state's cash balance stood at -$10.9 billion.
Total revenues (receipts from taxes, licenses, fees or investment earnings) were up by 7.1% to $29.8 billion compared with the first four months of the previous fiscal year. So far this year, total revenues are running slightly ahead of expectations even though two of the state's top three revenue sources fell short of projections.
Personal income taxes increased by 9.0% to $20.5 billion, beating expectations by $840.7 billion or 4.3%. Steady employment growth in California and rising incomes are the primary drivers of personal income tax growth.
Corporate income taxes plunged by 22.5% to $1.5 billion, missing the budget forecast by 11.5%.
Revenues from sales and use taxes were up by 7.2% to $6.6 billion, but still fell short of expectations by 5.5%. It seems that in spite of improvements in the state's labor market, California's consumers are not spending as much of their money on taxable goods as forecasters predicted.
The schedule of cash disbursements in the Controller's report showed that expenditures on Local K-12 Education were $13.1 billion during the first three months of the fiscal year, a decline of 21.1% compared with the same period last year. Expenditures for Community Colleges dropped by 3.8% to $1.9 billion. The UC and CSU systems continue to fare better with this year's budget – disbursements were up by 14.2% (to $2.2 billion) from the year ago level. Contributions to CalSTRS (the state teacher's pension fund) increased by 30.2% to $967.6 million.
Spending for the Department of Corrections was up slightly over the year, rising by 3.8% to $3.3 billion. Meanwhile, the amount allocated from the General Fund to health and human services fell by 33.1% to $941.2 million compared with $1.4 billion spent during the same period last year. The amount the state has paid to service its debt obligation declined by 10.0% to $1.7 billion.
As of October 31, the General Fund had $20.4 billion in unused borrowable resources against $10.9 billion in outstanding loans, which are composed entirely of internal borrowing. Borrowable resources are monies that can be borrowed from other state funds to even out variability in General Fund revenue and disbursement patterns. The Controller's report noted that for the first time in 15 years, these special fund monies appear to be sufficient to meet the cash flow needs of the General Fund without the state having to seek external loans such as revenue anticipation notes. (Kimberly Ritter-Martinez)
Source: California State Controller's Office
Retail Sales Disappoint in October but Remain on Trend
U.S. retail and food services sales in October edged up by just 0.05% over the month while the 0.2% increase initially posted for September was revised down to nearly flat. Core retail sales, on the other hand, which exclude autos, gasoline and building supply centers, rose by 0.3%.
Sales were weaker in several of the major retail categories, notably motor vehicles and parts (down by 0.5%). Declines were also reported for electronics and appliance stores, food and beverage stores, gasoline stations and general merchandize (department, warehouse) stores. Clothing and apparel sales were unchanged over the month.
Where did consumers spend their money in October? Home improvement and furniture stores posted strong gains, up by 0.9% and 0.4% respectively, while spending at health and personal care stores increased by 0.7%. Sporting goods, hobby, books and music stores posted an increase of 0.4% and miscellaneous retailers (florists, office supplies) reported sales moving higher by 1.8%. Online spending was robust, rising by 1.4%. Americans also spent more on eating out – sales at restaurants and bars increased by 0.5% last month.
On a year-over-year basis, total retail sales in October were up by 1.7%. Most major sectors are reporting year-over-year gains with the exception of electronics and appliance stores (-4.0%), and gasoline stations (-20.1%), primarily because of declining prices. The biggest winners over the year have been nonstore/e-commerce retailers (+7.1%); motor vehicles and parts dealers (6.2%); and restaurants and bars (5.5%).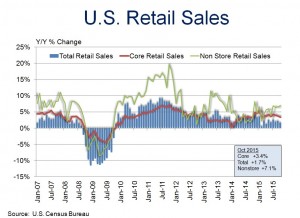 In spite of retail sales missing expectations in October, the overall trend of consistent growth remains intact. Since retail sales are reported in nominal terms, the weak inflation environment weighs on the monthly figures. Take gasoline for example – the decline in sales stems from falling prices and not because consumers have stopped driving or have taken to public transportation en masse. Monthly retail sales figures can be very volatile, which is why we always report year-over-year growth. The slowdown in the monthly numbers appears to be a transitory phenomenon. The unemployment rate is near the Fed's definition of full employment and consumers are benefiting from even lower gasoline prices. This should continue to boost total consumer spending and retail sales, especially as we head into the holiday shopping season. (Kimberly Ritter-Martinez)
Source: U.S. Census Bureau
Los Angeles Cargo Volume Slows While Long Beach Activity Improves
The total number of containers handled at the ports of Long Beach and Los Angeles in October 2015 increased by 2.0 percent on a year-over-year basis to 1,324,573 TEUs (twenty-foot equivalent units). Cargo volumes for the combined ports have largely returned to their underlying trends following the heavy slowdowns resulting from labor disruptions. Total containers at the Port of Los Angeles slowed for the second month in a row, down by 1.6 percent on a year-over-year basis, while volumes at the Port of Long Beach improved by 6.3% in October when compared to last year, following a strong summer of record-level growth.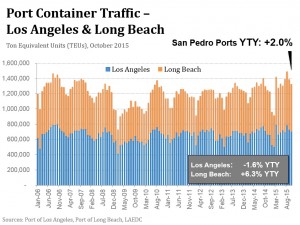 Imports (loaded inbound traffic) at the Port of Los Angeles fell by 3.3% from October 2014 to October 2015, moving down from 370,938 TEUs to 358,602 TEUs. Meanwhile, imports at the Port of Long Beach slowed marginally by 0.8% over the same period from 310,482 TEUs to 307,995 TEUs. Across both ports, the number of loaded inbound containers grew by 6.3%.
Exports (loaded outbound traffic) at the Port of Los Angeles witnessed another steep decline, falling by 14.7 percent from 158,182 TEUs in October 2014 to 134,964 loaded outbound TEUs in October 2015. By contrast, exports at the Port of Long Beach increased by 6.5% in October with a reported 128,308 loaded outbound TEUs (excluding empties), up from 120,445 TEUs in October 2014. The ports combined experienced a year-over-year decline for the sixteenth month in a row, slowing by 5.5 percent.
Bottom Line: Customer confidence is improving and distortions in loaded inbound containers (imports) caused by labor disputes appear to have run their course, with imports at the San Pedro Bay ports staying relatively flat in October 2015 year-to-date, dipping by only 0.7 percent compared with last year. On the other side of the trade ledger, loaded outbound containers (exports) have been declining for the last sixteen months, largely a result of an appreciating U.S. dollar and slow growth for Los Angeles' trading partners, particularly in developing Asia. Local exports declined by 10.6 percent on a year-to-date basis. Moving forward, imports should improve as U.S. domestic demand continues to strengthen, while slow economic growth abroad will continue to suppress export activity. At this rate, total container activity for the year is expected to match, if not exceed, last year's activity. (George Entis)
Source: Port of Los Angeles, Port of Long Beach
Consumer Credit Jumps by $28.9 Billion in September
Total consumer credit outstanding shot up by 10.0% ($28.9 billion) over the month in September to nearly $3.5 trillion (seasonally adjusted, annualized rate). This was a huge increase. Over the 12 months ending in September, total non-mortgage consumer debt increased by 7.1%, the fastest rate of growth since December of last year.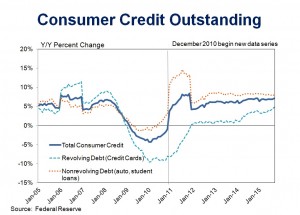 Although both revolving and non-revolving debt posted healthy gains, the increase in revolving debt was especially notable. In September, revolving debt jumped by 8.7% ($6.7 billion) – the monthly average year-to-date is 5.2%. Over the year ending in September, credit card debt was up by 4.7%, the fastest rate of growth since August 2008 when it was 5.1%.
Since the recession, consumers have been very cautious in their use of credit cards, keeping balances in check. Although total consumer debt has long since surpassed pre-recession levels, revolving debt remains 9.5% below peak levels.
Non-revolving debt, which is composed mainly of auto and student loans, increased by 10.5% or $22.2 billion. Both auto and student loans posted strong gains in September. Over the last 12 months, non-revolving debt was up by 8.0% to nearly $2.6 trillion.
The difference in growth rates between revolving and non-revolving debt continues to narrow. As auto sales plateau, growth in non-revolving debt is expected to slow, while the pace of student loan growth has been on a slowing trend over the past two years. Meanwhile, employment and income gains should give consumers the confidence to finance more and larger discretionary purchases using their credit cards. In spite of the surge in credit, for the most part delinquency rates have been stable an indication that households are currently able to manage the increase in their debt load. (Kimberly Ritter-Martinez)
Source: Federal Reserve
Weak Producer Price Index Reflects Low Inflation
The Bureau of Labor Statistics recently released the October 2015 Producer Price Index, which consists of a family of indexes that measures the average change over time in prices received by producers for domestically produced goods, services, and construction. Producer Price Indexes are constructed using selling prices reported by establishments of all sizes.
Low energy prices, weak global growth and a strong dollar are helping to keep inflation low, as reflected in the weak Producer Price Index showing for the month of October.
The Producer Price Index for final demand (measuring price changes for products sold for personal consumption, capital investment, government, and export) was down 0.4% in October (seasonally adjusted), and also down by a record 1.6% (unadjusted) from this time last year.
October's decrease in final demand prices was due mainly to declines in prices for services. The largest of these was in margins for trade services, led by fuel and lubricants retailing (e.g. margins at gas station, -15.8%).
Last month's decrease in final demand goods was due mainly to a drop in prices for light trucks (-1.8%). This was expected because new model-years are introduced into the indexes this month.
Over the year, prices for goods have shown the largest percentage declines, led by energy (-21.5%). On a monthly basis, however, the energy index was flat.
Prices for food were also down. Most notably, prices of eggs for fresh use continued to decline from high summer levels following a particularly difficult year for avian bird flu (-26.9% monthly, +23.7% annual).
Construction showed overall price increases across all categories. Percentage gains were highest for new heath care building construction (1.5%).
The Producer Price Index for intermediate demand (measuring price changes products sold to businesses as inputs to production, excluding capital investment) also declined, with prices for services and processed goods falling by 0.4% each and prices for unprocessed goods remaining unchanged.
A drop in portfolio management prices (-3.3%) accounts for a third of October's monthly decline in prices for intermediate demand services.
Lower processed energy goods, especially electric power (-1.3%), accounts for nearly half of October's monthly decline in prices for intermediate processed goods. However, these declines were offset in the overall index by increases of more than 6% in the price indexes of diesel fuel and residual fuels.
October crude petroleum prices increased (+8.2%), but the overall index for intermediate unprocessed goods was basically unchanged. Offsets included declines in price indexes for iron and steel scrap (-19.2%) and raw milk (-6.2%).
Over the year, prices for intermediate unprocessed goods have shown the largest percentage declines. Leading were iron and steel scrap (-50%) and crude petroleum (-43.6%), both of which were significant trade commodities for the U.S. in 2014.
The index for intermediate demand construction rose both monthly and annually.
Bottom Line: Low inflation measures such as this month's Producer Price Index are not good news for the Federal Reserve Board, who are looking for inflation to pick up. However, worries about deflation are not taking center stage as yet, and expectations remain strong for an interest rate hike next month. (Bengte Evenson)
Source: U.S. Bureau of Labor Statistics
Events of Interest
Save the Date!
Check back for upcoming events!