v.19 n. 43 – Released October 20, 2015
This Week's Headlines:
September State and Local Employment Report
The Employment Development Department (EDD) released the state and local employment reports for the month of September. Total California nonfarm employment increased by 8,200 jobs over the month in seasonally adjusted (SA) terms following a gain of 42,000 jobs in August.
The year-over-year change showed an increase of 444,300 jobs (SA). This equated to a growth rate of 2.8%, which exceeded the national increase of 2.1%, but was the slowest rate of increase since September 2012 when it was 2.5%. California's private sector added 405,600 jobs (an increase of 3.0% over the year), while employment in the public sector rose by 1.6% (38,700 jobs).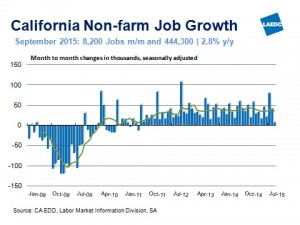 While industry employment trends have been consistent for several months, job growth in California mirrored the slowdown seen in the September national numbers. Nine of the 11 super-sectors added jobs over the year to September: construction; trade, transportation and utilities; information; financial activities; professional and business services; educational and health services; leisure and hospitality; other services; and government for a combined gain of 451,000 jobs. Professional and business services posted the largest gain on a numerical basis, adding 130,200 jobs (up by 5.3%), while construction claimed the largest gain in percentage terms, increasing by 6.4% or 43,900 jobs.
Two sectors recorded a decline over the year in September. Mining and logging plunged by 10.1% for a loss of 3,200 jobs; manufacturing employment fell by 3,500 jobs (-0.3%).
California's unemployment rate declined from 6.1% in August to 5.9% in September and was down from the year ago rate of 7.3%. This was the first time California's unemployment rate dropped below 6.0% since November 2007. The civilian labor force was down over the month (-0.2%), but increased over the year by 0.8%. That's equivalent to 143,700 new entrants to the labor force.
County highlights:
(Note: With the exception of the Los Angeles unemployment rate, county level numbers are not seasonally adjusted, which means there can be large month-to-month fluctuations in job counts. A truer picture of how local labor markets are faring is revealed by focusing on the year-over-year numbers. Annual trends "correct" for the seasonal factors that influence certain industry sectors over the course of the year.)

In Los Angeles County, the seasonally adjusted unemployment rate was 6.5%, down from 6.9% in August and below the year ago rate of 8.1%. Total nonfarm employment increased by 39,900 jobs. With the summer ending and a new school year beginning, 44% of last month's job gain was in local education. Over the year, employment in Los Angeles County was up by 85,000 jobs, an increase of 2.0%.

Education and health services posed the largest year-over-year gain in employment in September with a net increase of 25,200 jobs. The health care industry added 24,100 jobs, while private education employment increased by 1,100 jobs.

Also recording significant jobs gains were leisure and hospitality, up by 19,400 jobs, and professional, scientific and technical services, up by 8,100 jobs.

Four major industry sectors reported year-over-year declines in September. Mining and logging lost 200 jobs, manufacturing was down by 1,200 jobs, finance and insurance posted a decline of 2,200 jobs, and information was down by 2,500 jobs.

In September, the unemployment rate in Orange County was 4.0%, down from 4.5% in August and below the year-ago figure of 5.3%. Nonfarm payroll jobs increased by by 3,400 over the month and were up by 44,900 over the year (an increase of 3.0%).
In the Riverside-San Bernardino area, the unemployment rate in September was 6.1% compared with 6.8% in August and below the year ago rate of 7.8%. The Inland Empire gained 3,500 nonfarm payroll jobs over the month and 36,300 over the year. This represented an increase of 2.8%.
In Ventura County, the unemployment rate was 5.3%, down from the year ago estimate of 6.6%. Total nonfarm employment was up over the month by 2,400 jobs and up over the year by 4,400 jobs (1.5%).
Summary: Employment growth in California slowed in September, mirroring the slower pace of job growth that occurred at the national level. However, California continues to add jobs at a faster rate than the nation. It is generally best not to read too much into one month – we could see an upward revision next month. It is difficult to determine if the labor markets have simply hit a soft patch or if this is the start of a longer trend. In any case, the LAEDC expects to see job growth slow as we move into 2016, which reflects an economy in a mid- to late-cycle expansion. (Kimberly Ritter-Martinez)
Source: California EDD
Activity Slows at Ports of Los Angeles and Long Beach
The total number of containers handled at the ports of Long Beach and Los Angeles in September 2015 decreased by 1.4 percent on a year-over-year basis to 1,385,931 TEUs (twenty-foot equivalent units). Cargo volumes for the combined ports have largely returned to their underlying trends following the heavy slowdowns resulting from labor disruptions. Total containers at the Port of Los Angeles slowed by 5.8 percent on a year-over-year basis, after having one of the busiest months since 2006, while volumes at the Port of Long Beach improved by 4.1% in September when compared to last year, following a couple months of record levels.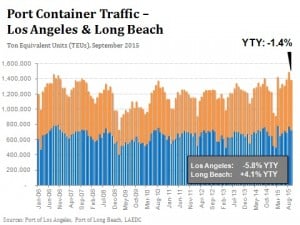 Imports (loaded inbound traffic) at the Port of Los Angeles fell by 9.4% from September 2014 to September 2015, moving down from 411,507 TEUs to 372,992 TEUs. Meanwhile, imports at the Port of Long Beach slowed marginally by 1.9% over the same period from 339,343 TEUs to 332,909 TEUs. Across both ports, the number of loaded inbound containers moved down by 1.4 percent.
Exports (loaded outbound traffic) at the Port of Los Angeles witnessed another steep decline, falling by 17.5 percent from 150,679 TEUs in September 2014 to 124,286 loaded outbound TEUs in September 2015. By contrast, exports at the Port of Long Beach increased by 6.1% in September with a reported 125,639 loaded outbound TEUs (excluding empties), up from 118,412 TEUs in September 2014. The ports combined experienced a year-over-year decline for the fifteenth month in a row, slowing by 7.1 percent.
Bottom Line: Customer confidence is improving and distortions in loaded inbound containers (imports) caused by labor disputes appear to have run their course, with imports at the San Pedro Bay ports staying relatively flat in September 2015 year-to-date, dipping by only 0.5 percent compared with last year. On the other side of the trade ledger, loaded outbound containers (exports) have been declining for the last fifteen months, largely a result of an appreciating U.S. dollar and slow growth for Los Angeles' trading partners, particularly in developing Asia. Local exports declined by 11.1 percent on a year-to-date basis. Moving forward, imports should improve as U.S. domestic demand continues to strengthen, while slow economic growth abroad will continue to suppress export activity. At this rate, total container activity for the year is expected to match, if not exceed, last year's activity. (George Entis)
Source: Port of Los Angeles, Port of Long Beach
California Financial Report for September
The State Controller's office has released the September cash report for the State's General Fund. Three months into the fiscal year (2015-2016), total receipts were up by 7.7% to $23.8 billion compared with the same period last year. Total disbursements ($32.2 billion) were down by 14.1% over the same period, but still exceeded cash receipts by $8.3 billion. As of September 30, the state's cash balance stood at -$5.8 billion.
Total revenues (receipts from taxes, licenses, fees or investment earnings) were up by 6.5% to $22.2 billion compared with the first three months of the previous fiscal year. So far this year, total revenues are running slightly ahead of expectations, but two of the state's top three revenue sources failed to match projections.
Personal income taxes increased by 8.9% to $15.3 billion, beating expectations by $606.2 million or 4.1%
Corporate income taxes plunged by 17.6% to $1.3 million, missing the budget forecast by 7.3%
Revenues from sales and use taxes were up by 7.4% to $5.6 billion, but fell short of expectations by 6.3%
The schedule of cash disbursements in the Controller's report showed that expenditures on Local K-12 Education were $9.5 billion during the first three months of the fiscal year, a decline of 29.9% compared with the same period last year. Expenditures for Community Colleges dropped by 4.9% to $1.6 billion. The UC and CSU Systems have fared better this year – disbursements were up by 13.2% from the year ago level. Contributions to CalSTRS (the state teacher's pension fund) increased by 47.0% to $332.1 million.
Spending for the Department of Corrections was little changed from last year, edging up by 1.3% to $2.5 billion Meanwhile, the amount California spent on health and human services plummeted by 40.5% to $715.5 million compared with $1.2 billion during the same three month period last year. The amount the state has paid to service its debt obligation so far this year was up marginally, rising by 1.4% to $862.2 million.
As of September 30, the General Fund had $32.7 billion in unused borrowable resources against $5.8 billion in outstanding loans, which are composed entirely of internal borrowing and is current to this year – no outstanding loans were carried over from the previous fiscal year. (Kimberly Ritter-Martinez)
Source: California State Controller's Office
Events of Interest
Save the Date!
Friday, October 30, 2015: 2015-16 South Bay Economic Forecast Conference
Location: California State University Dominguez Hills, Loker Student Union/Grand Ballroom, 1000 E. Victoria St., Carson 90747
The South Bay region has the second highest concentration of Fortune 500s in the State of California. As technology continues to rapidly evolve, how does that change the platform for the way companies conduct business in the South Bay region and what will it mean to your business? What is the next "big idea" in technology and how will that affect your industry?
The CSUDH South Bay Economic Forecast offers a focused look at the key economic drivers, employment trends, and the impacts and opportunities of a region in transition. Gain valuable insight and ideas about potentially lucrative industries in the South Bay region: aerospace, goods movement, creative industries, higher education, manufacturing, retail trade, healthcare, leisure and hospitality, real estate, digital media / entertainment, energy, and sports management.
Who Should Attend: Business Leaders in the community, civic leaders, small business owners, major corporations and South Bay residents.