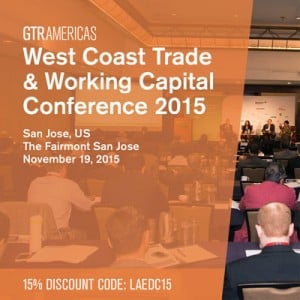 San Jose is the host city for GTR's West Coast Trade & Working Capital Conference 2015, once again providing a key meeting point for business leaders and trade experts on the West Coast and beyond.
Exporters, importers, producers, financiers and service providers will all be in attendance, ready to explore solutions to trading in the current economic climate as well as discussing potential opportunities in emerging markets.
Networking sessions will take place throughout the event giving delegates the ideal platform for establishing new business relationships with those keen to do business within the region.
LAEDC members will also be given a 15% off discount.
For more information please email [email protected] or visit the event page here.