RECAP OF LAEDC's Fall 2014 Economic Forecast event:
On September 30th, 2015 the LAEDC presented its 2016-2020 Economic Forecast Event.  Here is the report, presentation, and related multimedia.
LAEDC's twice-yearly economic forecast events provide insight and planning information to our members, partners, LA County leaders, and the general public.  For this event, LAEDC shifted its format to include a five-year planning horizon.
 
GET THE SLIDE PRESENTATIONS:
What They Said:                  
comments to be posted soon!
 POINTS MADE BY OUR PANELISTS: 
comments to be posted soon!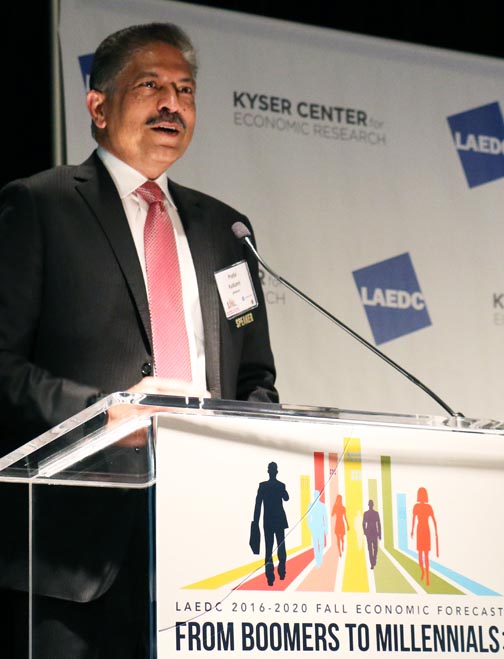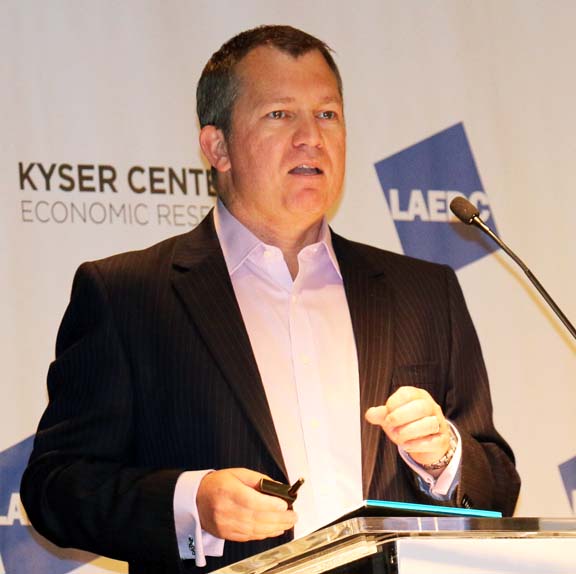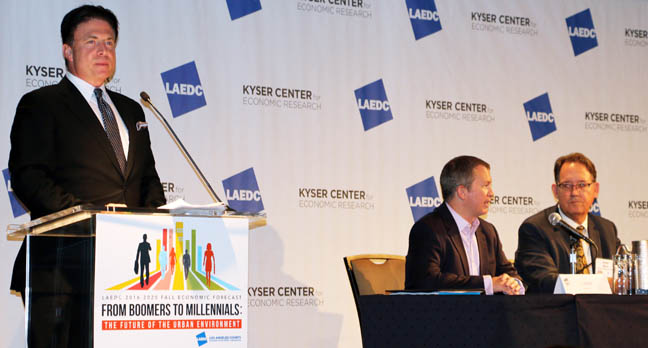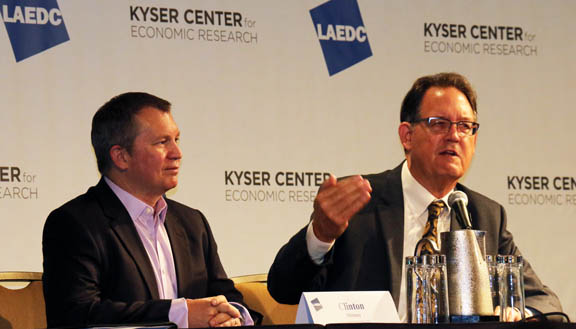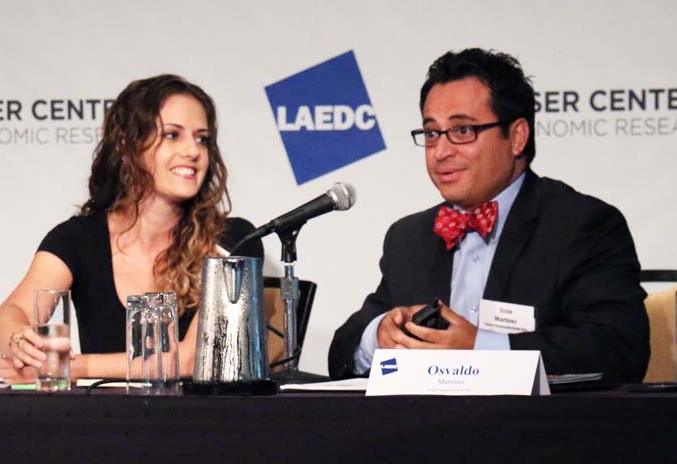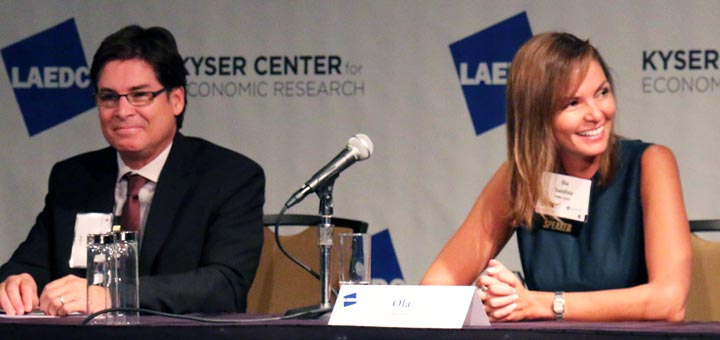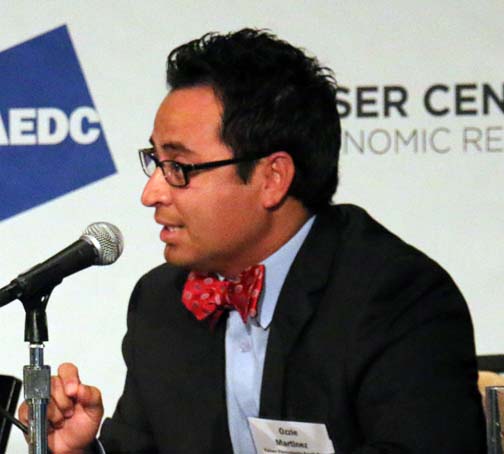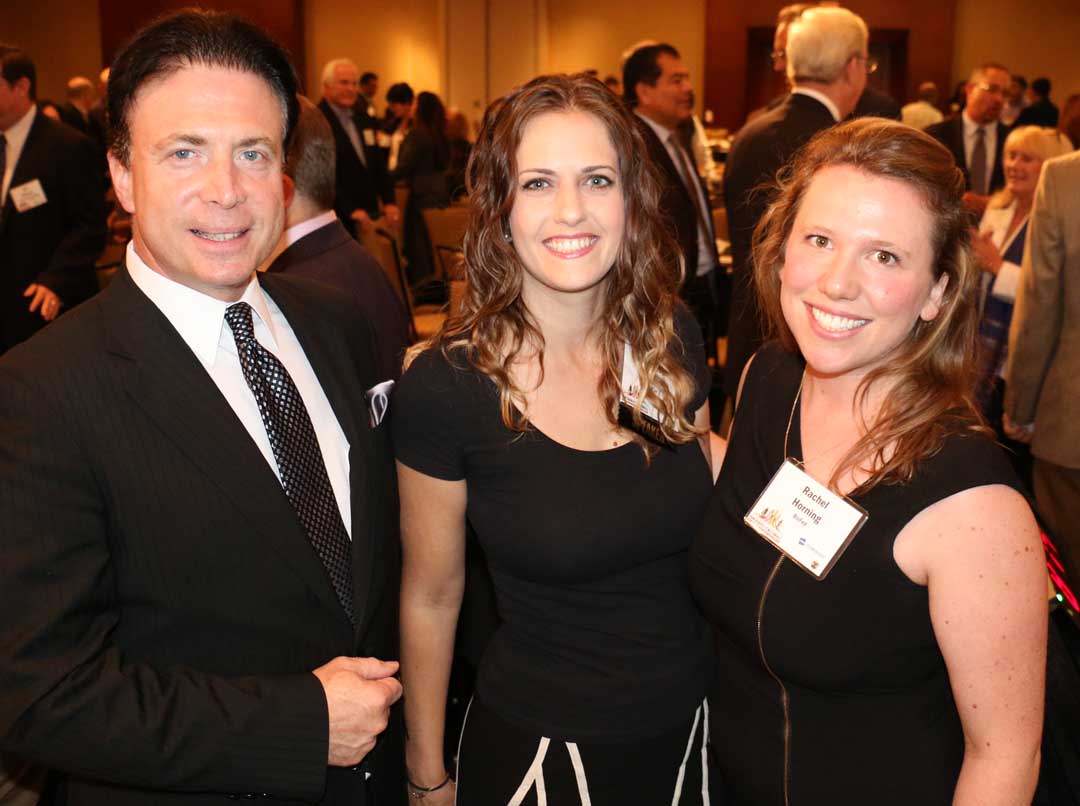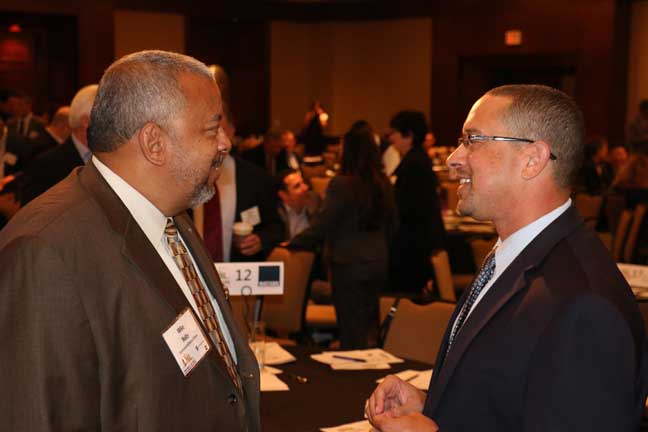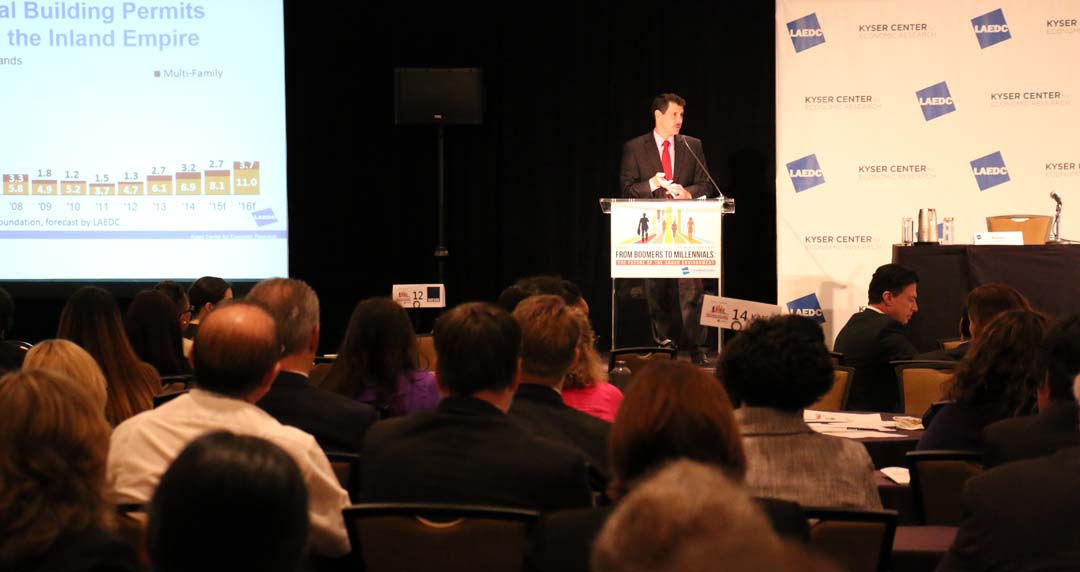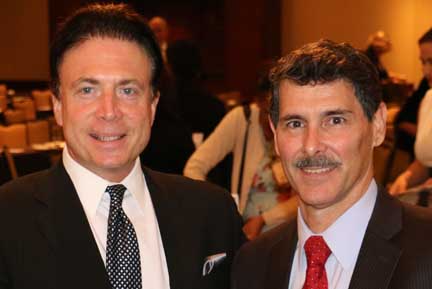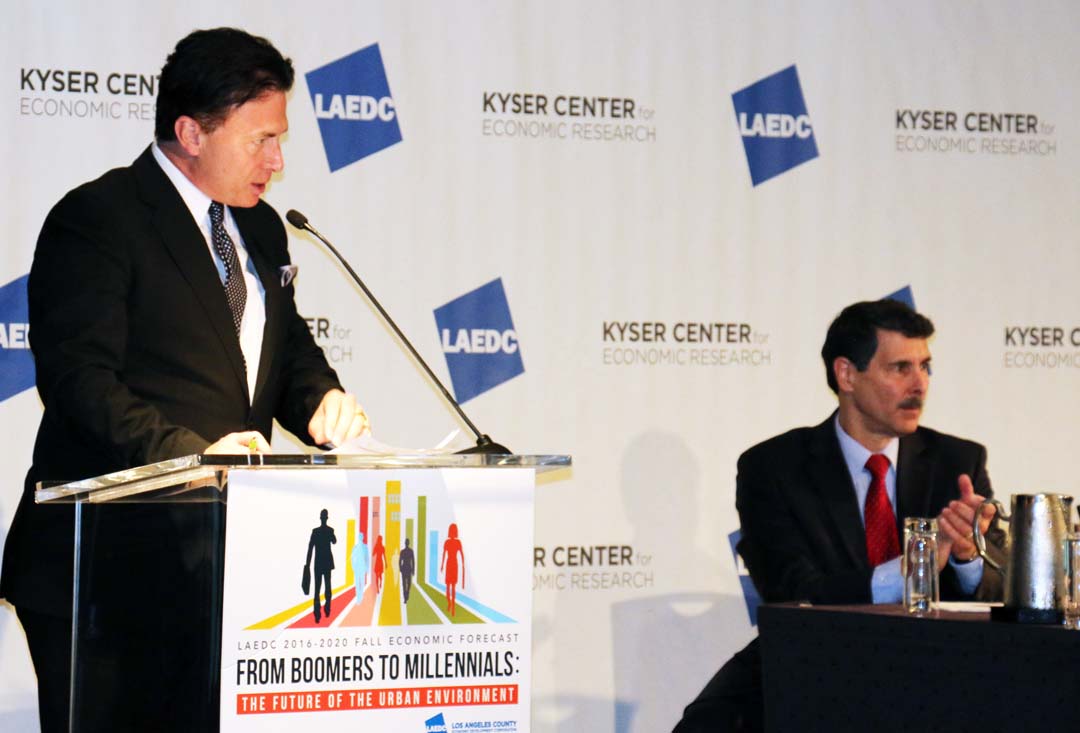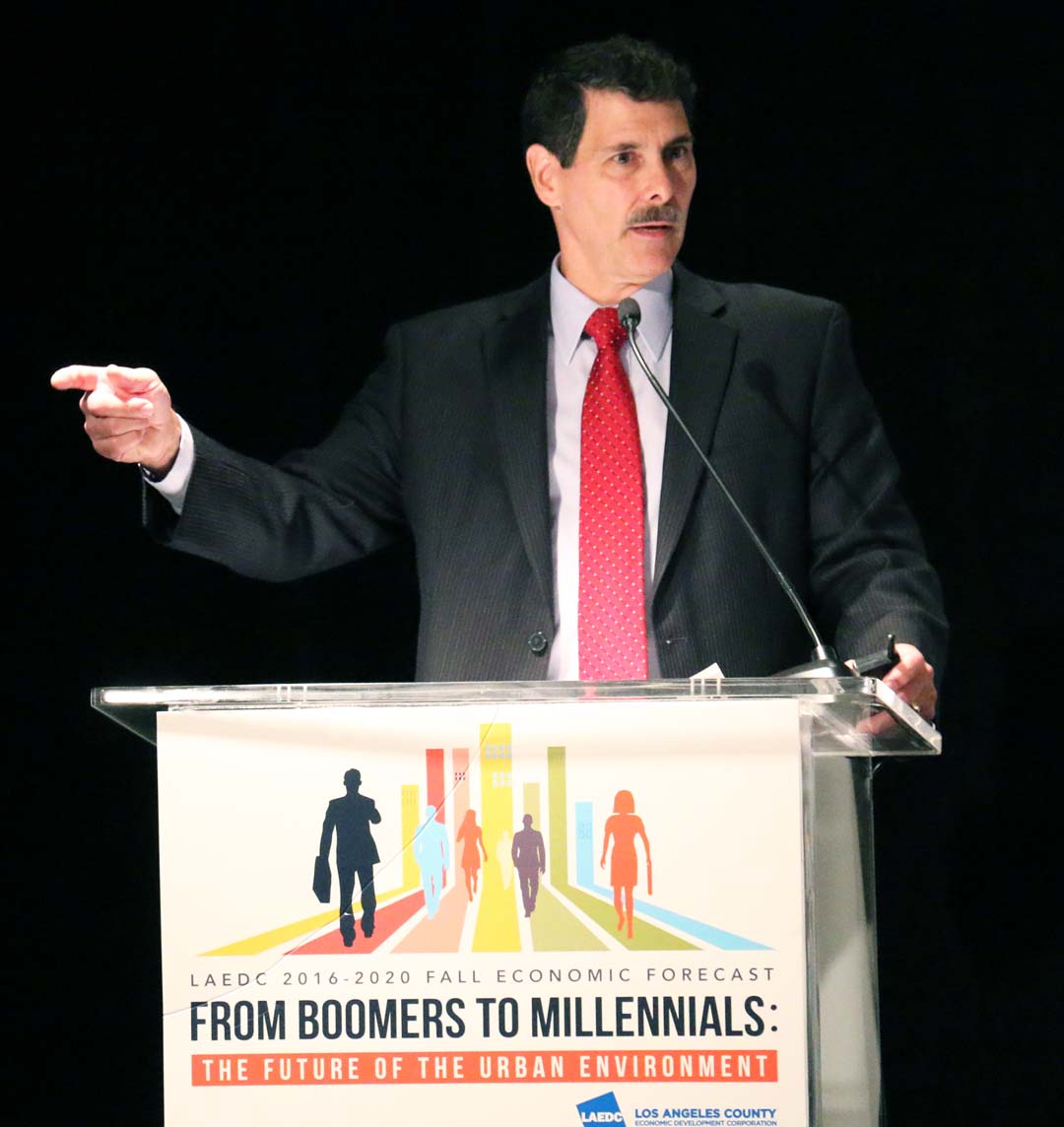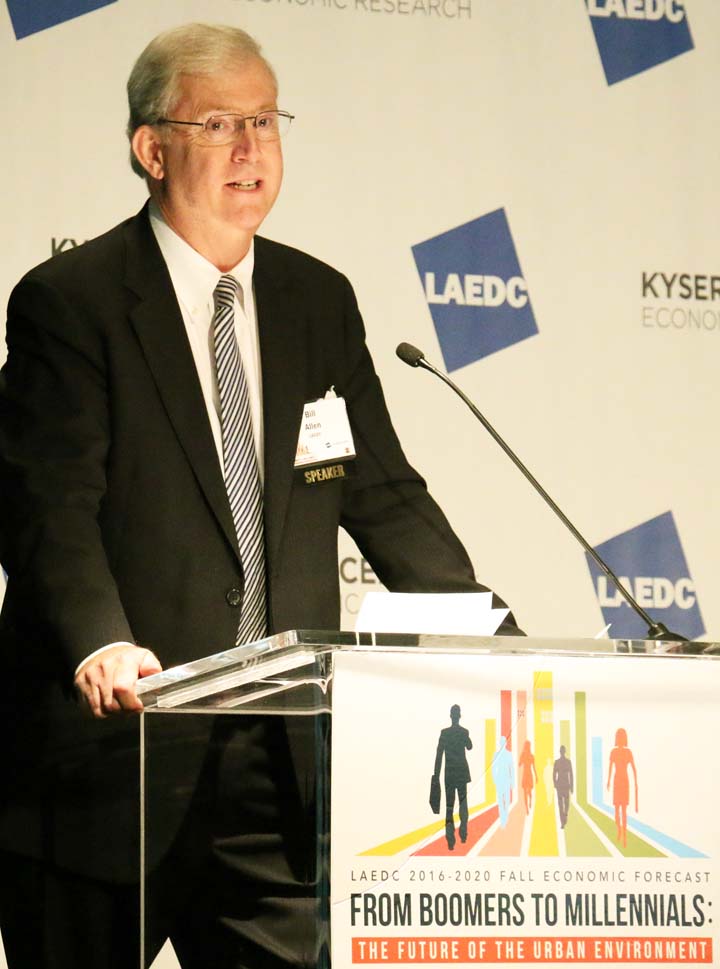 Thanks to our Event Sponsors 
Thanks to our Media Sponsors
Speakers
John Adams, Co-Managing Director, Gensler Los Angeles

 John Adams brings over 20 years of experience as an architect, real estate strategist and planner to his role as Co-Managing Director of Gensler's 500-person Los Angeles office. As a member of the firm's Board of Directors, John has a unique understanding of design, planning, management and real estate strategy, and has been instrumental in Gensler's continued success.  Passionate about and invested in rebuilding downtown Los Angeles, John is actively involved in the real estate community, specializing in the subject of high-performance building repositioning, creative office space and urban development.
Ola Danilina – CEO/founder at PMBC Group, Los Angeles

Ola pivoted from working in venture capital to founding PMBC Group where she is the CEO and active advisor for a roster of technology companies regarding their marketing and communications needs. PMBC Group is a leading technology PR firm based in Los Angeles, servicing clients across the globe. PMBC acts as an extension of their clients team to develop and execute campaigns designed to drive sales, attract investment and establish strategic partnerships. Our areas of expertise include: Apps, Mobile Payments, Ad Tech, FinTech, Consumer Electronics and more.

Dr. Robert Kleinhenz, Chief Economist, LAEDC's Kyser Center for Economic Research

Robert A. Kleinhenz, Ph.D. is the Chief Economist of the Kyser Center for Economic Research, which conducts research on the regional, state, and national economies.

Dr. Kleinhenz has a Bachelor's degree from the University of Michigan, a Master's degree and a Doctorate from the University of Southern California, all in Economics. Prior to joining the LAEDC, he served as Deputy Chief Economist at the California Association of REALTORS® and taught economics for over 15 years, most recently at California State University, Fullerton.

Dr. Kleinhenz has spoken to local, state, and national audiences and is a frequent contributor to media coverage on the economy, including coverage in news outlets throughout California along with the Wall Street Journal, CNBC, Bloomberg News, and NPR.

Osvaldo (Ozzie) Martinez, Chief Administrative Officer, Kaiser Permanente South Bay

Ozzie oversees medical group operations at Kaiser Permanente South Bay Medical Center, as well as Kaiser Permanente medical offices in Carson, Torrance, Gardena, Long Beach, Lomita, Harbor City and soon to open Manhattan Beach and Signal Hill.

Ozzie has a proven track record of performance improvement in quality, access to care and service. He is a two-time past recipient of the prestigious Kaiser Permanente James A. Vohs Award for Quality, recognizing his contributions to proactive office encounter and breast cancer screening programs.  He also brings a strong background in innovation and has helped transform Kaiser Permanente's patient care delivery model through his work on technology enabled care for millennials through video, telephone and social media.

Clinton Moloney, Managing Director, Sustainable Business Solutions, PWC

Clinton has extensive experience mobilizing entire organizational systems, including internal (e.g., C-suite & middle management) and external stakeholders (e.g., customers & suppliers), around sustainability goals to help foster innovation. Last spring, he led a team that helped Mayor Garcetti and the city of Los Angeles with an ambitious project to develop the first Sustainable City pLAn, where PwC assisted with analysis, project management, stakeholder engagement and outreach.

 

Dr. Dowell Myers, Director, Population Dynamics Research Group, University of Southern California (USC)

Dowell Myers is a professor in the USC Sol Price School of Public Policy. He is director of the Population Dynamics Research Group.  Well-known as a specialist in demographic trends and their relation to
all areas of policy and planning, Dr. Myers has particular focus on trends shaping the mid-range future of 2040.  His series of "generational futures" projections with John Pitkin have drawn wide interest in California and the nation.  His overarching theme is demographic connections that tie groups together who otherwise might be divided.

 

Kish Rajan, President, Southern California Leadership Council

Kish Rajan served as Director of the Governor's Office of Business and Economic Development. He brought to the job a 20-year track record of success in both government and the private sector.

In 2012, Governor Brown appointed Kish Rajan as the GO-Biz director to lead the executive team. His directive from Governor Brown was to enhance California's job creation effort by streamlining business regulations, promoting statewide economic development and fostering greater international trade opportunities.

 

Danielle Grossman, Marketing Manager for Southern California, Zipcar

Danielle joined the Zipcar team in 2011, and played a vital role in launching the Los Angeles and San Diego markets. In her current role, she is responsible for setting the strategic direction for membership and revenue growth, including business and partnership development, field marketing, and community engagement for the Southern California region, which includes Santa Barbara, Los Angeles, Orange County, and San Diego. She has developed key partnerships with universities, private developers, non-profit organizations and various cities and agencies, including the City of Los Angeles, City of West Hollywood, City of Pasadena, Los Angeles Metro and the City of Santa Diego.
Introductions/Master of Ceremonies
Bill Allen, President and CEO, LAEDC

Bill Allen is the President and Chief Executive Officer of the Los Angeles County Economic Development Corporation and its subsidiary, the World Trade Center Los Angeles. Mr. Allen is also a Vice Chair of the Economic Alliance of the San Fernando Valley, and the Board Secretary for the Valley Presbyterian Hospital. He is also a member of the Board of Directors of the Weingart Foundation, International Economic Development Council, California Stewardship Network, Regional Economic Association Leaders of California Coalition, Los Angeles Area Chamber of Commerce, Los Angeles Coalition for the Economy and Jobs, FilmL.A., Unite L.A., and the Rossier School of Education at the University of Southern California.

Frank Mottek, Host of the KNX Money Hour

Master of Ceremonies

Frank reports on the regional business and economic news for KNX 1070 NewsRadio where he is host of the KNX Money Hour (formerly Business Hour), the number one business radio show in Southern California.