v.19 n. 40 – Released September 28, 2015
This Week's Headlines:
SoCal Home Sales and Median Prices in August
Southern California home sales increased over the year in August, rising by 8.0% to 21,352 units (new and resale houses and condominiums). Over the month, sales fell by 12.0% and were 18.0% below the average August price going back to 1988. The sales slowdown was seen across all home-types, counties and price ranges. While a July-to-August slowdown is typical, it may also reflect tighter inventories and/or declining affordability. Nonetheless, home sales have risen on a year-over-year basis for seven consecutive months, the longest stretch of gains since late 2012 into early 2013. Additionally, the decline between July and August followed two months of the highest home sales since August 2006.
The median price across Southern California increased by 4.3% over the year to $438,000 but was unchanged from July. The median price has now risen for 41 consecutive months on a year-over-year basis and was the second highest (coming in just behind June 2015), since October 2007 when it was $445,000. In Orange County, the median price is only 5.4% below its prerecession peak level. Home sales of $500,000 or more accounted for 40.5% of all sales in August, up from 38.2% a year ago.
Throughout 2015, Southern California's housing market has continued to make progress. Contributing to improvements over the past year have been stronger job growth, rising household income, increases in homeowners' equity, fewer homeowners in financial distress and low mortgage interest rates. Low inventories, declining affordability and the availability of credit continue to be constraints but anticipated wage gains and higher household incomes should drive accelerated housing market activity over the next couple of years. (Kimberly Ritter-Martinez)

Source: CoreLogic
Strong Income Gains Boost Consumer Spending in August
Total personal income in the U.S. increased in August by 0.3% on a nominal basis. Wages and salaries, the largest component of personal income, rose by a robust 0.5%. Additionally, the increase in July personal income was revised up from 0.4% to 0.5%, and the wages and salaries component was revised up from an increase of 0.5% to 0.6%.
Real disposable income (adjusted for taxes and inflation) increased by 0.3%, while real personal consumption expenditures moved up by 0.4%. With the increase in spending outpacing real income growth, the saving rate edged down from 4.7% in July to 4.6% in August. Spending on durable goods increased by 1.2%, while spending on nondurable goods and services rose by 0.6% and 0.3% respectively.
On a year-to-year basis, incomes and spending moved higher in August:
Real disposable income growth slowed slightly in August, rising by 3.2% versus 3.3% in July,
Real personal consumption expenditures were up by 3.2%,
Growth in real spending on goods (4.0%) outpaced spending on services (2.8%) although in dollar terms, Americans spend more than two times as much on services as they do goods.
Consumer prices were unchanged over the month in August but were up by 0.3% over the year. Excluding food and energy, prices advanced by 1.3%. The current low-inflation environment has helped support consumer spending in the absence of stronger hourly wage gains.
Although personal income growth was a little lower in August than expected, consumer spending is supporting economic growth. Households are feeling more confident about the economy and their personal financial outlook. Consumers are using credit more freely while household wealth has reached record levels buoyed by financial market returns and increases in property values. (Kimberly Ritter-Martinez)
Source: U.S. Bureau of Economic Analysis
California State Tax Revenues Increase by 13.8% in 2Q15
The U.S. Census Bureau released figures for second quarter state and local tax collections by state and type of tax. At $274.4 billion, total state tax revenues collected across all fifty states (excluding Washington, DC) were up by 5.8% in the second quarter of 2015 compared with the same period in 2014 – a reflection of stronger economic growth and the improving health of state and local finances. In California, tax revenues were up by 13.8% to $51.4 billion in the second quarter, an increase of nearly $6.3 billion.
All three of California's largest tax revenue categories recorded significant increases in collections during the second quarter. General sales tax revenues rose by 6.0% to $10.3 billion, but were outpaced by the national increase of 9.2%. Personal income tax revenues were $28.7 billion in the second quarter, an increase of 20.6% over the year. Nationally, personal income taxes were up by 13.6%. The strong gain is indicative of healthy job growth and rising household incomes.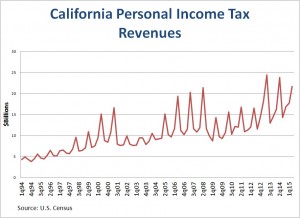 California's corporations paid $4.7 billion in incomes taxes during the second quarter, an increase of 12.5% compared with the same period a year ago. Corporate tax payments tend to be very volatile – in the first quarter of this year, corporate tax revenues decline by 2.5% — but they count for a relatively small share of California's "Big Three" revenue sources. Across the U.S., corporate incomes taxes were up by 5.5%.
Other noteworthy changes include a 7.8% uptick in property tax revenues, the result of rising home prices, and a decline of 2.9% in motor fuel sales taxes stemming from increased vehicle fuel efficiency and the rising use of hybrid or electric cars.
Altogether, sales and personal income taxes made up 66% of state revenues nationwide. California relies more heavily on these two revenue sources compared to other states. Sales and personal income taxes regularly contribute about 75% of total tax revenues received in a given quarter. (Kimberly Ritter-Martinez)
Source: U.S. Census Bureau
Events of Interest
Save the Date!
Wednesday, September 30, 2015: LAEDC Fall Economic Forecast
Location: Omni Los Angeles Downtown Hotel; 251 South Olive St., Los Angeles 90012
Join the LAEDC on September 30th, 2015 for our Fall Economic Forecast, featuring long-range analysis and the topic "From Boomers to Millennials: The Future of the Urban Environment".
Tuesday, October 13, 2015: Southern California Visitor Outlook Conference
Location: Sheraton Los Angeles Downtown Hotel; 711 South Hope St., Los Angeles 90017
Please join us for the 27th Annual Southern California Visitor Industry Outlook Conference to be held at The Sheraton Los Angeles Downtown Hotel. Hear from noted experts, representing a range of travel sectors, offer their best assessment of the southern California economic situation and how it may affect your business.
All attendees receive an electronic link of PKF Consulting's 2016 Lodging Forecast and will be able to enjoy a continental breakfast buffet before the conference begins.
Friday, October 30, 2015: 2015-16 South Bay Economic Forecast Conference
Location: California State University Dominguez Hills, Loker Student Union/Grand Ballroom, 1000 E. Victoria St., Carson 90747
The South Bay region has the second highest concentration of Fortune 500s in the State of California. As technology continues to rapidly evolve, how does that change the platform for the way companies conduct business in the South Bay region and what will it mean to your business? What is the next "big idea" in technology and how will that affect your industry?
The CSUDH South Bay Economic Forecast offers a focused look at the key economic drivers, employment trends, and the impacts and opportunities of a region in transition. Gain valuable insight and ideas about potentially lucrative industries in the South Bay region: aerospace, goods movement, creative industries, higher education, manufacturing, retail trade, healthcare, leisure and hospitality, real estate, digital media / entertainment, energy, and sports management.
Who Should Attend: Business Leaders in the community, civic leaders, small business owners, major corporations and South Bay residents.