v.19 n. 39 – Released September 22, 2015
This Week's Headlines:
August State and Local Employment Report
The Employment Development Department (EDD) released the state and local employment reports for the month of August. Total California nonfarm employment increased by 36,300 jobs over the month in seasonally adjusted (SA) terms.
The year-over-year change showed an increase 470,000 jobs (SA). This equated to growth rate of 3.0%, exceeding the August national increase of 2.1%. California's private sector added 434,300 jobs (an increase of 3.3% over the year), while employment in the public sector rose by 1.6% (37,800).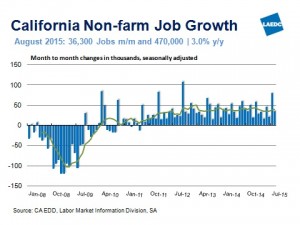 Industry employment trends have been consistent for several months. Nine of the 11 super-sectors added jobs over the year to August: construction; trade, transportation and utilities; information; financial activities; professional and business services; educational and health services; leisure and hospitality; other services and government for a combined gain of 473,900 jobs. Professional and business services posted the largest gain on a numerical basis, adding 134,600 jobs (up 5.5%), while construction claimed the largest gain in percentage terms, increasing by 6.5% or 43,800 jobs.
There were two sectors that recorded a decline over the year in August. Mining and logging was down by 8.6%, a loss of 2,700 jobs; manufacturing employment dipped by 0.1% or 3,900 jobs.
California's unemployment rate declined slightly from 6.2% in July to 6.1% in August and was down from the year ago rate of 7.4%. The civilian labor force was unchanged over the month but was up by 1.1% over the year. Over the last 12 months, 203,000 workers have joined California's labor force bringing California's labor force participation rate up to 62.4%. The national rate is 62.6%.
County highlights:
(Note: With the exception of the Los Angeles unemployment rate, county level numbers are not seasonally adjusted, which means there can be large month-to-month fluctuations in job counts. A truer picture of how local labor markets are faring is revealed by focusing on the year-over-year numbers. Annual trends "correct" for the seasonal factors that influence certain industry sectors over the course of the year.)
In Los Angeles County, the seasonally adjusted unemployment rate was 6.9%, down from 7.2% in July and below the year ago rate of 8.1%. Total nonfarm employment increased by 7,900 jobs over the month but was up over the year by 76,300 jobs, an increase of 1.8%.

Educational and health services posted the largest year-over-year gain in employment in August with a net increase of 22,500 jobs. The health care industry added 23,300 jobs, but a drop of 800 jobs in educational services reduced the overall industry gain.

Also recording significant job gains were trade, transportation and utilities (17,100 jobs), and leisure and hospitality (16,800 jobs). Most of those jobs were concentrated in accommodation and food services.

Two of the major industry sectors reported year-over-year declines in August. Mining and logging lost 300 jobs, while manufacturing continued on its long-term trend decline with a loss of 4,700 jobs.

In August, the unemployment rate in Orange County was 4.5%, down from 4.7% in July and below the year-ago figure of 5.8%. Nonfarm payroll jobs increased by by 2,200 over the month and were up by 48,500 over the year (an increase of 3.2%).
In the Riverside-San Bernardino area, the unemployment rate in August was 6.8% compared with 7.1% in July and well below the year ago rate of 8.6%. The Inland Empire gained 6,100 nonfarm payroll jobs over the month and 44,500 over the year. This represented an increase of 3.5%.
In Ventura County, the unemployment rate was 5.8%, down from the year ago estimate of 7.0%. Total nonfarm employment was unchanged over the month but was up over the year by 2,500 jobs (0.9%).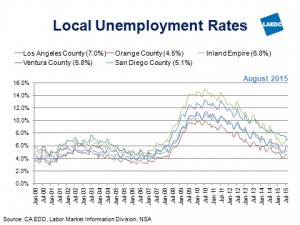 Summary: California led the nation once again with 36,300 jobs added last month and 470,000 over the year. Los Angeles led the Southern California region with 76,300 jobs added in yearly terms, while the Inland Empire and Orange County led the region in percentage terms with gains of 3.4% and 3.2% respectively. (Kimberly Ritter-Martinez)
Source: California EDD
California Home Sales and Median Prices in August
The California Association of Realtors recently released their report on California existing home sales and median prices in August. The statewide median price last month was $493,420, up slightly (by 1.0%) compared with July and higher by 2.5% than the year ago figures. Despite more than three years of continuous price gains, the statewide median price is 17.1% below the peak reached in May 2007.
The number of single-family homes in California that closed escrow in August increased by 9.3% over the year to 431,800 units (seasonally adjusted annualized rate). Compared with July sales were down by 3.8%. Home sales in August were at their highest level since October 2012 and was the fifth straight month in which sales rose above 400,000 units.
Home prices are increasing at a healthier rate, meaning they have slowed from the breakneck pace that prevailed in 2013 and 2014 to something that more accurately reflects the fundamentals of housing demand: job and wage growth. Still, much of the appreciation that is occurring statewide is being fueled by supply constraints in the Bay Area were the median price was up by 10.4% to $804,190, but sales were flat over the year. Elsewhere, sales are on the rise in the Inland Empire and Central Valley, where homes are both more affordable and available.
While momentum is building in California's housing markets, higher mortgage interest rates and reduced affordability are creating an environment of uncertainty that may cause some potential buyers to take a step back from the market.
Below is a year-over-year summary of sales and price activity in Southern California by county. Although the statewide sales figures are seasonally adjusted, regional and county figures are not.
Los Angeles County: unit sales increased by 4.4% over the year in August, while the median price rose by 3.7% to $492,360.
Orange County: sales edged higher by 1.0% and the median price was up by 2.2% to $714,550.
Riverside County: sales of existing homes rose by 6.5% and the median price increased by 5.8% to $337,110.
San Bernardino County: sales climbed by 19.2% in August with the median price rising by 10.5% to $230,530.
San Diego County: unit sales were up by 11.3% and the median price rose by 9.1% to $557,400.
Ventura County: sales were up by 8.6% over the year while the median price rose by 3.0% to $620,150.
Source: California Association of REALTORS
Retail Sales a Mixed Bag in August
U.S. retail and foods services sales in August were up by 0.2% over the month, while the figure for July was revised up slightly from 0.6% to 0.7%. Core retail sales, which do not include autos, gasoline and building supply centers, rose by 0.5%.
Sales were stronger in most major retail categories last month. American consumers spent more of their income on new cars, appliances and electronic gadgets. Households increased spending at grocery and big box stores. They also ate out more and shopped for clothes and back-to-school supplies. Meanwhile, consumers spent less at home furnishings stores, home and garden supply centers, and gasoline stations.
On a year-over-year basis, total retail sales in August were up by 2.2%. Most major sectors are reporting year-over-year gains with the exception of electronics and appliance stores (-2.5%), department stores (-1.9%) and gasoline stations (-17.2%), primarily because of declining prices (retail sales are not adjusted for prices changes). The biggest winners over the year have been restaurants and bars (8.2%), nonstore retailers, primarily e-commerce (6.9%); the catch-all category sporting goods, hobby, book and music stores (6.1%); and motor vehicles (5.7%).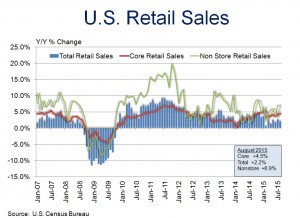 Retail sales in August were slightly below expectations, but the three-month annualized rate was up by more than five percent. Sustained gains in the labor market, lower gasoline prices, rising consumer credit and record levels of household wealth should continue to provide a lift for consumer spending, the major driver of U.S. economic growth. (Kimberly Ritter-Martinez)
Source: U.S. Census Bureau
U.S. Travel and Tourism Spending Strengthens in 2Q15
Real spending on travel and tourism was up by 6.5% (seasonally adjusted annualized rate) during the second quarter of 2015. This followed an increase of 2.2% in the first quarter. In comparison, real gross domestic product increased by 3.7% during the second quarter. The Bureau of Economic Analysis tracks the travel and tourism industry in the United States because it is an important source of jobs and economic activity, particularly here in Southern California. Additionally, foreign visitors traveling to the U.S. are an important source of export revenue.
Total direct spending on travel-related goods and services was $827.2 billion during the second quarter of this year compared with $814.2 billion in the previous quarter. Spending on passenger air transportation jumped by 11.6%; food services and drinking places expenditures increased by 7.2%; recreation and entertainment was up by 3.5% and shopping increased by 4.3%.
Overall prices for travel and tourism goods and services were up by 1.0% in the second quarter after declining by 8.7% during the first quarter. Prices for recreation, entertainment and shopping were collectively up by 1.5%, while prices at restaurants rose by 2.5%. The largest jump in prices was for non-air transportation (car rentals, gasoline), which increased by 16.5%. These gains were largely offset by lower prices for air travel (-9.7%) and accommodations (-7.7%).
The travel and tourism industry has also been a source of steady job growth since the second quarter of 2010. Direct employment in this sector increased by 1.6% during the second quarter of 2015 after expanding by 2.1% in the previous quarter. With the exception of accommodations, where employment fell by 1.0%, jobs increased across the industry. Transportation employment increased by 2.8%, food services payrolls expanded by 2.3%; tourism-related jobs in recreation, entertainment and shopping increased by 2.8%. During the second quarter, over 5.6 million workers were employed in the U.S. travel and tourism industry, which equated to about 4% of all nonfarm payroll jobs in the U.S. (Kimberly Ritter-Martinez)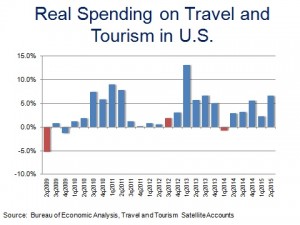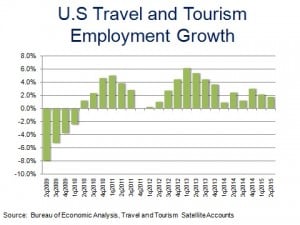 Source: U.S. Bureau of Economic Analysis
Events of Interest
Save the Date!
Wednesday, September 30, 2015: LAEDC Fall Economic Forecast
Location: Omni Los Angeles Downtown Hotel; 251 South Olive St., Los Angeles 90012
Join the LAEDC on September 30th, 2015 for our Fall Economic Forecast, featuring long-range analysis and the topic "From Boomers to Millennials: The Future of the Urban Environment".
Tuesday, October 13, 2015: Southern California Visitor Outlook Conference
Location: Sheraton Los Angeles Downtown Hotel; 711 South Hope St., Los Angeles 90017
Please join us for the 27th Annual Southern California Visitor Industry Outlook Conference to be held at The Sheraton Los Angeles Downtown Hotel. Hear from noted experts, representing a range of travel sectors, offer their best assessment of the southern California economic situation and how it may affect your business.
All attendees receive an electronic link of PKF Consulting's 2016 Lodging Forecast and will be able to enjoy a continental breakfast buffet before the conference begins.
Friday, October 30, 2015: 2015-16 South Bay Economic Forecast Conference
Location: California State University Dominguez Hills, Loker Student Union/Grand Ballroom, 1000 E. Victoria St., Carson 90747
The South Bay region has the second highest concentration of Fortune 500s in the State of California. As technology continues to rapidly evolve, how does that change the platform for the way companies conduct business in the South Bay region and what will it mean to your business? What is the next "big idea" in technology and how will that affect your industry?
The CSUDH South Bay Economic Forecast offers a focused look at the key economic drivers, employment trends, and the impacts and opportunities of a region in transition. Gain valuable insight and ideas about potentially lucrative industries in the South Bay region: aerospace, goods movement, creative industries, higher education, manufacturing, retail trade, healthcare, leisure and hospitality, real estate, digital media / entertainment, energy, and sports management.
Who Should Attend: Business Leaders in the community, civic leaders, small business owners, major corporations and South Bay residents.