v.19 n. 37 – Released September 8, 2015
This Week's Headlines:
Events of Interest

September 10: BLS Data User's Conference
September 30: LAEDC Fall Economic Forecast
October 13: Southern California Visitor Industry Outlook Conference
October 30: 2015-16 South Bay Economic Forecast Conference
U.S. Labor Market Still on Track
The U.S. Labor Market Report covering the national employment situation in August showed a gain of 173,000 nonfarm jobs. The unemployment rate fell to 5.1% and the average hourly wage rose by eight cents to $25.09. Over the year, average hourly earnings were up by 2.2%.
The employer payroll survey reported that total nonfarm employment in the United States increased by 173,000 jobs in August. This was somewhat below expectations, but does not signify a departure from the overall trend of strong employment growth. The private sector contributed 143,000 jobs to the August increase while the public sector added 30,000. Softening the blow of last month's lower job count were upward revisions to the June and July figures that showed an additional 44,000 jobs added than previously reported. Over the past three months, job gains have averaged 221,000 per month.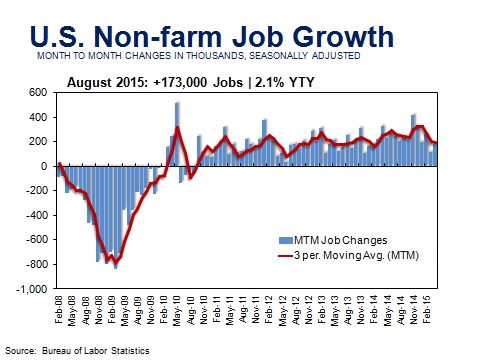 On a year-to-year (YTY) basis, U.S. employment expanded by 2.92 million jobs, an increase of 2.1%. Every major industry sector added jobs over the year with the exception of mining and logging. This sector includes the oil and gas extraction industries, which have been negatively affected by low energy prices. However, employment declines were also recorded in other types of mining, particularly coal and support activities related to the mining sector. Overall, employment in mining and logging declined by 8.9% or 80,000 jobs over the year.
The fastest growing private sectors in YTY percentage terms were professional and technical services (3.6%, or 303,000 jobs); construction (3.6%, 219,000 jobs); administrative and waste services (3.3%, 284,4000 jobs); health care services (3.1%, 564,100 jobs); and growing at a rate 3.0% each, leisure and hospitality (439,000 jobs) and transportation and warehousing (140,900 jobs).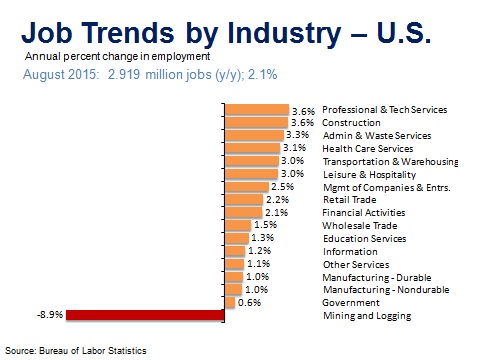 New record high levels of employment were reached last month in the following super-sectors: trade, transportation and utilities; professional and business services; education and health; leisure and hospitality; and other services (these are mainly jobs in repair and maintenance, personal and laundry services, and membership organizations).
In addition to the employer payroll survey, the monthly employment report includes a separate household survey that covers self-employed workers (whose businesses are unincorporated), unpaid family workers, agricultural workers and private household workers who are excluded from the establishment survey. The household survey showed an increase of 196,000 jobs over the month.
The unemployment rate is also derived from the household survey. In August the unemployment rate fell to 5.1% from 5.3% in July. The year ago rate was 6.1%. The labor force participation rate was unchanged over the month and remains at a 38-year low. The more comprehensive U-6 unemployment rate was 10.3% last month, down from the year ago rate of 12.0%. The U-6 unemployment rate counts part-time workers who would prefer full-time work and individuals who would like a job but have given up the search. Of the approximately 94 million Americans not counted in the labor force, about six million indicate they would like to have a job. Although the headline unemployment rate is very close to what might be considered full employment, the elevated U-6 rate is an indication of ongoing slack in the labor market, which may be one reason why upward pressure on wages has been slow to build.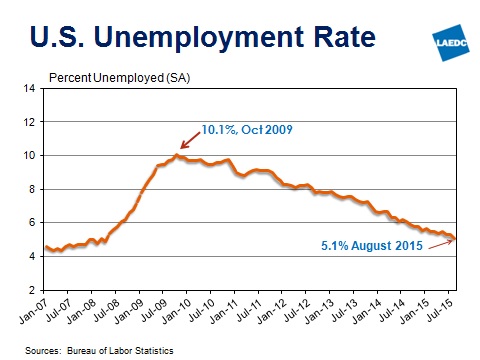 Improvements in the labor market have also helped bring down the share of workers who have been jobless for 27 weeks or more. In August, that share was 27.7%, which was up from July (25.8%), but down from 31.2% a year ago. The long-run average is 25.0%. Over the past 12 months, the number of long-term unemployed persons has fallen by 779,000.
Summary: The pace of job growth in August may have been a little slower compared to recent months, but a broader survey of labor market indicators combine to reinforce our narrative of continuing improvement in the labor market and the general economy. (Kimberly Ritter-Martinez)
Source: U.S. Bureau of Labor Statistics
U.S. Light Vehicle Sales Rise to 17.7 Million Unit Pace
In August, U.S. light vehicle sales were up by 2.9% over the year to 17.7 million units (seasonally adjusted annualized rate). This was the fastest pace of sales since July 2005. On a per unit volume basis, 1.58 million light vehicles were sold last month, a slight decline (-0.5%) compared with year ago levels. That's not so bad though when one considers there was one less selling day this August compared with last year and the Labor Day weekend fell in September this year.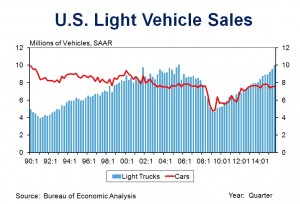 Sales momentum is solidly on the side of light trucks, especially cross over utility vehicles and full-size pickup trucks. Sales increased by 11.3% over the year in August to 10.2 million units and accounted for 57.5% of the light vehicles sales mix. This was the highest share of truck sales recorded since June 2005.
Sales of domestic trucks increased by 6.9% over the year to 8.2 million units
Foreign light truck sales, which comprise about 20% of the light truck market, surged by 34.2% to 2.0 million units
Compared with July, sales of pick-ups, SUVs and crossovers were up by 3.4%
Total passenger car sales, including foreign and domestic models, fell by 6.6% over the year to 7.5 million units.
Sales of domestic autos were down by 6.6% over the year to 5.6 million units
Sales of foreign passenger cars declined by 6.7% to 1.9 million units
Compared with July, total passenger car sales were off by 1.1%
Sales of medium-heavy truck have maintained a strong pace, rising by 10.4% over the year in August to 476,000 vehicles. Since these heavier trucks are used by firms to haul freight and make deliveries, an increase in demand for these vehicles is an indication of stronger business activity.
Reflecting a healthy market for buyers and sellers, both incentives and transaction prices rose in August. Momentum in the automotive industry is expected to carry forward through the rest of the year, bolstered by moderating gasoline prices and positive news regarding economic growth and job creation. It's looking likely that auto sales will exceed expectations this year, pushing past calendar-year projections of 17.1 million units to 17.2. (Kimberly Ritter-Martinez)
Source: U.S. Bureau of Economic Analysis

Events of Interest
Save the Date!
Thursday, September 10, 2015: BLS Data User's Conference
Location: 915 Wilshire Blvd., 9th Floor, Los Angeles
This conference will give BLS data users the opportunity to speak with BLS economists and learn more about the economic data series they produce. The sessions will provide an overview of BLS programs, how the data are collected, uses, trends, and how to access the data from the BLS web site. LAEDC chief economist, Dr. Robert Kleinhenz, will be a featured speaker on the U.S. and Los Angeles economy.
Wednesday, September 30, 2015: LAEDC Fall Economic Forecast
Location: Omni Los Angeles Downtown Hotel; 251 South Olive St., Los Angeles 90012
Join the LAEDC on September 30th, 2015 for our Fall Economic Forecast, featuring long-range analysis and the topic "From Boomers to Millennials: The Future of the Urban Environment".
Tuesday, October 13, 2015: Southern California Visitor Outlook Conference
Location: Sheraton Los Angeles Downtown Hotel; 711 South Hope St., Los Angeles 90017
Please join us for the 27th Annual Southern California Visitor Industry Outlook Conference to be held at The Sheraton Los Angeles Downtown Hotel. Hear from noted experts, representing a range of travel sectors, offer their best assessment of the southern California economic situation and how it may affect your business.
All attendees receive an electronic link of PKF Consulting's 2016 Lodging Forecast and will be able to enjoy a continental breakfast buffet before the conference begins.
Friday, October 30, 2015: 2015-16 South Bay Economic Forecast Conference
Location: California State University Dominguez Hills, Loker Student Union/Grand Ballroom, 1000 E. Victoria St., Carson 90747
The South Bay region has the second highest concentration of Fortune 500s in the State of California. As technology continues to rapidly evolve, how does that change the platform for the way companies conduct business in the South Bay region and what will it mean to your business? What is the next "big idea" in technology and how will that affect your industry?
The CSUDH South Bay Economic Forecast offers a focused look at the key economic drivers, employment trends, and the impacts and opportunities of a region in transition. Gain valuable insight and ideas about potentially lucrative industries in the South Bay region: aerospace, goods movement, creative industries, higher education, manufacturing, retail trade, healthcare, leisure and hospitality, real estate, digital media / entertainment, energy, and sports management.
Who Should Attend: Business Leaders in the community, civic leaders, small business owners, major corporations and South Bay residents.