v.19 n. 34 – Released August 17, 2015
This Week's Headlines:
Retail Sales Perk Up in July
Americans spent more on new cars, clothing and eating out in July, pushing U.S. retail and food services sales up by 0.6% over the month. Additionally, the decline of 0.3% originally posted in June was revised up to a flat reading – an indication that the consumer sector is not as bad off as the initial weak June numbers seemed to suggest. Core retail sales, which strip out autos, gasoline and building supply centers were up by 0.3%.
Sales were stronger across the board last month. Among the major sectors reporting an increase in sales were motor vehicles (1.4%); furniture and home furnishings (0.8%); home improvement centers (0.7%); health and personal care stores (0.3%); gasoline stations (0.4%); and apparel retailers (0.4%). U.S. consumers also spent more on sporting goods, books, music and their hobbies (0.9%), they ate out more (0.7%) and spent more on online shopping (1.5%), thanks in no small part to Amazon's "Prime Day" on July 15.
The only two sectors posting a decline in sales were the long struggling electronic and appliance stores (-1.2%) and general merchandize stores (-0.5%). Sales at food and beverage stores were unchanged over the month.
On a year-over-year basis, total retail sales in July were up by 2.4%, which is still below the average growth rate of 3.0% over the last 12 months. Most major sectors are reporting year-over-year gains with the exception of electronics and appliance stores (-2.5%), department stores (-2.7%) and gasoline stations (-15.2%), primarily because of declining prices (retail sales are not adjusted for prices changes). The biggest winners over the year have been restaurants and bars (9.0%), motor vehicles (6.9%) and the catch-all category sporting goods, hobby, book and music stores (6.4%).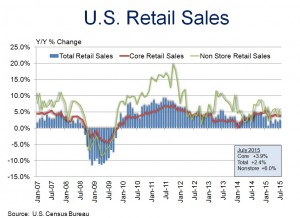 This was a good report and should partially help ease concerns over the health of U.S. consumers and their willingness to spend. Americans remain cautious in their spending habits and since the end of the recession, an uptick in spending is usually accompanied by a decline in the saving rate. If recent gains in labor market continue, and if stronger wages are realized, it will help support consumer demand and retail spending through the end of this year. (Kimberly Ritter-Martinez)
Source: U.S. Census Bureau
Trade Activity Picks Up as Port of Long Beach Sets Record
The total number of containers handled at the ports of Long Beach and Los Angeles in July 2015 rose by 6.8 percent on a year-over-year basis to 1,389,372 TUEs (twenty-foot equivalent units) after declining the previous month. Cargo volumes for the combined ports have largely returned to their underlying trends following the heavy slowdowns resulting from labor disruptions. However, total containers at the Port of Los Angeles decreased for the second month in a row, edging down 2.5 percent on a year-over-year basis, while volumes at the Port of Long Beach hit record levels, surging 18.4 percent in July when compared to last year.
Imports (loaded inbound traffic) at the Port of Los Angeles fell by 2.5 percent from July 2014 to July 2015, decreasing from 363,394 TEUs to 350,628 TEUs. Meanwhile, imports at the Port of Long Beach shot up by 16.2 percent from July 2014 to July 2015, up from 297,615 TEUs to 345,912 TEUs. Across both ports, the number of loaded inbound containers grew by 1.8 percent.
Exports (loaded outbound traffic) at the Port of Los Angeles witnessed another steep decline, falling by 16.5 percent from 163,295 TEUs in July 2014 to 136,402 loaded outbound TEUs in July 2015. Meanwhile, exports at the Port of Long Beach jumped by 15.9% in July with a reported 143,875 loaded outbound TEUs (excluding empties), down from 124,126 TEUs in July 2014. The ports combined experienced a year-over-year decline for the thirteenth month in a row, slowing by 2.5 percent.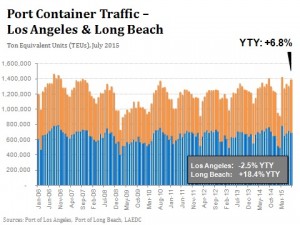 Bottom Line: Distortions in loaded inbound containers (imports) caused by labor disputes appear to have run their course, with imports at the San Pedro Bay ports improving in July 2015 by 1.8 percent from one year ago, but down by 1.5 percent on a year-to-date basis given the scale of the slowdown. On the other side of the trade ledger, loaded outbound containers (exports) have been declining for the last thirteen months, largely a result of an appreciating U.S. dollar and slow growth for Los Angeles' trading partners, particularly in developing Asia. Local exports declined by 12.5 percent on a year-to-date basis. Moving forward, imports should improve as U.S. domestic demand continues to strengthen, while slow economic growth abroad will continue to suppress export activity. Lastly, it remains to be seen whether the Tianjin blasts will have an impact on local imports as almost half of U.S. imports from Tianjin enter through the San Pedro Bay ports. (George Entis)
Source: Port of Los Angeles, Port of Long Beach
Events of Interest
Save the Date!
Wednesday, September 30, 2015: LAEDC Fall Economic Forecast
Location: Omni Los Angeles Downtown Hotel; 251 South Olive St., Los Angeles 90012
Join the LAEDC on September 30th, 2015 for our Fall Economic Forecast, featuring long-range analysis and the topic "From Boomers to Millennials: The Future of the Urban Environment".