v.19 n. 31 – Released July 28, 2015
This Week's Headlines:
California Home Sales and Median Prices in June
The California Association of Realtors reported on California existing home sales and median prices in June. The statewide median price in June was $489,560, up 0.8% from May and up 7.0% from a year earlier. The June median price was also the highest recorded since November 2007.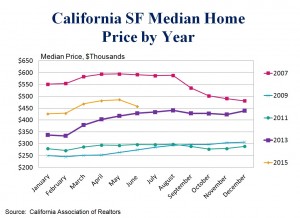 Statewide, the number of single-family homes that closed escrow in June increased by 11.0% over the year to 437,040 units (seasonally adjusted, annualized rate) and rose 3.3% from May. Home sales in June reached their highest level in nearly two years and was the third straight month in which sales rose above 400,000 units. Momentum in California's housing market continues to hold up, although price gains may be somewhat less robust than last year.
With home prices continuing to rise and mortgage interest rates edging up ahead of the expected rate increase by the Federal Reserve, housing affordability is a growing concern. The interest rate in June on a 30-year fixed-mortgage averaged 3.98%, up from 3.84% in May and above the year ago rate of 3.16%.
Despite sustained increases over the last two years, the statewide median is still $100,000 shy of the previous peak of $595,500 that was established in May 2007. By comparison, a separate release from the National Association of Realtors reported that the national median had hit a new record high of $236,400 (for all homes).
Below is a year-over-year summary of sales and price activity in Southern California by county. Although the statewide sales figures are seasonally adjusted, regional and county figures are not.
Los Angeles County: unit sales increased by 13.4% over the year in June, while the median price rose by 7.6% to $469,030.
Orange County: sales rose by 16.4% last month accompanied by an increase in the median price of 2.9% to $716,730.
Riverside County: sales of existing homes rose by 15.0% and the median price increased by 4.8% to $337,380.
San Bernardino County: sales increased by 24.1% in June with the median price rising by 12.9% to $231,300.
San Diego County: unit sales were up by 22.9% and the median price rose by 7.2% to $569,530.
Ventura County: sales jumped by 20.8% over the year while the median price moved up by 11.0% to $634,190.
Source: California Association of REALTORS
Cargo Volumes Slow in June
The total number of containers handled at the ports of Long Beach and Los Angeles in June 2015 fell by 3.1 percent on a year-over-year basis to 1,305,424 TEUs (twenty-foot equivalent units) after rising the previous three months. Cargo volumes have largely returned to their underlying trends following the heavy slowdowns resulting from labor disruptions. At the Port of Los Angeles, total containers decreased by 2.0 percent on a year-over-year basis while the Port of Long Beach saw total containers drop by 4.4 percent in June when compared to last year.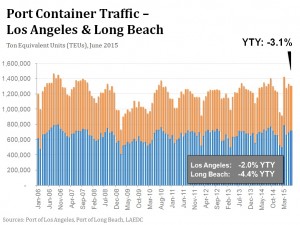 Imports (loaded inbound traffic) at the Port of Los Angeles fell by 3.6 percent from June 2014 to June 2015, decreasing from 382,666 TEUs to 368,709 TEUs. Meanwhile, imports at the Port of Long Beach slid by 6.0 percent from June 2014 to June 2015, falling from 316,054 TEUs to 297,189 TEUs. Across both ports, the number of loaded inbound containers ticked up by 0.7 percent.
Exports (loaded outbound traffic) at the Port of Los Angeles witnessed a 10.7 percent decline from 160,823 TEUs in June 2014 to 143,549 loaded outbound TEUs in June 2015. Meanwhile, exports at the Port of Long Beach decreased in June with a reported 128,223 loaded outbound TEUs (excluding empties), down 8.4 percent from 140,034 TEUs in June 2014. The ports combined experienced a year-to-year decline for the twelfth month in a row, slowing by 9.7%.
Bottom Line: Distortions in loaded inbound containers (imports) caused by labor disputes appear to have run their course, with imports at the San Pedro Bay ports improving in June 2015 by 0.7 percent from one year ago, but down by 2.7 percent on a year-to-date basis given the scale of the slowdown. On the other side of the trade ledger, loaded outbound containers (exports) have been declining for the last twelve months, largely a result of an appreciating U.S. dollar and slow growth for Los Angeles' trading partners. Local exports declined by 14.1 percent on a year-to-date basis. Moving forward, imports should improve as U.S. domestic demand continues to strengthen, while slow economic growth abroad will continue to suppress export activity. (George Entis)
Source: Port of Los Angeles, Port of Long Beach
Events of Interest
Save the Date!
Wednesday, September 30, 2015: LAEDC Fall Economic Forecast
Location: Omni Los Angeles Downtown Hotel; 251 South Olive St., Los Angeles 90012
Join the LAEDC on September 30th, 2015 for our Fall Economic Forecast, featuring long-range analysis and the topic "From Boomers to Millennials: The Future of the Urban Environment".