v.19 n. 30 – Released July 22, 2015
This Week's Headlines:
June State and Local Employment Report
The Employment Development Department (EDD) released the state and local employment reports for the month of June. Total California nonfarm employment increased by 22,900 jobs over the month in seasonally adjusted (SA) terms.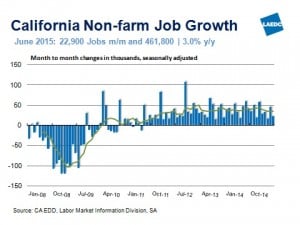 The year-over-year change showed an increase of 461,800 jobs (SA). This equated to a growth rate of 3.0% and exceeded the June national increase of 2.1%. California's private sector added 435,800 jobs (an increase of 3.3%) over the year, while employment in the public sector rose by 1.1% (26,000 jobs).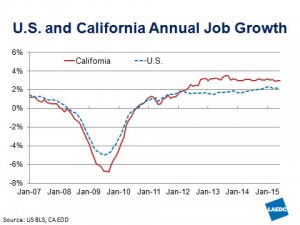 Consistent with the past several months, ten of the 11 super-sectors add jobs over the year to June: construction; manufacturing; trade, transportation and utilities; information; financial activities; professional and business services; educational and health services; leisure and hospitality; other services; and government for a combined gain of 463,800 jobs. Professional and business services posted the largest gain on a numerical basis, adding 133,100 jobs (up 5.5%), while construction claimed the largest gain in percentage terms, increasing by 7.0% or 47,000 jobs.
The only sector to record a decline over the year was mining and logging, down 2,000 jobs, or 6.4%.
California's unemployment rate declined slightly from 6.4% in May to 6.3% in June and was down from the year ago rate of 7.5%. The civilian labor force edged up by 0.1% over the month and rose by 1.4% over the year. Over the last 12 months, 265,300 workers have joined California's labor force.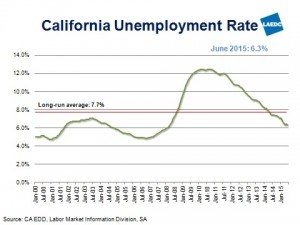 County highlights:
(Note: With the exception of the Los Angeles unemployment rate, county level numbers are not seasonally adjusted, which means there can be large month-to-month fluctuations in job counts. A truer picture of how local labor markets are faring is revealed by focusing on the year-over-year numbers. Annual trends "correct" for the seasonal factors that influence certain industry sectors over the course of the year.)
In Los Angeles County, the seasonally adjusted unemployment rate was 7.4%, down from 7.6% in May and below the year ago rate of 8.2%. Total nonfarm employment rose by 2,200 jobs over the month and by 106,500 jobs over the year, an increase of 2.5%.

Educational and health services posted the largest year-over-year gain in employment in June with an increase of 31,100 jobs, with 71% of those new jobs in health care and social assistance.

Also recording significant job gains were trade, transportation and utilities (19,600 jobs) and leisure and hospitality (18,200 jobs). Restaurant jobs accounted for 80% of the gains in leisure and hospitality.

Two of the major industry sectors reported year-over-year declines in June: mining and logging (-100 jobs) and manufacturing (-3,500 jobs).

In June, the unemployment rate in Orange County was 4.3%, up slightly from 4.2% in May but below the year-ago figure of 5.5%. Nonfarm payroll jobs increased by by 1,600 over the month and were up by 45,500 over the year (an increase of 3.0%).
In the Riverside-San Bernardino area, the unemployment rate in June was 6.5% compared with 6.4% in May and the year ago rate of 8.2%. The region gained 1,900 nonfarm payroll jobs over the month and 47,300 over the year. This represented an increase of 3.7%.
In Ventura County, the unemployment rate was 5.3%, down from the year ago estimate of 6.4%. Total nonfarm employment fell by 100 jobs compared with May but was up over the year by 3,500 jobs (1.2%).
(Kimberly Ritter-Martinez)
Source: California EDD
California Financial Report for June
The State Controller's office has released the final financial report for FY 2014-15, which ended June 30. For the second year in a row, the General Fund ended with a positive cash balance.
Total disbursements for the year were up by 16.2% to $115.8 billion compared with the previous fiscal year. Total receipts ($116.4 billion), were up by 11.9% over the same period, exceeding disbursements by $607.8 million. As of June 30, the General Fund cash balance was $2.5 billion. There was an additional $449.7 billion set aside in the Special Fund for Economic Uncertainties, bringing the total cash balance up to nearly $3.0 billion.
The year ended with an unexpected surge in revenues. Total revenues (receipts from taxes, licenses, fees or investment earnings) for the year were up by 12.5% to $114.3 billion compared with FY 2013-14, beating expectations by over $894 million. Personal income taxes accounted for 70% of revenues, rising by 15.2% over the year to $76.3 billion. Corporate incomes taxes increased by 20.5% to $10.3 billion, while sales and use taxes were up by 4.9% to $23.2 billion.
The schedule of cash disbursements in the Controller's report showed that expenditures on education were up significantly compared with the previous fiscal year:
Local Education (K-12): $44.2 billion, an increase of 20.1% over the year
Community Colleges: $4.9 billion, up by 21.5%
UC and CSU: $6.0 billion, up by 10.8%
Other Education: $2.5 billion, up by 42.7%
Spending for the Department of Corrections increased by 9.9% to nearly $10 billion, while outlays for Health and Human Services rose by 8.9% to $2.3 billion. The amount the state paid to service its debt obligation was up by 9.8% to $4.9 billion (debt service amounts are net of offsets such as federal subsidies and reimbursements for other services).
In addition to ending the year with a cash balance, the General Fund had a zero balance in outstanding loans – $2.8 billion in revenue anticipation notes from summer 2014 were repaid June 22. The General Fund currently has $28.3 billion in available borrowable resources compared with $23.8 billion last year.
California's fiscal comeback reached another important milestone in June. Standard & Poor's Rating Services raised its general obligation rating for the State of California from AA- to A+ and the rating on the state's annual appropriation secured debt from A to A+. California's credit rating is now at its highest level in 14 years. The improved credit rating will result in lower borrowing costs in the years to come, making more financial resources available to rebuild infrastructure and invest in California's economy. (Kimberly Ritter-Martinez)
Source: California State Controller's Office
SoCal Home Sales and Median Prices in June
Southern California home sales increased over the year in June, rising by 18.1% to 24,378 units (new and resale houses and condominiums). The was the fifth consecutive year-over-year increase in sales and marks the longest period of year-over-year sales gains since the first half of 2013. Although the June increase was the sharpest in nearly three years, home sales in Southern California were still 9.6% below average for the month of June going back to 1988.
The median price across Southern California increased by 5.7% over the year to $442,000, the highest for any month since October 2007. The median price is still 12.5% below the peak of $505,000 reached in mid-2007. Among the six counties, the median price in Orange County is the closest to regaining its pre-recession peak of $645,000 (within 2.4%).
Home sales continue to be below normal and inventories remain tight, but the housing market is making progress. In addition to the increase in sales activity, other indicators suggest that the housing market is working its way back a healthy state. REO sales were down over the year across the region – the share of REO sales in June was at its lowest point since May 2007. The share of short sales was also down and the share of absentee buyers (mostly investors) was at its lowest level since May 2009. What has not changed for would be buyers are the double hurdles of declining affordability and credit challenges. (Kimberly Ritter-Martinez)

Source: CoreLogic
Retail Sales Step Back in June
Spending on U.S. retail and food services declined over the month in June, falling by 0.3%, while the 1.2% gain in May was revised down to 1.0%. Core retail sales (ex-autos, building supply centers and gasoline stations) edged down by 0.1%.
Although weakness in the retail sector was broad based last month, the housing-related categories were hit particularly hard. Sales at furniture and home furnishings stores were down by 1.6%, while building supply centers posted a decline of 1.3%. Elsewhere, motor vehicle sales were down by 1.1% and clothing sales fell by 1.5%. Restaurants and bars reported that sales were down by 0.2%; nonstore (mostly e-commerce) sales declined by 0.5%; and miscellaneous retailers were down by 0.2%. Sales at food and beverage stores were unchanged over the month.
In spite of the overall decline, the news was not all bad. Five of the 13 major sales categories reported an increase in seasonally adjusted sales over the month. Sales at electronics and appliance stores were up by 1.0%. This was a bit of a surprise since electronics has been one of the weakest retail sectors for quite some time. Health and personal care stores reported an uptick of 0.2% and sales at gasoline stations increased by 0.8%. Sporting goods, hobby, book and music store sales rose by 0.1% and general merchandise stores were up by 0.7%.
On a year-over-year basis, total retail sales in June were up by 1.4%, which was well below the average growth rate of 3.1% over the last 12 months. Most major sectors are still reporting year-over-year gains with the exception of gasoline stations (-17.1%); building supply centers (-1.4%); and electronics and appliance stores (-0.4%). The fastest growing sectors are restaurants and bars (+7.7%); sporting goods, books, hobby and music stores (+6.6%); and motor vehicles (+6.5%).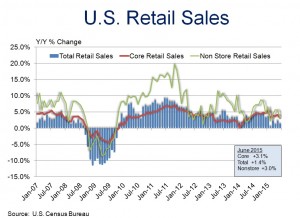 Retail sales were weak in June and have been volatile over the last several months. Consumers appear to have taken a break in June following a strong month of consumption in May, a pattern that has been prevalent since the end of the recession. Retail sales do factor into GDP calculations of personal consumption expenditures, but are only one element of consumer spending. The retail sales report focuses heavily on goods purchases, but American consumers spend a much higher share of their incomes on services. (Kimberly Ritter-Martinez)
Source: U.S. Census Bureau
Events of Interest
Save the Date!
Wednesday, September 30, 2015: LAEDC Fall Economic Forecast
Location: Omni Los Angeles Downtown Hotel; 251 South Olive St., Los Angeles 90012
Join the LAEDC on September 30th, 2015 for our Fall Economic Forecast, featuring long-range analysis and the topic "From Boomers to Millennials: The Future of the Urban Environment".