v.19 n. 29 – Released July 13, 2015
This Week's Headlines:
Consumers Ease Up on Borrowing in May
Falling just short of expectations, total consumer credit outstanding increased by 5.7% ($16.1 billion) over the month in May to $3.4 trillion (seasonally adjusted annualized rate). April consumer credit was revised upward from a gain of $20.6 billion to $21.4 billion (6.4%). Over the 12 months ending in May, total non-mortgage consumer debt was up by 6.5%.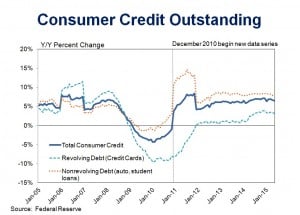 Non-revolving debt accounted for most of the growth in overall consumer credit in May. Composed primarily of auto and student loans, non-revolving debt increased by 7.0% in May or by $14.5 billion. Over the 12 months ending in May, non-revolving debt was up by 7.8%. Most of this growth has been driven by strong auto sales, which provide one avenue by which consumers can take advantage of record low interest rates. Student loans have also displayed robust growth, but the rapid expansion of both auto and student loans is raising a few concerns. Although delinquencies on auto loans are still rather low, delinquencies on student debt are starting to tick up.
Revolving debt, which consists mainly of credit cards, edged up by 2.1% ($1.6 billion) and over the year to May, rose by 3.2%. The paltry growth in May was probably pay back for the 11.5% increase we saw in April. Since the recession, consumers have been very judicious in their use of credit cards, running up balances one month and paying them down the next. Total credit card debt is still almost 12% below the peak level reached seven years ago.
The share of outstanding credit relative to nominal disposable income has held steady over the last three months at 25.3%, somewhat above the long-run average ratio of 22.9%. However, if we adjust disposable income for inflation the income-to-debt ratio rises to 27.6%. (Kimberly Ritter-Martinez)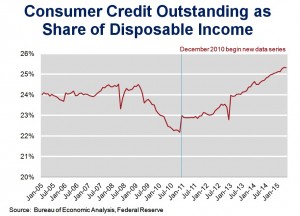 Sources: U.S. Federal Reserve
Events of Interest
Save the Date!
Wednesday, September 30, 2015: LAEDC Fall Economic Forecast
Location: Omni Los Angeles Downtown Hotel; 251 South Olive St., Los Angeles 90012
Join the LAEDC on September 30th, 2015 for our Fall Economic Forecast, featuring long-range analysis and the topic "From Boomers to Millennials: The Future of the Urban Environment".