v.19 n. 28 – Released July 7, 2015
This Week's Headlines:
U.S. Job Growth Holds Steady in June
The U.S. Labor Market Report covering the national employment situation in June showed continued growth with a gain of 223,000 jobs. The unemployment rate dropped to 5.3%, the result of both job creation and a decline in workforce participation. The average hourly wage remained unchanged over the month at $24.95. Over the year, average hourly earnings were up by 2.2%, ahead of inflation but not enough to encourage much in the way of additional spending by the average American household.
The employer payroll survey reported that total nonfarm employment in the United States increased by 223,000 jobs in June. Accompanying last month's job gain were revisions to the April figure (revised down from 221,000 jobs to 187,000) and the May number which was also revised down, from 280,000 to 254,000. With these revisions, the gains in April and May combined were 60,000 lower than previously reported. Over the past three months, job gains have averaged 221,000 per month. For all of 2014, job growth averaged 260,000 per month.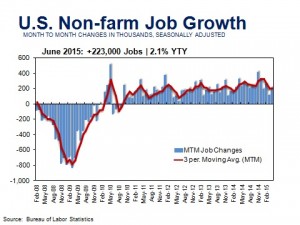 On a year-to-year (YTY) basis, U.S. employment expanded by 2.94 million jobs, an increase of 2.1%. Yearly gains have now been above two percent every month since September of last year. Every major industry sector added jobs over the year with the exception of mining and logging. The fastest growing sectors in YTY percentage terms were construction (4.2% or 259,000 jobs): professional and business services (3.5% or 672,000 jobs); leisure and hospitality (2.9% or 425,000 jobs); and education and health care (2.7% or 571,000 jobs).
New record high levels of employment were reached last month in the following super-sectors: trade, transportation, and utilities; professional and business services; education and health; leisure and hospitality; and other services (these are mainly jobs in repair and maintenance, personal and laundry services and membership organizations).
The unemployment rate fell to 5.3% from 5.5% in May and 6.1% a year ago. Much of the decline over the month was due to a drop in the labor force participation rate, which slipped to 62.6% in June compared with 62.9% in May. After reaching and maintaining a plateau of 67.1% from 1997 to 2000, the rate of labor force participation has been on a trend decline, due in part to demographic factors like retiring baby boomers. Of the 93.6 million Americans currently not in the labor force, 6.1 million would like to have a job.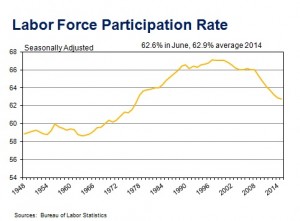 Other labor market indicators in the June report continued to show improvement as well. The more comprehensive U-6 unemployment rate, which counts part-time workers who would prefer full-time work and individuals who would like a job but have given up looking for work was 10.5%, down from 10.8% in May and 12.0% in June last year. The U-6 rate was at its lowest in nearly seven years, last hitting 10.5% in July 2008.
Overall, unemployed individuals are finding work faster. The median duration of unemployment in June fell to 11.3 weeks from 13.2 weeks a year ago. Improvements in the labor market have also helped bring down the share of workers who have been jobless for 27 weeks or more. In June, that share was 25.8% versus 32.6% in June 2014 and is now very close to returning to the long-term average of 25.0%. Over the past 12 months, the number of long-term unemployed persons has fallen by 955,000 an indication that the spike in long-term unemployment (exceeding 45% during the recession) was cyclical as opposed to structural in nature.
Summary: The unemployment rate dropped to 5.3%, the lowest rate in over six years. Although this was due in part to a transitory decline in the labor force (there has been a decline in the labor force between May and June for the past three years in a row), there were many more positives than negatives in this month's report and the job outlook remains one of steady improvement. (Kimberly Ritter-Martinez)
Sources: U.S. Bureau of Labor Statistics
SoCal Home Sales and Median Prices in May
Southern California home sales increased over the year in May, rising by 4.9% to 21,644 units (new and resale houses and condominiums). This was the fourth consecutive yearly increase and follows a period during which sales fell in 11 of the previous 12 months. Although May sales were the highest for that month in two years, sales were still 14.4% below the average of 25,297 units for the month of May going back to 1988. Over the month, sales dipped by 1.7%.
The median price across Southern California increased by 2.2% over the year to $426,000. This was the smallest annual gain since median prices began to rise 38 months ago. Part of the slowdown in price appreciation was due to a higher share of sales in more affordable areas. The July median price was 15.6% below the peak price of $505,000 reached in mid- 2007.
Home sales continue to be below normal, but the housing market is slowly working its way back to a healthy state. There are fewer distressed property sales, and investor and cash purchases are down. Traditional buyers are returning to the market but affordability and credit continue to be impediments for many would-be buyers. (Kimberly Ritter-Martinez)

Sources: CoreLogic
Light Vehicle Sales Top 17-Million Mark Again
Although the pace has slowed, light vehicle sales have retained recent momentum. In June, sales were up by 1.5% over the year to 17.1 million units (seasonally adjusted annualized rate). This marked the third time in four months that sales tipped 17-million units. On a per unit volume level, 1.47 million light vehicles were sold last month, an increase of 3.9% compared with the same period last year.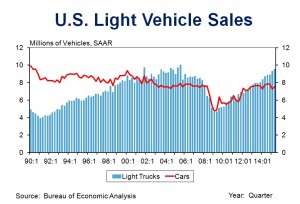 Total passenger car sales, including foreign and domestic models, declined by 6.1% over the year to 7.6 million units.
Sales of domestic autos were down by 4.1% over the year to 5.6 million units
Foreign auto sales fell by 11.2% to 2.0 million units
Compared with May, total passenger car sales were off by 4.0%
Unlike passenger car sales, demand for light trucks, SUVs and crossover utility vehicles has been much more consistent. Sales increased by 8.5% over the year to 9.5 million units and accounted for 55.7% of the light vehicle sales mix.
Sales of domestic trucks increased by 5.1% over the year to 7.8 million units
Foreign light truck sales, which comprise only about 20% of the light truck market, were up by 26.7% to 1.8 million units
Compared with May, sales of light trucks slipped by 3.0%
Sales of medium-heavy trucks jumped by 14.8% over the year in June and by 4.2% over the month. Since these are vehicles used by firms to haul freight and make deliveries, an increase in sales of these larger trucks is an indication of stronger business activity.
As vehicle sales began to reach pre-recession levels it was expected that the rate of growth would slow. Although this is what we are seeing now, sales continue to be robust. Supported by job growth, relatively low fuel prices, access to credit and improving consumer sentiment, momentum is expected to continue through the rest remainder of 2015. (Kimberly Ritter-Martinez)
Sources: U.S. Bureau of Economic Analysis
Events of Interest
REGISTER NOW!
Check back for upcoming events.