v.19 n. 27 – Released July 1, 2015
This Week's Headlines:
A More Diverse America
The U.S. Census Bureau regularly publishes reports that highlight the changing demographic landscape of America. Most recently, the Census Bureau revealed that millennials (persons born between 1982 and 2000) number 83.1 million and represent more than one quarter of the nation's population. Because millennials constitute such a large share of the U.S. population (they outnumber the baby boomers by 7.7 million) and are now in or entering their prime working years, their attitudes and preferences regarding employment and consumption will have profound impact on the U.S economy.
Millennials are also much more diverse with 44.2% identifying as a minority race or ethnic group. In terms of diversity, however, the generation coming up behind the millennials is even more so. The youngest Americans (those 5 years old or less) have become the first majority-minority population group in the U.S. with 50.2% being part of a minority race or ethnic group.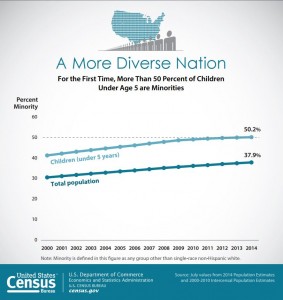 Contributing to the growing diversity of the United States, every race or ethnic group recorded more births than deaths between 2013 and 2014 except single-race non-Hispanic Whites. As of July 2014:
The nation's Hispanic population totaled 55.4 million, up by 2.1% over the year
The Asian population numbered 20.3 million, increasing by 3.2%
Native Americans and Alaska Natives numbered 6.5 million, up by 1.4%
Native Hawaiians and Pacific Islanders totaled 1.5 million, increasing by 2.3%
The Non-Hispanic white population was 197.9 million, up by 0.5% over the year
Five states have already reached overall minority-majority status: Hawaii (77.0%); the District of Columbia (64.2%); California (61.5%); New Mexico (61.1%); and Texas (56.5%).
California was home to the largest population of Hispanics (15.0 million) of any state, while Los Angeles claimed the largest Hispanic population of any county (4.9 million). Additionally, California and Los Angeles had the largest Asian population of any state and county with 6.3 million and 1.7 million respectively. Further reflecting the wide diversity of our state and county, California and Los Angeles also had more Native Americans and Alaska Natives among their residents than any other county or state. (Kimberly Ritter-Martinez)
Sources: U.S. Census Bureau
California Home Sales and Median Prices in May
The California Association of Realtors released their report on California existing home sales and median prices in May. The statewide median price rose over the 12 months ending in May by 4.4% to $485,830. Compared with April, the median price was up by 0.8%. The May median price was also the highest recorded since November 2007.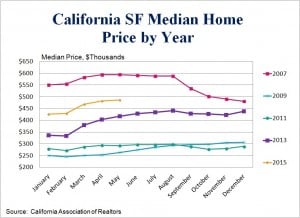 Statewide, the number of single-family homes that closed escrow in May increased by 8.9% over the year to 423,360 units (seasonally adjusted, annualized rate) but was down by 1.1% from April. Home sales in May reached their highest level in nearly two years and was the second straight month in which sales rose above 400,000 units. Momentum in California's housing market is looking pretty solid, although conditions vary significantly by metro area with several still posting a year-to-year sales declines. San Francisco was among that group with a drop of 13% in May.
With home prices continuing to rise and mortgage interest rates edging up ahead of the expected rate increase by the Federal Reserve, housing affordability is becoming more and more of a concern. The interest rate in May on a 30-year fixed-mortgage averaged 3.84%, up from 3.67% in April, but still below the year ago rate of 4.19%.
Below is a year-over-year summary of sales and price activity in Southern California by county. Although the statewide sales figures are seasonally adjusted, regional and county figures are not. In four of the six counties, sales rose at a faster rate than prices – something we have not seen for a while.
Los Angeles County: unit sales increased by 2.2% over the year in May, while the median price rose by 5.1% to $432,570.
Orange County: sales rose by 4.9% last month accompanied by an increase in the median price of 2.8% to $717,850.
Riverside County: sales of existing homes rose by 7.8% and the median price increased by 2.7% to $332,490.
San Bernardino County: sales increased by 12.7% in May with the median price rising by 3.0% to $220,890.
San Diego County: unit sales were up by 6.5% and the median price rose by 8.2% to $538,660.
Ventura County: sales jumped by 16.4% over the year while the median price moved up by 9.2% to $620,460.
Sources: California Association of REALTORS
The American Consumer – Alive and Well in May!
Total personal income increased by 0.5% in May (in nominal terms) for the second month in a row. Looking at the individual components of personal income, wages and salaries were also up by 0.5%, while proprietor's income increased by 0.7% and rental income rose by 0.8%. Income from receipts on assets (interest and dividend income) increased by 1.0%. Personal consumption expenditures shot up by 0.9% after rising by just 0.1% in April.
Real disposable income (adjusted for taxes and inflation) increased by 0.2% and real personal consumption expenditures rose by 0.6%. Spending on durable goods (cars, appliances etc.) drove most of the increase, rising by 2.3%. Spending on nondurable goods (clothing, food, gasoline) posted a more moderate increase of 0.9%. Meanwhile, household outlays on services grew by just 0.2%.
As a result of spending running well ahead of income last month, the personal saving rate fell from 5.4% in April to 5.1% in May.
On a year-to-year basis:
Real disposable income in May increased by 3.5%
Real personal consumption expenditures were up by 3.4%
Growth in real spending on goods (4.7%) continues to outpace spending on services (2.8%) although in dollar terms, Americans spend more than two times as much on services as they do goods.
Consumer prices were up over the month in May by 0.3% but over the year prices have edged higher by only 0.2%, well below the 3.5% annual increase in real disposable income.
After several months of sluggish spending, this was an encouraging report. The May consumer spending figures align more closely to improvements in the labor market and point to a stronger second quarter GDP report. Consumers on the whole are in better shape than has lately been assumed. A recent report released by the Federal Reserve showed that household balance sheets continue to improve. Household net worth increased by $1.6 trillion during the first quarter of this year to reach a record high of nearly $85 trillion. That equates to a year-over-year growth rate of 5.7%. The largest contributor to first quarter growth was the rise in the value of financial assets and capital gains. Gains in home equity also contributed but to a lesser degree. Of course, that means improvements in household finances are tilted to households that own a home, a stock portfolio or a retirement account. Stronger wage and salary gains would be a welcome development for everyone else. (Kimberly Ritter-Martinez)
Sources: U.S. Bureau of Economic Analysis
California Tax Revenues Increase by 6.5% in 1Q15
The U.S. Census Bureau released figures for first quarter state and local tax collections by state and type of tax. At $213.8 billion, total state tax revenues collected across all fifty states (excluding Washington, DC) were up by 3.4% in the first quarter of 2015 compared with the same period in 2014 – a reflection of the improving health of the economy. In California, tax revenues were up by 6.5% in the first quarter, an increase of $2.2 billion.
Two of California's largest tax revenue categories recorded an increase in collections during the first quarter. General sales tax revenues rose by 5.1% to $9.6 billion, coming in slightly below the national increase of 5.4%. Personal income tax revenues were $17.7 billion in the first quarter, an increase of 9.4% over the year. Nationally, personal income taxes were up by just 1.1%. Although personal income tax revenues constitute the largest share of taxes collected in the state of California, personal income tax revenues are extremely volatile, as demonstrated by the chart below, which greatly complicates the budget planning process.
In contrast, California's corporations paid just $1.8 billion in income taxes during the first quarter, a decline of 2.5% compared with the same period a year ago. Corporate tax payments also tend to be very volatile but they count for a relatively small share of California's "Big Three" revenue sources. Across the U.S., corporate income taxes were up by 9.9%.
Altogether, sales and personal income taxes made up 67.0% of state revenues nationwide. California relies more heavily on these two revenue sources compared to other states. Sales and personal income taxes regularly contribute over 75% of total tax revenues received in a given quarter. (Kimberly Ritter-Martinez)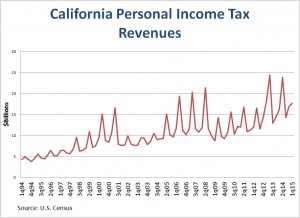 Sources: U.S. Census Bureau
Events of Interest
REGISTER NOW!
Check back for upcoming events.