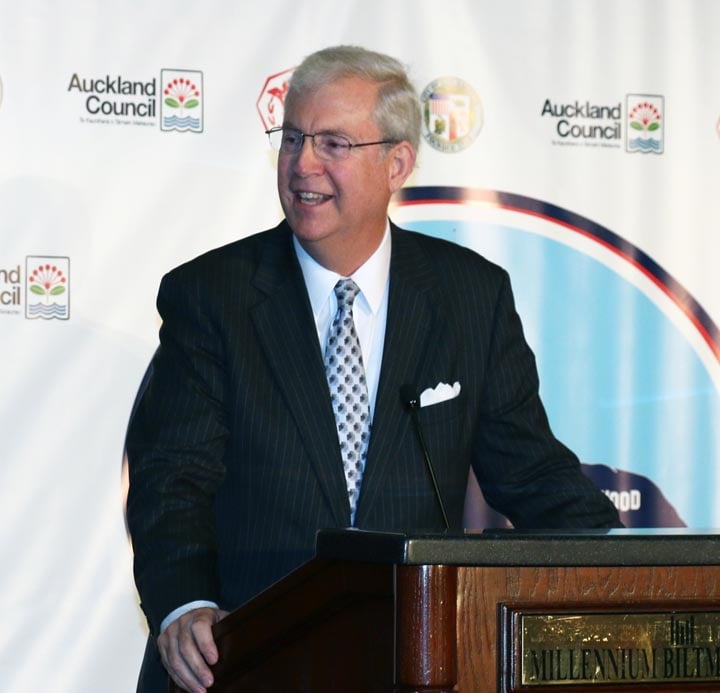 Bill Allen, President of Los Angeles County Economic Development Corporation (LAEDC) details what is so amazing about Los Angeles in his recent remarks at the Tripartite Summit on June 11, 2015. 
Good morning and welcome to Mayor Len Brown, Mayor Chen Jianhua, and Mayor Eric Garcetti.  We salute your visionary leader ship and thank you for bringing us all together.  And good morning to all of you here today.  A special welcome to all our friends from Auckland and Guangzhou, two vibrant centers of commerce, innovation and entrepreneurship, with which we have so much in common here in Los Angeles, and with whose leaders we share a commitment to mutually beneficial cooperation and collaboration.
As Phoebe Hayman just told you, you have come to Los Angeles during a very exciting time. Los Angeles is a global hub, uniquely positioned to meet the increasing demands of the world's growing economies.
Our geographic proximity to Asia and Latin America, combined with our creative talent, comprehensive infrastructure, innovative spirit, and diverse economic profile make our region the ideal place to invest and do business.
People around the world know Los Angeles as the entertainment capital of the world, and that Hollywood is one of our largest industries.
But it is less well known that L. A. is also the manufacturing capital of the United States with more manufacturing firms and more manufacturing jobs than any other county in America.
With a GDP of over $640 billion, LA County has the largest economy in the U.S.
 Los Angeles is ranked #1 on many lists.
We are the top county for foreign direct investment by foreign owned enterprises.  We have more than 4,500 foreign-owned establishments in our backyard, ranging from small but innovative companies like Seedling, to global brands like Honda, Nestle USA and even BYD Motors which manufactures all-electric public transit buses for California.
We are also the top county for workforce in the U.S. with a labor pool of over 4.6 million productive workers.
With all 6 major film studios calling LA home, we are the undisputed creative capital of the world.
The entertainment industry generates $120 billion for the local economy, and is a force that has major impact on other industries and is increasingly connected with the New Zealand and Chinese economies.
We're also a world leader in other key sectors such as: fashion, bioscience, financial services, healthcare, tourism, aerospace, clean technology, and digital media.
With an unmatched drive for innovation and more world-class research universities than any other region, Los Angeles is an incubator of new ideas and a haven for businesses and entrepreneurs.
We produce some of the brightest minds and workers in the world.
With Caltech, UCLA and USC, we have 3 of the top 100 world universities,  we produce more engineers and Ph.D.s than any other region and we have more high tech jobs than any other county in America, with more than 360,000.  And innovation in LA is thriving with game changing companies like SpaceX, Snapchat, and TrueCar all headquartered here.
With 10 million people living in Los Angeles County and 19 million people living in Southern California, we have direct access to a large and growing local consumer market.
We are an ideal location to distribute goods across the globe via our ports, airports, roadways, and rail system.
With the #1 and #2 container ports in North America, the Ports of Los Angeles and Long Beach provide reliable and quick access to national and international destinations.
Our ports handle more cargo than any other ports in America, and Los Angeles is the key gateway to and from the U.S.
We handle more than 40% of all the waterborne containerized cargo entering the U.S.  Last year, the Ports of Los Angeles and Long Beach moved over 15.1 million TEUs, or container units.  Combined together, the Ports of Los Angeles and Long Beach would be the 10th busiest port complex in the world.
The private sector has developed a supporting logistics network in the region that is unrivaled.
The industry has built over 660 million square feet of warehouse and distribution space within 80 miles of the 2 ports, making it extremely efficient for goods to reach customers and end-users in a cost-effective manner.
All these assets have helped Los Angeles maintain its position as the premier trade gateway in the Western Hemisphere.
In 2014, we are again ranked as the top trading center of the United States, with the Los Angeles customs district surpassing $414 billion in total trade.
In 2014, LAX handled over 70 million passengers traveling to and from 85 domestic cities and 67 international destinations.
Besides being the second busiest passenger airport in the nation, LAX handles nearly 2 million tons of freight and mail valued at over $91 billion each year.
In 2014, Los Angeles hit another new record of 43.4 million visitors.
The LA Tourism Board has set a goal of reaching 50 million visitors by 2020 and this Tripartite economic alliance can help us achieve that goal.
Today, you are sitting at the center of a revitalized Los Angeles.
In LA, we have been seeing an enormous amount of capital flowing into the region from abroad.
There are a few deals that stand out:
1)       Korean Air's Wilshire Grand tower, an investment of more than $1 billion here in downtown LA.
2)       Wanda Group – $1.2 billion in Beverly Hills
3)       Greenland's Metropolis project- $1 billion
4)       Oceanwide Fig Central- $1 billion
5)       Hazens Luxe Hotel- $700 million
6)       OOCL's investment into the Port of Long Beach – $4.6 billion
7)       Tencent Riot Games- $400 million
Los Angeles is a great international leader with exceptional resources, talent, diversity, culture, and a multi-faceted economy that makes it a global center for business.
We are America's premier destination for business, education, innovation, entertainment and investment.
Los Angeles has never had more to offer, and we could not be more excited to share a future with our wonderful friends from Auckland and Guangzhou that are present here today.
Welcome again to Los Angeles, thank you for being here.  We look forward to a very bright future together.