v.19 n. 24 – Released June 10, 2015
This Week's Headlines:
U.S. Job Growth Accelerates in May
The U.S. Labor Market Report covering the national employment situation in May showed a rebound in employment growth with a gain 280,000 jobs. The unemployment rate edged up to 5.5%, but that was a positive development resulting from 397,000 additional workers entering the labor force. Also encouraging, the average hourly wage increased by $0.08 in May to $24.96. Over the year, average hourly earnings were up by 2.3%.
The employer payroll survey reported that total nonfarm employment in the United States increased by 280,000 jobs in May. Accompanying last month's job gain were revisions to the March figure (revised up from 85,000 jobs to 119,000) and the April number which was revised down slightly from 223,000 to 221,000. With these revisions, the gains in March and April combined were 32,000 more than previously reported. Over the past three months, job gains have averaged 207,000 per month.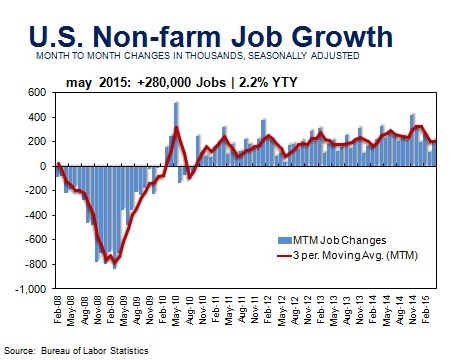 On a year-to-year (YTY) basis, U.S. employment expanded by nearly 3.1 million jobs, an increase of 2.2%. Every major industry sector added jobs over the year with the exception of mining and logging. The mining sector continues to scale back payrolls in response lower energy prices and the resulting decline in energy sector investment. The fastest growing sectors in YTY percentage terms were construction (4.5% or 273,000 jobs); administrative and waste services (4.0%, 340,200 jobs); and professional and technical services (3.5%, 293,500 jobs). In numerical terms, health care services and leisure and hospitality added the most jobs with employment gains of 519,000 and 439,000 respectively.
New record high levels of employment were reached last month in the following super-sectors: trade, transportation and utilities, professional and business services; education and health care; leisure and hospitality and other services.
The unemployment rate ticked up to 5.5%, but for a good reason: more people entered the labor force last month hopeful of finding a job. The year ago unemployment rate was 6.3%; since 1990, the unemployment has averaged 6.1%. According to the Federal Reserve, the natural rate of unemployment currently stands at 5.38%. This figure is used to estimate the amount of slack in the labor market – reaching it would signal the economy has reached full employment.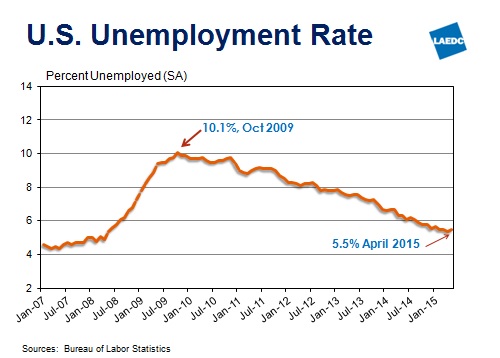 Other labor market indicators in the May report continued to show improvement as well. The more comprehensive U-6 unemployment rate, which counts part-time workers who would prefer full-time work and persons who would like to work but have given up looking for a job, was unchanged over the month but at 10.8% was down from the year ago rate of 12.1%.
Individuals out of work are spending less and less time on the unemployment rolls. The median duration of unemployment in May fell to 11.6 weeks from 14.5 weeks a year ago. Improvements in the labor market have also helped bring down the share of workers who have been jobless for 27 weeks or more. In May, that share was 28.6% versus 34.3% in May 2014. Over the past 12 months, the number of long-term unemployed persons (not counting individuals who have given up looking for work) has fallen by 849,000. In addition, the shift toward full-time work has been steady. The share of full-time workers relative to part-time workers is fast approaching normal levels, reaching 81.6% in May. The long-run average is 82.0%.
Summary: The pace of job growth picked up in May with the largest monthly job gain so far this year. The unemployment rate rose last month, but for a good reason: more people were out looking for work. Hiring was wide spread among most industries and hourly earnings edged up. The strength of the labor market in May sends a strong signal that momentum in the economy is holding up. (Kimberly Ritter-Martinez)
Sources: Bureau of Labor Statistics
Consumer Credit Surges by $20.6 Billion in April
Exceeding expectations for the third month in a row, total consumer credit outstanding increased by 7.3% ($20.6 billion) over the month in April to $3.38 trillion (seasonally adjusted annualized rate). March consumer credit was revised upward from a gain of $20.5 billion to $21.3 billion. Over the 12 months ending in April, total nonmortgage consumer debt was up by 6.6%.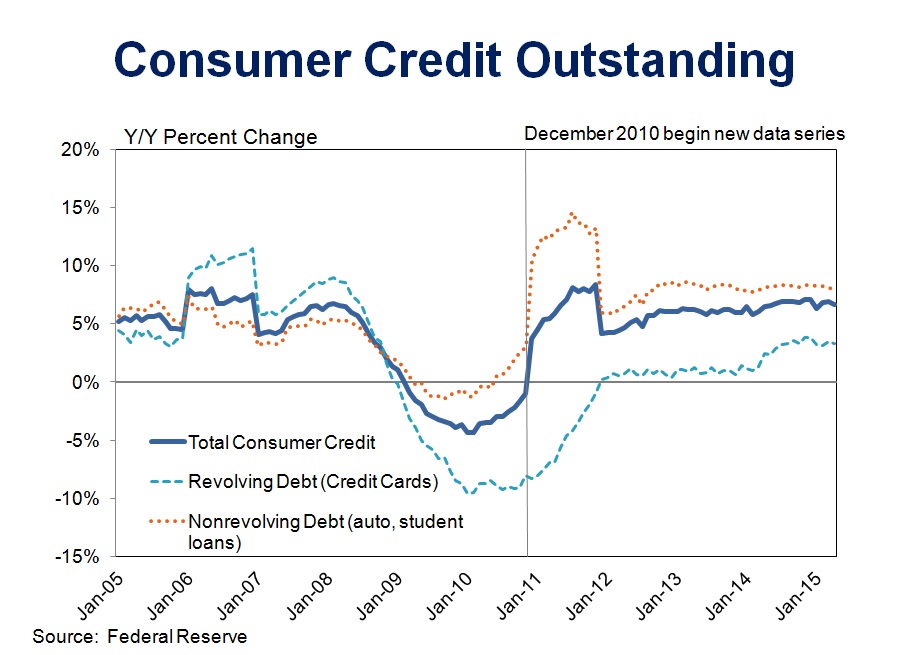 Non-revolving debt, composed primarily of credit for new automobiles and student loans, increased by 5.8% in April or by $12 billion. Over the 12 months ending in April, non-revolving debt was up by 7.9%.
Revolving debt, consisting mainly of credit cards, jumped by 11.6% ($8.6 billion) and over the year to April was up by 3.3%. Since November of 2013, the year-over-year growth of revolving debt has run above its 12-month moving average as steady growth in consumer spending has led to increased demand for credit card borrowing. Even so, total credit card debt is still 12.0% below the peak level reached nearly seven years ago.
The huge run-up in non-revolving credit in recent years has raised concerns that borrowing for education and vehicles was becoming overextended, but recent data indicates this trend has moderated.
On the non-revolving side, the spread between interest rates offered on all accounts (average APR) and the APR offered on accounts that have been assessed interest, has increased. Since higher APRs are associated with higher risk borrowers, the increased spread indicates that either the level of debt accrued by higher risk consumers has increased or that credit card lenders have increased the rate on borrowers that are holding a balance. In any case, while higher levels of consumer debt are associated with an increase in consumer spending, continued growth does have risks.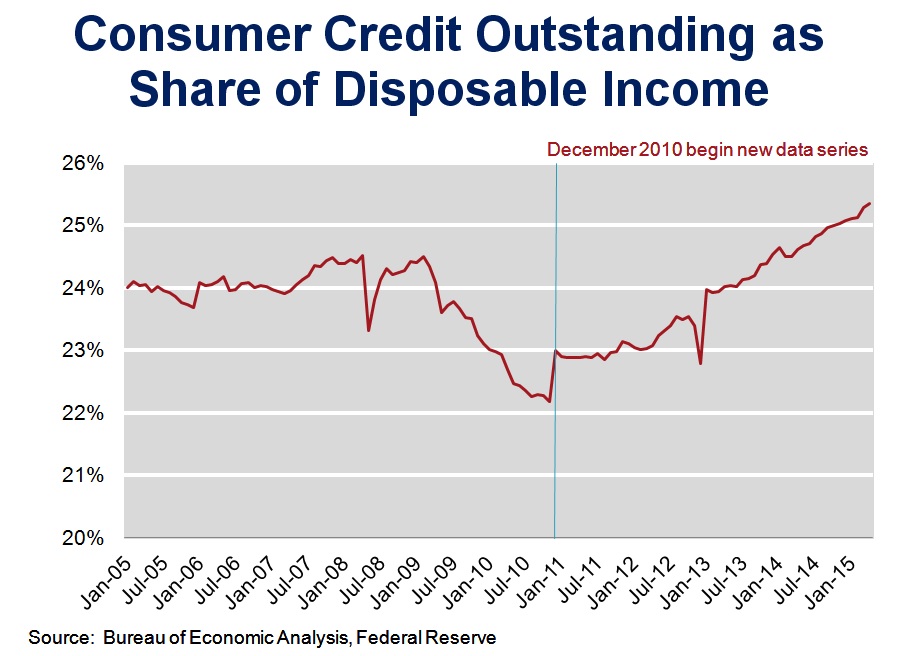 The share of outstanding credit relative to disposable income as risen steadily over the past two years and now stands at 25.3% (the long run average ratio is 22.9%). However, if real disposable income is used, the ratio jumps to 27.5%. (Kimberly Ritter-Martinez)
Source: Federal Reserve
U.S. Light Vehicle Sales Bounce Back in May
Light vehicle sales in May were up by 6.3% over the year to 17.7 million units (seasonally adjusted annualized rate), the fastest sales pace in nearly 10 years. On a per unit volume level, 1.63 million light vehicles were sold, an increase of 1.7% compared with the same period last year. On a month-to-month basis, sales were up by 8.4%.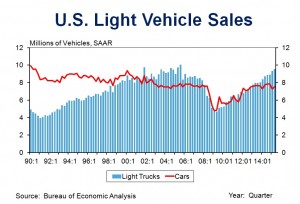 Total passenger car sales, including foreign and domestic models, edged up by just 0.3% over the year to 7.9 million units.
Sales of domestic autos increased by 3.8% over the year to 5.8 million units
Foreign auto sales plunged by 8.5% to 2.1 million units
Compared with April, total passenger car sales rose by 10.2%, end a three month decline
Light trucks, SUVs and crossover utility vehicles remain in high demand. Sales increased by 11.7% over the year to 9.8 million units and accounted for 55.4% of the light vehicle sales mix.
Sales of domestic trucks increased by 8.9% over the year to 8.1 million units
Foreign light truck sales, which comprise only about 20% of the light truck market, were up by 27.2% to 1.7 million units
Compared with April, sales of light trucks increased by 8.3%
Sales of medium-heavy trucks shot up by 12.5% over the year in April and by 2.1% over the month. Since these are vehicles used by firms to haul freight and make deliveries, an increase in sales of these larger trucks is an indication of stronger business activity.
American car buyers seem undeterred by the recent ups and downs in the economy. The strong sales rebound last month has some analysts considering an upgrade from current light-vehicle sales projections of 16.9 million units for 2015. (Kimberly Ritter-Martinez)
Source: Bureau of Economic Analysis
Events of Interest
REGISTER NOW!
Check back for upcoming events.