v.19 n. 23 – Released June 1, 2015
This Week's Headlines:
California Home Sales and Prices in April
The California Association of Realtors released their report on California existing home sales and median prices in April. The statewide median price rose over the 12 months ending in April by 7.4% to $481,760. Compared with March, the median price was up by 2.8%. The April median price was the highest recorded since November 2007.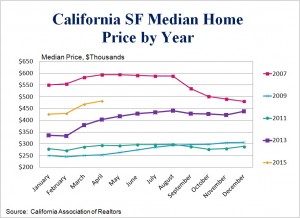 Statewide, the number of single-family homes that closed escrow in April increased by 9.3% over the year to 427,620 units (seasonally adjusted, annualized rate) and rose by 9.2% compared with March. This was the third consecutive month to post a year-over-year increase in sales and was the first time home sales in California rose above the 400,000 mark since October 2013. It appears that at least some of the pent-up demand for housing is finally starting to turn into actual sales.
While the upswing in sales has been a long time coming, the lack of supply is still a concern. Across California, there was a 3.5-month supply of homes for sale in April versus 3.8 months in March and 3.6 months a year ago. In the Los Angeles metro area, the supply of homes for sale fell to 3.8 in April, down from 4.3 in March and in the Inland Empire, the supply was 4.4 months compared with 4.9. The low inventory of homes for sale in California relative to demand continues to push home prices higher.
Mortgage interest rates fell in April after increasing over the previous two months. The average 30-year fixed rate was 3.67%, down from 3.77% in March and down from 4.34% a year ago.
Below is a year-over-year summary of sales and price activity in Southern California by county. Although the statewide sales figures are seasonally adjusted, regional and county figures are not.
Los Angeles County: unit sales increased by 3.2% over the year in April, while the median price rose by 4.9% to $426,580.
Orange County: sales shot up by 19.9% last month but the median price rose by just 3.7% to $705,190.
Riverside County: sales of existing homes rose by 10.3% and the median price increased by 7.9% to $333,520.
San Bernardino County: sales increased by 10.6% in April with the median price rising by 9.9% to $219,150.
San Diego County: unit sales were up by 9.3% and the median price rose by 7.9% to $530,810.
Ventura County: sales jumped by 19.7% over the year while the median price moved up by 4.0% to $598,500.
Sources: California Association of REALTORS
Incomes Improve, but Spending Flat in April
After remaining flat in March, total personal income in the U.S. rose by 0.4% in April. Gains were posted across the board. Wages and salaries, and proprietors' income both increased by 0.2%; rental incomes were up by 0.6%; and income from interest and dividends rose by 1.2%. Government transfers (social security, Medicare, Medicaid, unemployment insurance, veterans' benefits) increased by 0.2%.
Real disposable income (adjusted for taxes and inflation) increased by 0.3% but real personal consumption expenditures were unchanged over the month after rising by 0.4% in March. Spending on durable goods fell by 0.8%, while spending on nondurables edged down by 0.1%. The only spending category to post an increase was services, up by 0.1%. The strong increase in income relative to spending resulted in an increase in the saving rate to 5.6% in April compared with 5.2% in March.
On a year-to-year basis, incomes were up in April compared with March, but overall spending was unchanged:
Real disposable income in April increased by 3.5% versus 3.2% in March
Real personal consumption expenditures were up by 2.7%, the same as in March
Growth in real spending on goods (2.8%) continues to outpace spending on services (2.6%) although in dollar terms, Americans spend more than two times as much on services as they do goods.
Consumer prices were unchanged over the month in April. A decline in goods prices (-0.2%) was offset by slightly higher prices for services (0.1%). Most of the decline in goods prices were due to lower prices for food (-0.2%) and energy (-1.4%). Excluding food and energy, consumer prices ticked up by 0.1% over the month. Over the year ending in April, consumer price inflation increased by just 0.1%.
The fact that consumers are choosing to spend less is helping to keep price inflation in check. Americans appear to be holding on to the extra bit of income they are earning. The flat reading for personal consumption expenditure does not bode well for consumer spending in the second quarter, which has gotten off to a weak start. (Kimberly Ritter-Martinez)
Source: U.S. Bureau of Economic Analysis
Events of Interest
REGISTER NOW!
The LAEDC and the World Trade Center-Los Angeles invite you to attend the 10th Annual International Trade Outlook.
LAEDC International Trade Outlook
Date: Wednesday, June 03, 2015
Location: Westin Long Beach, 333 East Ocean Blvd., Long Beach, CA 90802
While issues like lower energy costs, a stronger dollar, and port capacity will be addressed, this year's International Trade Outlook will also reveal the "trends to watch", overlaying our region's strengths with specific social, demographic and consumer trends in nations that are increasingly more connected to us via trade.
Hear analysis of the two-year trade outlook for the L.A. region, including impact of a stronger dollar and the recent slowdown at our twin ports.
Learn trends that impact trade opportunities in top-5 emerging markets, as well as L.A's top-5 trade partners
Full release of new Taiwan trade report: Growing Together: LA County and TaiwanAttendees will receive the International Trade Outlook report and our new Growing Together: LA County and Taiwan report, which illuminates the trade relationship with our 4th largest trading partner.