v.19 n. 22 – Released May 26, 2015
This Week's Headlines:
April State and Local Employment
The Employment Development Department (EDD) released the state and local employment reports for the month of April. Total California nonfarm employment increased by 29,500 jobs over the month in seasonally adjusted (SA) terms. Last month total nonfarm employment reached 16,012,200 jobs surpassing the 16 million mark for the first time ever.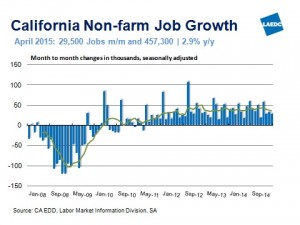 The year-over-year change showed an increase of 457,300 jobs (SA). This equated to a growth rate of 2.9%, outpacing the April national increase of 2.2%. California's private sector added 422,800 jobs (an increase of 3.2%) over the year, while employment in the public sector rose by 1.4% (34,500 jobs)
Ten of the 11 super-sectors added jobs over the year to April: construction; manufacturing; trade, transportation and utilities; information; financial activities; professional and business services; educational and health services; leisure and hospitality; other services; and government for a combined gain of 458,100 jobs. Professional and business services posted the largest gain on a numerical basis, adding 119,500 jobs (up 5.0%), while construction posted the largest gain in percentage terms, increasing by 6.4% or 42,600 jobs.
The only sector to record a decline over the year was mining and logging, down 800 jobs, or 2.6%.
California's unemployment rate fell to 6.3% in April, down from 6.5% in March and down from the year ago rate of 7.8%. The April unemployment rate was the lowest in seven years. The state's civilian labor force edged up by 0.1% over the month and by 1.1% over the year with the addition of 210,200 new entrants to the labor force. The labor force participation rate in California was 62.1% in April compared with the national rate of 62.8%.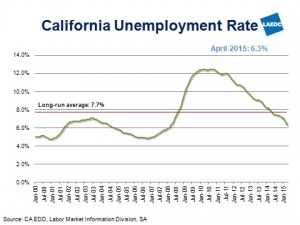 County highlights:
(Note: With the exception of the Los Angeles unemployment rate, county level numbers are not seasonally adjusted, which means there can be large month-to-month fluctuations in jobs counts. A truer picture of how local labor markets are faring is revealed by focusing on the year-over-year numbers. Annual trends "correct" for the seasonal factors that influence certain industry sectors over the course of the year.)
In Los Angeles County, the seasonally adjusted unemployment rate was 7.6%, unchanged from March but below the year ago rate of 8.4%. Total nonfarm employment rose by 9,600 jobs over the month and by 109,600 jobs over the year, an increase of 2.6%.

Educational and health services reported the largest year-over-year gain in employment in April with an increase of 24,300 jobs, over two-thirds of which were concentrated in health care (15,900) and within health care, about half of the newly created jobs were in individual and family services.
Also posting a significant employment upswing was the trade, transportation and utilities sector with a total of 24,200 jobs added over the year; wholesale trade employment was up by 9,800 jobs, retail by 8,800 jobs and transportation, warehousing, and utilities increased by 5,600 jobs.
The remaining industries that posted job gains over the year were leisure and hospitality (up 19,700), government (11,800), professional and business services (10,400), construction (7,800), information (7,000), other services (3,500), and financial activities (1,500).
Only two industries reported year-over-year declines in April: manufacturing (down by 400 jobs), and mining and logging (down by 200 jobs).
In April, the unemployment rate in Orange County was 4.1%, down from 4.4% in March and below the year-ago figure of 5.1%. Nonfarm payroll jobs increased by 3,800 over the month and were up by 50,500 over the year (an increase of 3.4%).
In the Riverside-San Bernardino area, the unemployment rate in April was 6.2% compared with 6.5% in March and the year ago rate of 7.7%. The region gained 4,200 nonfarm payroll jobs over the month and 52,200 over the year. This represented an increase of 4.1%.
In Ventura County, the unemployment rate was 5.1%, down from the year ago estimate of 6.1%. Total nonfarm employment fell by 1,000 jobs compared to March but the number of nonfarm jobs rose by 3,600 (up 1.2%) over the year ending in April.
April was another good month for California's labor markets. The state continues to outpace the nation in terms of job gains with employment growth occurring across a broad spectrum of industries. The local labor markets are also seeing ongoing improvement in terms of year-over-year jobs gains and declining unemployment rates. Throughout the Los Angeles five-county region unemployment rates are now well below the average rate going back to 2000. (Kimberly Ritter-Martinez)
Sources: California EDD
SoCal Home Sales and Median Prices in April
Southern California homes sales increased over the year in April, rising by 8.5% to 21,708 units (new and resale houses and condominiums). This was the second consecutive yearly increase. On a month-to-month basis, home sales in the region were up by 9.9%. The number of homes sold last month was the second highest for the month of April since 2006, just behind April 2013 when 21,795 homes were sold.
The median price across Southern California increased by 6.2% over the year to $429,000 making it the highest median price since it was $435,000 in November 2007. The median price has risen year-over-year every month since April 2012 but is still below peak levels reached prior to the housing crisis. The median price in Orange County climbed to just 7% below the record high reached eight years ago. Los Angeles and San Diego counties are within 12% of peak prices, while in Riverside and San Bernardino, median prices are still about 30% below their high point reached six years ago.
Sales of higher priced homes are still driving market activity. Last month, the number of homes in the six-county region that sold for $500,000 or more accounted for 39.1% of all home sales, up from 35.8% a year ago and was the highest since reaching 40% in November 2007.
Last month was one of the strongest for April since the housing bust, but sales remain below average. The housing market recovery is still unfolding, but progress continues to be impeded by credit and affordability hurdles, tight inventories of existing homes and low levels of new home construction. (Kimberly Ritter-Martinez)

Source: CoreLogic
Events of Interest
REGISTER NOW!
The LAEDC and the World Trade Center-Los Angeles invite you to attend the 10th Annual International Trade Outlook.
LAEDC International Trade Outlook
Date: Wednesday, June 03, 2015
Location: Westin Long Beach, 333 East Ocean Blvd., Long Beach, CA 90802
While issues like lower energy costs, a stronger dollar, and port capacity will be addressed, this year's International Trade Outlook will also reveal the "trends to watch", overlaying our region's strengths with specific social, demographic and consumer trends in nations that are increasingly more connected to us via trade.
Hear analysis of the two-year trade outlook for the L.A. region, including impact of a stronger dollar and the recent slowdown at our twin ports.
Learn trends that impact trade opportunities in top-5 emerging markets, as well as L.A's top-5 trade partners
Full release of new Taiwan trade report: Growing Together: LA County and TaiwanAttendees will receive the International Trade Outlook report and our new Growing Together: LA County and Taiwan report, which illuminates the trade relationship with our 4th largest trading partner.