v.19 n. 20 – Released May 11, 2015
This Week's Headlines:
U.S. Labor Market Rebounds in April
The U.S. Labor Market Report covering the national employment situation in April showed a rebound in employment growth with a gain of 223,000 jobs. The unemployment rate fell to 5.4%, the lowest since May 2008. Average hourly earnings increased by $0.03 in April to $24.87. Over the year, average hourly earnings were up by 2.2%, showing little upward momentum but outpacing inflation.
The employer payroll survey reported that total nonfarm employment in the United States increased by 223,000 jobs in April, returning to trend growth after an extremely weak showing in March. Accompanying last month's job gain were revisions to the February figure (revised up from 264,000 jobs to 266,000) and the March number, which was revised down from a gain of 126,000 jobs to just 85,000. With these revisions, the gains in February and March combined were 39,000 lower than previously reported. Over the past three months, job gains have averaged 191,000 per month.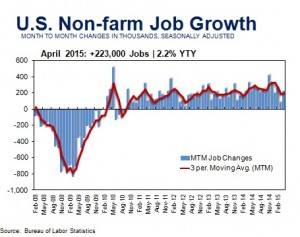 On a year-to-year (YTY) basis, U.S. employment expanded by nearly 3.0 million jobs, an increase of 2.2%. Every major industry sector added jobs over the year and over the month with the exception of mining and logging. The fastest growing sectors in YTY percentage terms were construction (4.6% or 280,000 jobs); professional and business services (3.5%, 654,000 jobs); and leisure and hospitality (3.0%, 434,000 jobs). Reaching new employment peaks were trade, transportation and utilities; professional and business services; education and health care; leisure and hospitality; and other services.
The unemployment rate ticked down to 5.4%; the year ago rate was 6.2%. The April unemployment rate was also well below the average rate (since 1990) of 6.1%. According to data from the Federal Reserve, the unemployment rate that would signal full employment currently stands at 5.16%. Last month, 166,000 individuals entered the labor force bringing the labor force participation rate up to 62.8%, up from 62.7% in March and the same as a year ago.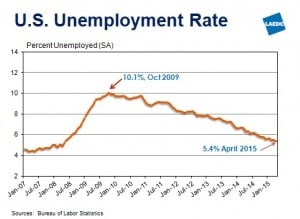 Other labor market indicators in the April report showed improvement as well. The more comprehensive U-6 unemployment rate, which counts part-time workers who would prefer full-time work and persons who would like to work but have given up looking for a job, fell to 10.8% from 12.3% a year ago.
Also encouraging, individuals out of work are spending less time on the unemployment rolls. The median duration of unemployment in April fell to 11.7 weeks from 15.6 weeks a year ago. Improvements in the labor market have also helped bring down the share of workers who have been jobless for 27 weeks or more. In April, that share was 29.0% versus 35.1% in April 2014. During the recession, the share of long-term unemployed climbed past 45%. Over the past year, the number of long-term unemployed persons (not counting individuals who have given up looking for work) has fallen by 888,000. The share of full-time workers relative to part-time workers is also approaching normal levels, coming in at 81.3%. The long-run figure is 82.0%.
Summary: The weakness in the labor markets demonstrated in March appears to have been transitory. The pace of job growth picked up in April and with continued job creation and more people entering the labor force, the unemployment rate fell to 5.4%, the lowest since May 2008. Industries that have been the biggest source of job gains locally (transportation and warehousing, motion picture and sound recording) continued to trend upward nationally in April. The biggest area of concern is currently the slow rate of wage growth, but as the labor markets continue to tighten through the balance of 2015, the pace of wage growth is expected to pick up. (Kimberly Ritter-Martinez)
Sources: US Bureau of Labor Statistics
Lending Standards Little Changed Over Last Quarter
The Federal Reserve recently released results for the April 2015 Senior Loan Officer Survey on Bank Lending Practices. This survey addresses changes in the supply of, and demand for, bank loans to businesses and households during the past three months.
The April Senior Loan Officer survey showed that lending standards for commercial and industrial (C&I) loans were little changed over the past three months. Banks who did report easing standards on C&I loans cited more aggressive competition from other banks or nonbank lenders as their reason for doing so. The small number of banks that tightened either standards or terms on C&I loans did so due to industry specific problems or increased concerns regarding legislative changes, supervisory actions or changes in accounting standards.
With respect to commercial real estate (CRE) lending, banks reported easing standards on construction and land development loans, and some banks reported that they had eased standards on loans secured by multi-family properties. Survey respondents also reported having ease terms on some CRE loans over the past year.
On the demand side, survey respondents indicated having experienced little change in demand for C&I loans, while also reporting that demand for all three categories of CRE (construction and land development; nonfarm nonresidential properties; multi-family residential properties) loans was stronger.
The April survey also asked a special set of questions about lending to firms in the oil and natural gas drilling or extraction sector. Of the banks that made loans to such firms, more than half expected loan quality to deteriorate somewhat this year. Banks also indicated they were taking a variety of actions to mitigate loan losses including restructuring outstanding loans, reducing the size of existing credit lines, requiring additional collateral and tightening underwriting standards for new loans among others.
Asked about loans to households, banks reported having eased lending standards for several categories of residential mortgage loans over the past three months. Most banks reported no change in standards and terms on consumer loans. Demand, on the other hand, increased for residential mortgages, auto loans and credit cards.
Changes in borrowing by businesses and consumers to finance investment and consumption are an indication of confidence levels and the relative strength of the economy. Banks in general have been slowly easing lending standards for several years and demand has mostly trended upward since the end of the recession. (Kimberly Ritter-Martinez)
Source: Federal Reserve
U.S. Light Vehicle Sales Disappoint in April
Light vehicle sales in April were up by 3.1% over the year to 16.9 million units (seasonally adjusted annualized rate), the slowest rate of growth since February 2014 when sales fell by 0.4%. On a per unit volume level, 1.45 million light vehicles were sold, an increase of 4.7% compared with the same period last year. On a month-to-month basis, sales were down by 3.5%.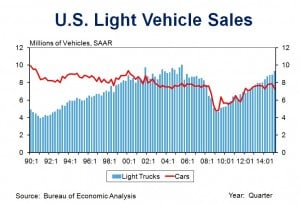 Total passenger car sales, including foreign and domestic models, were down by 2.6% over the year to 7.2 million units.
Sales of domestic autos were nearly flat over the year, edging up by just 0.5% to 5.2 million units
Foreign auto sales plunged by 10.0% to 1.9 million units
Compared with March, total passenger car sales fell by 4.5%. This was the third monthly decline for passenger vehicles
Light trucks, SUVs and crossover utility vehicles continue to dominate the market. Sales increased by 7.9% over the year to 9.3 million units and accounted for 56.5% of the light vehicle sales mix.
Sales of domestic trucks increased by 5.1% over the year to 7.7 million units
Foreign light truck sales, which comprise only about 20% of the light truck market, were up by 23.4% to 1.6 million units
Compared with March, sales of light trucks were down by 2.7%
Sales of medium-heavy trucks, used primarily by businesses to haul freight and make deliveries slowed down last month, rising by just 3.9% over the year in April to 430,000 vehicles.
Light vehicle production remains strong. The industry finished April with a 64-day supply of vehicles compared with 58 days in March but down from 68 days in April 2014. Dealer incentives and fleet sales have been stable, but individual demand is exhibiting some volatility. Still, light vehicle sales are projected to reach 16.9 million units this year matching prerecession volumes. (Kimberly Ritter-Martinez)
Source: US Bureau of Economic Analysis
Consumer Credit: $20.5 Billion Gain in March
Exceeding expectations for the second month in a row, total consumer credit outstanding increased by 7.4% ($20.5 billion) over the month in March to $3.36 trillion (seasonally adjusted annualized rate. February consumer credit was revised down from a gain of $15.5 billion to $14.8 billion. Over the 12 months ending in March, total consumer debt was up by 6.9%.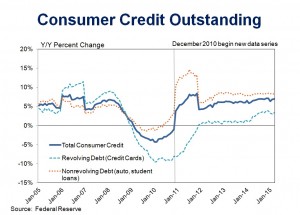 Non-revolving debt, composed primarily of credit for new automobiles and student loans, increased by 7.9% in March or by $16.2 billion. Over the 12 months ending in March, non-revolving debt was up by 8.2%. Non-revolving debt makes up nearly 75% of total consumer borrowing and during the first quarter, student loans were responsible for most of the growth in non-revolving credit.
It appears American consumers shook off winter's chill and went shopping in March. Revolving debt (mainly credit cards), rose by 5.9% ($4.3 billion) after contracting by 3.3% in February. Over the year, credit card debt has risen by just 3.3% and is still 13.0% below the peak level reached in July 2008.
Overall, trend growth for consumer credit remains strong. An expected pickup in consumer spending on discretionary purchases, new vehicles and education through 2015 should fuel additional credit growth. The share of outstanding credit relative to disposable income has risen steadily over the past two years and now stands at 25.3%. The long run average ratio is 22.9%. The increase in consumer borrowing relative to income could be due to consumers feeling more comfortable with taking on additional debt or it may be that low wage growth has pressured some consumers to borrow more to maintain their accustomed level of consumption. (Kimberly Ritter-Martinez)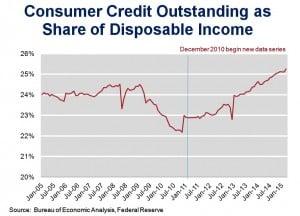 Source: Federal Reserve
Events of Interest
REGISTER NOW!
The LAEDC and the World Trade Center-Los Angeles invite you to attend the 10th Annual International Trade Outlook.
LAEDC International Trade Outlook
Date: Wednesday, June 03, 2015, 8:00am-11:00am
Location: Long Beach, CA