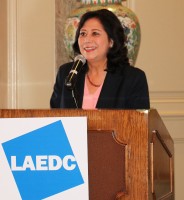 During the April LAEDC Board of Governor's meeting, the featured guest speaker, LA County District 1 Supervisor Hilda Solis discussed a diverse range of economic development priorities, and her goals to foster growth and prosperity for LA County and its residents.
Supervisor Solis touched on many themes, including the importance of providing employment opportunities for residents in economically distressed neighborhoods, for our young adult residents and for veterans, and she expressed support for economic development that uplifts minority and woman owned businesses in particular and small businesses in general.
Supervisor Solis talked about the importance of the new rail lines, the need for affordable housing and trauma centers, the need to reduce traffic congestion, and the great potential of public/private sector partnerships to provide solutions to challenges.  Public/private partnerships are nurturing L.A. County's growing creative, innovation based economy, activating under-utilized public land and transforming the skills of our workforce.
As part of this, Solis sees a need to create employment opportunities for urban area residents who need jobs with career ladders to bring prosperity and stability to their families and communities.  In the area of innovation, she discussed how the Board of Supervisors is actively working with USC to develop a biomedical corridor, and she expressed hope that residents in nearby economically distressed neighborhoods would gain good jobs through such projects.
Supervisor Solis also sees potential in repurposing underutilized existing buildings and more efficiently using under-developed land, for the purpose of creating jobs. During her presentation, she cited specific examples of facilities that have potential to be re-envisioned to create jobs and economic activity such as via a manufacturing corridor, with public/private collaboration.
Supervisor Solis is optimistic about the future and clearly sees economic development as a priority. LAEDC members were glad to have this opportunity to engage in this dialog and look forward to working together with her and her fellow Supervisors.