RECAP OF LAEDC's Fall 2014 Economic Forecast event:
On October 8th, 2014 the LAEDC presented its 2015 Economic Forecast Event.  Here is the report, presentation, and related multimedia.
LAEDC's twice-yearly economic forecast events provide insight and planning information to our members, partners, LA County leaders, and the general public.  For this event, LAEDC shifted its format to include a five-year planning horizon, and with the help of our guests such as Cal State University Chancellor Timothy White and expert panelists, we discussed the drivers in the economy related to education and skills.
GET THE SLIDE PRESENTATION of DR. ROBERT KLEINHENZ, LAEDC:   LAEDC 14-10-08 Kleinhenz
Read media coverage at  LA Times (In 2015, L.A. County is forecast to regain jobs lost during recession), LA News Group papers (California forecast predicts steady job gains, falling unemployment), and LA Business Journal (Forecast – LA County to Hit New Employment Peak in 2015)
What They Said:                  
Robert Kleinhenz, Ph.D., LAEDC Chief Economist said, "We're going to see a very strong finish to 2014. Looking ahead, consumers will see greater discretionary income, and the resulting increases in consumer spending will be all-important to the recovery.  Meanwhile, businesses are poised to expand as the economy performs better, investing in equipment, facilities and intellectual property.  In 2015, we'll see more steady gains in employment and the unemployment rate will drop to the long-run normal range. In California, the digital revolution and technology boom will continue to be a big driver in terms of job creation."
Chancellor Timothy White of the CSU system said, "Back in the day, the Master Plan for Higher Education in California was established and was the envy of the world, and the state made a significant investment and the students made an investment and everybody benefited and we had a great burst of educated folks in California which has driven this economy.
Flash forward to today, these developing and transforming economies in Asia are modeling their higher education systems after the California Master Plan.  The one thing that's different between those master plans and our master plan is they're funding them.  As a consequence, the number of students (overseas) who are earning bachelor's degrees, masters, and Ph.Ds is going way up.
We need to get our elected officials in California to understand that when we talk about the resources needed for the University of California and our many community colleges… that this isn't about "us."  This is about California's future.  That message is one that doesn't seem like a crisis, but those of us who work in this area see it as an enormous long term crisis unless there's a change in the political will to fund public higher education and public higher education research for the good of us all."
 POINTS MADE BY OUR PANELISTS: experts discussed how their workforce needs are changing and made recommendations on the skills needed to remain relevant and in-demand.
Kaiser Permanente: Jodie Lesh, SVP of Strategic Planning and New Ventures
Aerovironment: Michael Bissonette, SVP of Strategic Operations
NBC Universal: Steve Nissen, SVP of Gevernment Affairs
FilmLA:  Art Yoon, EVP
LA Area Chamber of Commerce: David Rattray, SVP    (Moderator)
Steve Nissen of NBC Universal said that people entering the workforce need to be able to work well in teams — including via virtual collaboration with remote offices, as he recalled how Dispicable Me was made on four continents.
Jodie Lesh said that in contrast to globalization, Kaiser Permanente is moving towards extreme localization of hiring, as more community-facing job roles are being looked at to further connect with locally-served residents.  She also says Kaiser looks for applicants who have demonstrated ability to work in teams, to be collaborative and creative in their ability to solve problems.
Michael Bissonette of Aerovironment (pictured in top photo) talked about the vital need for engineers to understand global competitiveness, which means having a broader understanding of the global economy and regional strengths, and develop awareness of value engineering — the ability to design for manufacturing, to design for costs, to design with logistics in mind.  He said that throughout the company, there is no longer room for naiveté about the truths of global markets.  Those who understand global markets are poised for success and will help companies succeed.  He also said that engineers will end up on a project team within a month of taking a job, and those new hires with project team experience from school will have a leg up.
Art Yoon at FilmL.A. said that today, mastery of communications skills and teamwork skills are critical because employers are looking for people who are "workforce ready."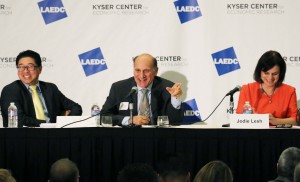 Thanks to our Presenting Sponsors 

Thanks to our Event Sponsors
Thanks to our Media Sponsors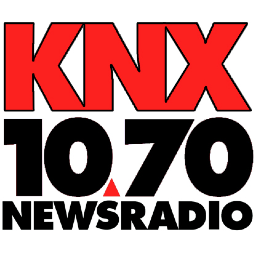 Speakers
Dr. Timothy White
Chancellor, California State University SystemDr. Timothy P. White is the seventh chancellor of the California State University system. With 23 campuses, approximately 427,000 students, and 44,000 faculty and staff, the CSU is the largest four-year public higher education system in the country.White came to the CSU in 2013 after having served as chancellor of University of California, Riverside since 2008. During his time as UCR chancellor, he oversaw growth of the campus to more than 21,000 students, led the formation of the university's strategic plan, and established the new UCR School of Medicine. He also served as professor of Biology and of Biomedical Sciences. Read full bio here
Dr. Robert A. Kleinhenz
Chief Economist, Kyser Center for Economic Research, LAEDC Dr. Robert A. Kleinhenz is the Chief Economist of the Kyser Center for Economic Research at the LAEDC. Dr. Kleinhenz conducts research on the regional, state, and national economies. His fields of expertise include urban and regional economics with emphasis on land use, transportation, and regional forecasts. Dr. Kleinhenz recently served as Deputy Chief Economist at the California Association of REALTORS®. In that role, he managed the Economics Department which gathered and published housing market information on the state of California and its counties, and conducted consumer research. Dr. Kleinhenz is a much sought after regional specialist in Southern California with knowledge of the Los Angeles County economy and its diverse industry sectors.
Frank MottekAnchor, 1070 KNX Radio BusinesshourFrank Mottek is the voice of business news in Los Angeles. An award-winning broadcast journalist with more than 25 years of experience, Frank currently anchors the business reports on KNX 1070 NEWSRADIO. Weekdays at 1 p.m., he hosts the KNX Business Hour, the number one source for business and consumer news in Southern California.
Thank you to our Cooperating Organizations!
Asian American Economic Development Enterprises
BizFed
District Export Council of Southern California
Greater Antelope Valley Economic Alliance
Japan Business Association
Santa Clarita Valley Economic Development Corporation
Southern California Grantmakers
Town Hall Los Angeles