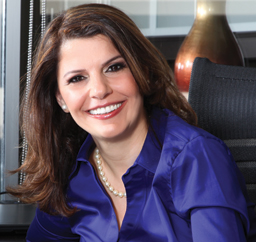 Two very important areas of business that feed the economic engine in L.A. County are international trade and tourism. Both create jobs that rely heavily on international air travel. Each international flight that originates or departs from LA County generates a significant number of jobs. LAEDC is proud to count Turkish Airlines among its membership because of the economic development impact the airline makes on our region, and the engagement that Turkish Airline's management has as great civic stewards. Turkish Airlines has a strong commitment to regional economic development and was a sponsor of the LAEDC Economic Forecast in February 2015.
Fatma Yuceler, Turkish Airlines General Manager for the Western US Region, exemplifies a local leader who is creating jobs through her dedication to expanding LA County's international economic connections. Prior to Fatma Yuceler's arrival in Los Angeles in 2010, no other airline offered direct, non-stop flights to Istanbul from Los Angeles. It was difficult at best to transport people and goods directly into Turkey. Under Yuceler's guidance and hard work, the airline was able to change over to daily flights thus making a huge impact on the Southern California economy.Turkish Airlines flies to more countries than any other airline, serving 264 global destinations. The airline is expanding business connections with LA County and many other global economies.  Los Angeles has become a major hub for the airline under Ms. Yuceler's direction.
According to Yuceler, a key factor in the airline's success and attractiveness is its revamped Turkish Corporate Club Premium (TCCP) Program, which provides companies, organizations and business travelers a convenient and unique travel experience with many advantages, including discounted flights, rebooking/rerouting flexibility and exclusive baggage allowances. For more information on TCCP Program – click here.  Turkish Airlines, was voted "Best Airline in Europe" at the 2014 Skytrax World Airline Awards for the fourth consecutive year.
In addition to serving as a Member of the LAEDC Executive Committee, Ms. Yuceler is the Co- Vice Chair of the Tourism and Entertainment Committee at BIZFED. She was named The Most Compelling Woman by Premier Traveler Magazine and as an honoree of the Los Angeles Business Journal's 22nd Annual Women Making a Difference Awards, which honors the outstanding achievements of female executives throughout Los Angeles County as well as being named International Trade Catalyst of the Year by Women in International Trade – Los Angeles, which aims to celebrate the accomplishments of individuals who have become role models in international trade.