v.19 n. 16 – Released April 15, 2015
This Week's Headlines:
Events of Interest

April 21, 2015: San Gabriel Valley Economic Outlook
June 03, 2015: International Trade Outlook
California Financial Report for March
The State Controller's office has released the March financial report for the California General Fund. Nine months into the fiscal year (2014-15), total receipts were up by 10.3% to $75.0 billion compared with the same period last year. Total disbursements ($92.0 billion) increased by 11.8% over the same period, exceeding cash receipts by $17.0 billion. As of March 31, the state's cash balance stood at -$15.1 billion.
Total revenues (receipts from taxes, licenses, fees or investment earnings) were up by 10.5% to $73.2 billion compared with the first nine months of the previous fiscal year. The majority of California's general fund revenues come from personal income taxes, retail sales and use taxes, and to a lesser extent corporate income taxes.
In March (fiscal year-to-date), personal income taxes increased by 12.3% to $48.1 billion, beating expectations by 2.2% or $1.1 billion.
Corporate income taxes rose by 28.2% to $5.6 billion, running ahead of expectations by 2.8%.
Revenue from sales and use taxes was up by 2.4% to $16.8 billion, surpassing projections by 1.5% or $246.5 million.
The schedule of cash disbursements in the Controller's report showed that expenditures on Local K-12 Education were $34.9 billion during the first nine months of the fiscal year, which was up by 5.2% compared with the previous year. Disbursements to Community Colleges increased by 12.3% to $3.9 billion. Funds received by the UC and CSU systems rose by 11.4% to $4.6 billion. Contributions to CalSTRS (the state teachers' pension fund) increased by 11.3% to $969 million.
Spending for the Department of Corrections rose by 11.5% to $7.3 billion, while outlays for Health and Human Services inched up by 2.3% to $1.8 billion. The amount the state paid to service its debt obligation rose by 10.4% to $3.0 billion (debt service amounts are net of offsets such as federal subsidies and reimbursements from other services).
So far this fiscal year, General Fund revenues are running 2.1% (or $1.5 billion) ahead of projections. Disbursements were also slightly higher than expected – 0.7% or $672.8 million higher than forecast by the Department of Finance.
As of March 31, the General Fund had $31.1 billion in borrowable resources against $15.1 billion in outstanding loans. Included in the borrowable resources amount is $1.6 billion that was transferred last September from the General Fund to the Budget Stabilization Account (aka the "Rainy Day Fund"). The loan balance is comprised by $12.3 billion in internal borrowing and $2.8 billion of external borrowing in the form of revenue anticipation notes. (Kimberly Ritter-Martinez)
Sources: California State Controller's Office
Consumer Credit: $15.5 Billion Gain in February
Exceeding expectations, total consumer credit outstanding (all non-mortgage debt) increased by 5.6% ($15.5 billion) over the month in February to $3.34 trillion (seasonally adjusted annualized rate). January consumer credit was revised down from a gain of $11.6 billion to $10.8 billion. Over the 12 months ending in February, total consumer debt was up by 6.9%.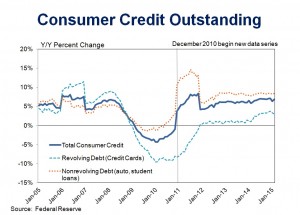 Non-revolving debt, composed primarily of credit for new automobiles and student loans, accounted for all of the increase in February, rising by 9.4% or $19.2 billion. Over the year, non-revolving debt was up by 8.3%.
Revolving debt (mainly credit cards), contracted by 5.0% over the month or $3.7 billion. This was the largest decline recorded since December 2010. Possible reasons are cold February temperatures that kept people at home and higher gasoline prices diverting other discretionary spending. Whatever the case in February, American consumers have shown a reluctance to pile on credit card debt since the onset of the last recession. Over the year, revolving debt rose by just 3.0% and remains 13.5% under the peak level reached in July 2008.
The February report was in line with the general slowdown in economic activity during the first quarter. However, looking ahead to the second quarter, consumer confidence is rebounding, the labor market is approaching full employment and there has been a pick-up in hourly wages which should fuel demand for credit of all types. A recent survey by the Federal Reserve showed that the likelihood of an individual applying for a loan picked up across all credit types with more than 11% of respondents saying they plan to apply for a credit card or an auto loan in the next 12 months. (Kimberly Ritter-Martinez)
Source: Federal Reserve
Events of Interest
REGISTER NOW!
The LAEDC and the World Tradec Center-Los Angeles invite you to attend the 10th Annual International Trade Outlook.
LAEDC International Trade Outlook
Date: Wednesday, June 03, 2015, 8:00am-11:00am
Location: Long Beach, CA
SAVE THE DATE!
Tuesday, April 21, 2015: San Gabriel Valley Economic Outlook
Location: Pacific Palms Resort and Conference Center, City of Industry
Presenting the only study on the San Gabriel Valley Economy. The San Gabriel Valley Economic Outlook, produced by the LAEDC's Kyser Center for Economic Research, provides the information business and community leaders need to make decisions for investment, business expansion and job creation.
Join LAEDC Chief Economist, Robert Kleinhenz who will present the forecast, and a panel of expert speakers who will address energy issues in Southern California. Master of Ceremonies will be Frank Mottek, voice of business news in Los Angeles and anchor of Money News with the CBS all news station.