v.19 n. 15 – Released April 6, 2015
This Week's Headlines:
March U.S. Employment Report Disappoints
The U.S. Labor Market Report covering the national employment situation in March showed weaker than expected job gains but a stronger than anticipated increase in wages. The labor market added 126,000 jobs last month, while the unemployment rate held steady at 5.5%. Average hourly earnings increased by $0.07 in March to $24.86. Over the year, average hourly earnings were up by 2.1%, well ahead of inflation.
The employer payroll survey reported that total nonfarm employment in the United States increased by 126,000 jobs in March, ending a 12 month streak of jobs gains north of 200,000. Accompanying last month's weak job growth figure, were downward revisions to prior months. The January employment number was revised from 239,000 jobs added to 201,000 and the change for February was revised from a gain of 295,000 to 264,000.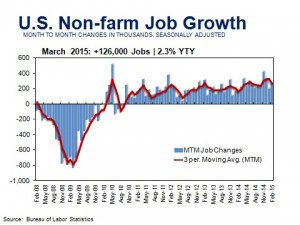 On a year-to-year (YTY) basis, U.S. employment expanded by over 3.1 million jobs, an increase of 2.4%. Every major industry sector added jobs over the year. The fastest growing sectors in percentage terms were construction (4.7% or 282,000 jobs); professional and technical services (3.7%, 307,500 jobs); administrative and waste services (3.6%, 305,500 jobs); transportation and warehousing (3.6%, 163,600 jobs); and leisure and hospitality (3.4%, 490,000 jobs). The manufacturing sector also continued to add jobs on a YTY basis. Jobs in durable goods were up by 2.2% (171,000 jobs), while employment in nondurable goods inched up by 0.4% adding 17,000 jobs.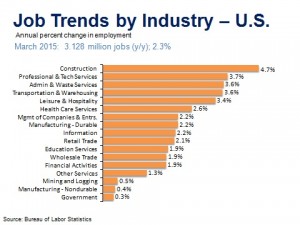 The unemployment rate was unchanged over the month at 5.5%. The year ago rate was 6.6% and the monthly rate has averaged 6.1% since January 1990. Last month 96,000 individuals left the labor force causing the labor force participation rate to tick down 0.1 percentage point to 62.7%. Labor force growth is an important indicator of future economic growth – a decline in labor force creates a labor supply constraint. Over the next several years the BLS projects labor force growth will be due entirely to population growth and that the labor force participation rate will continue to decline.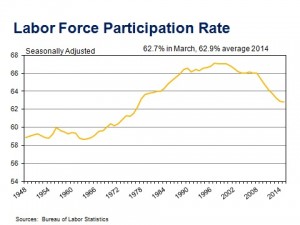 Other labor market indicators in the March report showed improvement. The more comprehensive U-6 unemployment rate, which counts part-time workers who would prefer full-time work and persons who would like to work but have given up looking for a job fell to 10.9% from 12.6% a year ago.
In another encouraging development, someone who was out of work in March would have needed a little over 12 weeks on average to find a new job compared with nearly 16 weeks in March of last year. Improvements in the labor market have also helped bring down the share of workers who have been jobless for 27 weeks or more. In March, that share was 29.8% versus 35.4% in March 2014. Over the year, the number of long-term unemployed persons (not counting individuals who have given up looking for work) has fallen by over 1.1 million. Since 1990, the percentage of long-term unemployed has averaged 25%, reaching as high as 45% in 2010. The share of part-time workers is also approaching normal levels, coming in at 18.7% in March compared with the long-run average share of 18.0%.
Summary: Job growth slowed in March and the two previous months were revised downward. Job gains over the past three months slowed to an average 197,000 – a more modest pace compared with the second half of 2014. Weather likely played a role in the slowdown, similar to what occurred last year. Still, at 5.5%, the unemployment rate is at its lowest since May 2008 and a broad set of industry sectors posted job gains. Moreover, industries that have been the biggest source of job gains locally continued to trend upward nationally in March. (Kimberly Ritter-Martinez)
Sources: US Bureau of Labor Statistics
California Home Sales and Median Prices in February
The California Association of Realtors released their report on California existing home sales and median prices in February. The statewide median price rose over the 12 months ending in February by 5.5% to $428,970. Although median prices have been on the rise for more than two years (on a year-to-year basis), the gains have moderated significantly from a year ago. Compared with January, the median price edge up by 0.5%, halting the month-to-month decline recorded in four of the previous five months. (The statewide median typically experiences a 1.4% month-to-month decline from January to February, based on data going back to 1990).
Statewide, the number of single-family homes that closed escrow in February bumped up by 2.4% over the year to 368,160 units (seasonally adjusted, annualized rate) and rose by 4.7% compared with January, a moderate improvement but a hopeful sign nonetheless as the market transitions to the spring/summer home-buying season.
Inventories are improving throughout much of California. Statewide, there was a 5.0-month supply of homes for sale in February versus 4.7 months a year ago. In the Los Angeles metro area, there was a 5.8-month supply and in the Inland Empire the supply was 6.7 months, both up from a year ago. In the San Francisco Bay Area inventories are still far more constrained — 3.2 months in February, down from 3.3 months last year.
Mortgage interest rates reversed course and edged up in February. The average 30-year fixed rate was 3.71%, up from 3.67% in January but were still down from 4.30% a year ago.
Below is a year-over-year summary of sales and price activity in Southern California by county. Although the statewide sales figures are seasonally adjusted, regional and county figures are not. Sales that are not adjusted for seasonality are usually quite a bit lower from November through February compared with the rest of the year. Meanwhile, the median price typically goes sideways or edges down from late summer through February as the market moves past its typical spring-summer peak.
Los Angeles County: unit sales declined by 3.2% over the year in February while the median price rose by 7.8% to $419,260.
Orange County: sales increased by 6.3% last month but the median price barely budged, inching up by 0.4% to $680,290.
Riverside County: sales of existing homes fell by 7.7%, while the median price increased last month by 6.9% to $323,220.
San Bernardino County: sales edged down by 0.6% in February but the median price rose by 14.7% to $213,930.
San Diego County: unit sales were up by 5.7% and the median price rose by 4.7% to $499,000.
Ventura County: Sales increased by 6.4% the year while the median price moved up by 1.9% to $568,840.
Source: California Association of REALTORS
Personal Income Growth Outpaces Consumer Spending
Total personal income increased by 0.4% in February after rising by the same amount in January, while personal consumption expenditures inched up by just 0.1%.
Personal income includes interest and dividends received by individuals; rental income; proprietors' income; employer contributions to employee pension and insurance funds as well as employer payroll contributions for government social insurance; government transfers to individuals; and of course, wages and salaries, the largest component of personal income for most Americans.
Total wages and salaries were up by 0.3% (or by $23.9 billion) in February, about half of the gain posted in January. Wages in private goods producing industries edged up by just 0.1% ($800 million), while wages in the much larger service sector increased by 0.4% ($21.0 billion). Wages in the public sector grew by 0.2% to $2.1 billion.
Government transfers (social security, Medicare, Medicaid, unemployment insurance, veterans' benefits) also provided a boost to personal income, rising by 0.6% over the month to $15.7 billion.
Real disposable income (adjusted for taxes and inflation) increased by 0.2% in February following a 0.9% jump in January. Real personal consumption expenditures declined by 0.1% after rising by 0.2% in January. Real consumer spending on durable goods dropped by 1.1%, while spending on nondurable goods was flat. Spending on services ticked up by 0.1%. With income growth outpacing spending for the second month in a row, American households increased their saving rate to 5.8%, the highest since late 2012.
On a year-to-year basis:
Real disposable income was up by 3.9%
Real personal consumption expenditures increased by 3.0%
Growth in real spending on goods (3.9%) outpaced spending on services (2.6%)
The current low inflation environment is helping lift consumer purchasing power although higher gasoline prices in February eroded some of that edge. Consumer prices were up by just 0.2% in February after falling by 0.4% during the previous month. Factoring out food and energy prices to arrive at core inflation, prices rose by just 0.1%. Food prices were up marginally (0.1%), while the index for energy goods increased by 1.0%, a sharp change in course after a long string of monthly declines. Over the year, consumer price inflation was just 0.3%, considerably below the Federal Reserve's target range of 2.0%.
Consumer spending was weaker than expected last month, adding to a number of other indicators that point to a lower rate of GDP growth in the first quarter of 2015. On the other hand, personal income growth and real disposable income have been strong and increases in the saving rate over the last few months may support high consumption expenditures going forward. (Kimberly Ritter-Martinez)
Source: U.S. Bureau of Economic Analysis
U.S. Light Vehicle Sales Slow in March
Light vehicle sales in March were up by 3.8% over the year to 17.1 million units (seasonally adjusted annualized rate), the slowest rate of growth since February 2014 when sales fell by 0.4%. On a per unit volume level, 1.54 million light vehicle were sold, an increase of slightly less than 1.0% compared with the same period last year. Still, the pace of sales in March was much better than the 16.2 million unit rate recorded in February.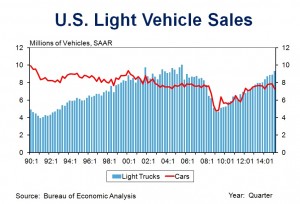 Total passenger car sales, including foreign and domestic models, edged down by 1.0% to 7.5 million units. Sales of foreign models continued their downward trend. Since July of last year, declining sales of foreign made cars have partially or completely offset increases in sales of domestic models.
Sales of domestic autos were flat over the year at 5.4 million units
Foreign auto sales fell by 3.4% to 2.1 million units
Compared with February, total passenger car sales rose by 6.9%, reversing three consecutive month-to-month declines.
Sales of light trucks, SUVs and crossover utility vehicles continue to dominate the market for light vehicles and, in spite of higher gasoline prices in March, the pace of sales is running ahead of prerecession rates. Sales were up by 8.0% over the year to 9.6 million units and accounted for over 56% of the sale mix.
Sales of domestic trucks increased by 7.8% over the year to 8.0 million units
Foreign light truck sales, a much smaller segment of the U.S. truck and SUV market, rose by 8.6% over the year to 1.6 million units
Compared with January, sales of light trucks were up by 4.5%
Sale of medium-heavy trucks, used primarily by businesses to haul freight and make deliveries, continue to be robust, rising by 15.0% over the year in March to 430,000 vehicles.
Part of the reason for the slowing pace of sales are regional weather effects – snow in some sections of the country lingered into March — but the market may also be approaching a natural peak. Car and truck sales have grown at a blistering pace since the end of the recession and are now bumping up against prerecession levels. Growth rates are expected to level off this year as pent up demand from the recession is depleted. (Kimberly Ritter-Martinez)
Source: U.S. Bureau of Economic Analysis
Events of Interest
REGISTER NOW!
The LAEDC and the World Tradec Center-Los Angeles invite you to attend the 10th Annual International Trade Outlook.
LAEDC International Trade Outlook
Date: Wednesday, June 03, 2015, 8:00am-11:00am
Location: Long Beach, CA
SAVE THE DATE!
Tuesday, April 21, 2015: San Gabriel Valley Economic Outlook
Location: Pacific Palms Resort and Conference Center, City of Industry
Presenting the only study on the San Gabriel Valley Economy. The San Gabriel Valley Economic Outlook, produced by the LAEDC's Kyser Center for Economic Research, provides the information business and community leaders need to make decisions for investment, business expansion and job creation.
Join LAEDC Chief Economist, Robert Kleinhenz who will present the forecast, and a panel of expert speakers who will address energy issues in Southern California. Master of Ceremonies will be Frank Mottek, voice of business news in Los Angeles and anchor of Money News with the CBS all news station.