v.19 n. 14 – Released April 1, 2015
This Week's Headlines:
SoCal Home Sales and Median Prices in February
Southern California home sales fell by 2.7% over the year in February to 13,650 units (new and resale houses and condominiums), the lowest level for a February in seven years. Home sales have now fallen on a year-over-year basis in 15 out of the last 17 months. Compared with January, home sales were up by 0.7%, which matches the average January-February increase going back to 1988.
The median price across Southern California increased by 8.4% over the year to $415,000. On a year-over-year basis, the median price has risen for 35 consecutive months, but has not changed much on a month-to-month basis since last fall. Generally, the median price reaches its highest level during the peak season in the summer months and flattens out or edges down through February of the following year.
In February, the region-wide median price was 17.8% below the peak median price of $505,000 reached mid-2007. Orange County has come to the closest (within 8.4%) to reaching its pre-crisis peak of $645,000.
Sales of higher priced homes continued to drive market activity. The number of homes in the six-county region that sold for $500,000 or more rose by 3.9% over the year in February, while sales below $500,000 declined by 9.4% and sales below $200,000 dropped by26.1%.
The first quarter of 2015 is looking very similar the same period in 2014. Many people who would like to buy a home are obstructed by inventory constraints, a restrictive credit environment and rising prices. The big question then as now is whether the inventory situation will improve as the housing market moves into the peak months of spring and summer. After three years of price increases more homeowners have enough equity to sell and trade up. Stronger job growth is boosting demand, but without more inventory, stronger demand will continue to push up prices. When and how much interest rates rise later in the year will also influence the speed and direction of the ongoing housing market recovery. (Kimberly Ritter-Martinez)

Sources: DQ News
State Personal Income in 2014
The Bureau of Economic Analysis recently published a state-by-state report of personal income growth during 2014. Across all states, personal income growth averaged 3.9% in 2014, up from 2.0% in 2013. Inflation, as measured by the national price index for personal consumption expenditures was 1.3% in 2014.
Personal income growth, which includes net earnings, property income and personal current transfer receipts, accelerated in 45 states last year, with growth rates ranging from a low of 0.5% in Nebraska to a high 5.7% in Alaska and Oregon. In California, personal income grew by 4.7% over the year, the eighth fastest rate among the 50 states. On a per capita basis, California ranked tenth in the nation at $50,109 or 109% of the nationwide average.
Net earnings grew by an average of 4.0%, up from 1.8% in 2013. The percent change in net earnings ranged from -0.8% in Nebraska (due to steep drop in farm earnings), the only state to see a decline, to 6.4% in North Dakota where mining and construction accounted for 45.9% of total earnings growth in that state. In California, net earnings were up by 5.2% but growth was more broad-based with several industries making a significant contribution. Leading sectors were professional, scientific and technical services; state and local government; heath care and social assistance; durable goods manufacturing and construction. The only major industries that experienced a decline in earnings were farming and the military; utilities were flat.
Personal current transfer receipts also increased – growing by an average of 4.5% last year compared with 2.7% in 2013. Medicaid benefits were up by 11.1%, Social Security increased by 4.4% and Medicare grew by 2.7%. Medicaid transfer receipts increased by 13.6% in the states where coverage expanded in 2014 under the Affordable Care Act, and by 7.3% in states that did not expand coverage.
Income growth, particularly gains in wages and salaries, has been weak since the end of the recession (just keeping up with inflation), keeping a lid on consumer spending and slowing recovery in the housing market. Upward pressure on wages is starting to build and should increase as the labor markets approach full employment this year. The extent to which middle and low-income households see wages rise this year will play a large role in increased consumer spending and additional economic growth. (Kimberly Ritter-Martinez)
Source: US Bureau of Economic Analysis
California State Tax Revenues Up by 13.0% in 4Q14
The U.S. Census Bureau released figures for fourth quarter state and local tax collections by state and type of tax. At $212.8 billion, total state tax revenues collected across all fifty states (excluding Washington, DC) were up by 5.4% in the fourth quarter of 2014 compared with the same period in 2013. In contrast, tax collections in California were up by 13.0% in the fourth quarter, increasing by $4.1 billion.
All three of California's largest tax revenue categories recorded an increase in collections during the fourth quarter. General sales tax revenues rose by 6.7% to $9.5 billion, coming in just ahead of the national increase of 6.5%. California's corporations paid $2.2 billion in income taxes during the fourth quarter, an increase of 59.0% over the same period a year ago. Corporate tax payments are very volatile and count for only a small share of California's "Big Three" revenue sources. Across the U.S. corporate taxes rose by just 9.1%. In contrast, individual income tax revenues were $16.9 billion in the fourth quarter, an increase of 16.8% over the year. Nationally, personal income taxes were up by 8.9%, the disparity possibly reflecting relatively stronger economic growth and job creation in California.
Altogether, sales and personal income taxes made up 67.0% of state revenues nationwide. California relies more heavily on these two revenue sources. Sales and personal income taxes contributed nearly 75% of total tax revenues during the final quarter of 2014.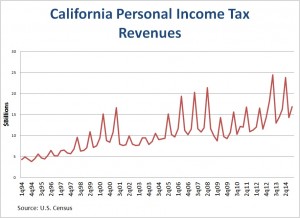 California's reliance on personal income tax (PIT) revenues has become something of a budgeting nightmare for the state. Once a fairly stable and predictable revenue source, personal income taxes have become more volatile (there is also a strong seasonal component to PIT collection). The incomes of the state's wealthiest residents have been growing rapidly while those of the middle class have largely stagnated. The result is wealthier tax payers are accounting for a larger share of the tax revenue pie. The problem for state budget planners is that stock market fluctuations and other hard-to-forecast cyclical events have a much larger impact on incomes at the top, causing revenues from income taxes and capital gains taxes to vary widely from year to year. (Kimberly Ritter-Martinez)
Source: U.S. Census Bureau
Events of Interest
REGISTER NOW!
The LAEDC and the World Tradec Center-Los Angeles invite you to attend the 10th Annual International Trade Outlook.
LAEDC International Trade Outlook
Date: Wednesday, June 03, 2015, 8:00am-11:00am
Location: Long Beach, CA
SAVE THE DATE!
Tuesday, April 21, 2015: San Gabriel Valley Economic Outlook
Location: Pacific Palms Resort and Conference Center, City of Industry
Presenting the only study on the San Gabriel Valley Economy. The San Gabriel Valley Economic Outlook, produced by the LAEDC's Kyser Center for Economic Research, provides the information business and community leaders need to make decisions for investment, business expansion and job creation.
Join LAEDC Chief Economist, Robert Kleinhenz who will present the forecast, and a panel of expert speakers who will address energy issues in Southern California. Master of Ceremonies will be Frank Mottek, voice of business news in Los Angeles and anchor of Money News with the CBS all news station.