v.19 n. 12 – Released March 18, 2015
This Week's Headlines:
January State and Local Employment Report
The Employment Development Department (EDD) released the state and local employment reports for the month of January. This report incorporated revised industry employment data. Each year in March, employment data are updated to reflect additional data inputs and improved estimation techniques.
Total California nonfarm employment increased by 67,300 jobs over the month in seasonally adjusted (SA) terms. This followed a gain of 19,800 jobs (revised) in December.
The year-over-year change showed an increase of 498,000 jobs (SA). This equated to a growth rate of 3.2%, outpacing the January national increase of 2.3%. California's private sector added 447,500 jobs (an increase of 3.4%) over the year, while employment in the public sector rose by 2.1% (50,500 jobs).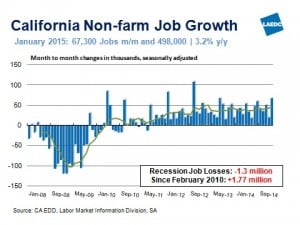 Ten of the 11 super-sectors added jobs over the year to January: construction; manufacturing; trade, transportation and utilities; information; financial activities; professional and business services; educational and health services; leisure and hospitality; other services; and government for a gain of 498,300 jobs. Professional and business services posted the largest gain on a numerical basis, adding 111,900 jobs (up 4.7%), while construction posted the large gain in percentage terms, increasing by 5.7% or 37,800 jobs.
The only sector to record a decline over the year was mining and logging, down 300 jobs or 1.0%.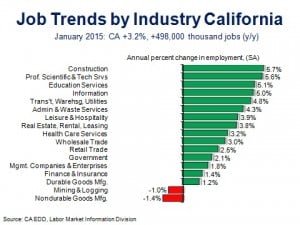 The historical revisions included in the January release showed that California's economy added significantly more jobs in 2014 than initially reported. Before the revisions, the EDD reported employment increased over the year in 2014 by 336,150 jobs (up by 2.2%). After the revisions, nonfarm job counts rose to 461,850, an increase of 3.0% compared with 2013.
California's unemployment rate fell to 6.9% in January, down from 7.1% in December and down from the year ago rate of 8.1%. The state's civilian labor force rose by 0.1% over the month and by 1.3% over the year. This means the unemployment rate in California is falling because the state is adding jobs as opposed to workers dropping out of the labor force. The state's labor force participation rate was 62.0% in January, versus the national rate of 62.9%.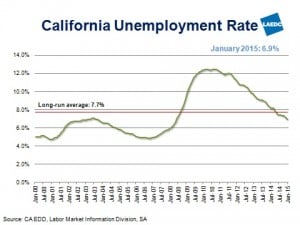 County highlights:
(Note: With the exception of the Los Angeles unemployment rate, county level numbers are not seasonally adjusted, which means there can be large month-to-month fluctuations in jobs counts. A truer picture of how local labor markets are faring is revealed by focusing on the year-over-year numbers. Annual trends "correct" for the seasonal factors that influence certain industry sectors over the course of the year.)
In Los Angeles County, the seasonally adjusted unemployment rate was 7.9%, down from 8.0% in December and below the year ago rate of 8.8%. Total nonfarm employment rose by 62,100 jobs over the month and by 98,200 jobs over the year, an increase of 2.4%. Educational and health services reported the largest year-over rise in employment January with an increase of 26,300 jobs. Most of the increase was due to the addition of 20,100 (76% of the total) health care jobs over the past 12 months.

Also posting significant gains was the leisure and hospitality sector where payrolls expanded by 23,400 jobs. Employment in trade, transportation and utilities was up by 21,800 jobs; and government increased by 11,500 jobs.

The largest year-over decline in employment was in information, which suffered a net loss of 3,700 jobs. Within the information sector, employment in motion picture and sound recording fell by 5,800 jobs but was partially offset by small gains in other sub-industries. Manufacturing gave up 900 jobs, and mining and logging was down by 100 jobs.

In January, the unemployment rate in Orange County was 5.0%, up from 4.7% in December but below the year-ago figure of 6.0% Nonfarm payroll jobs declined by 21,200 over the month but was up by 50,500 over the year (an increase of 3.5%).
In the Riverside-San Bernardino area, the unemployment rate in January was 7.3% compared with 7.0% in December and the year ago rate of 9.0%. Nonfarm payrolls fell by 13,900 jobs over the month but were up by 52,600 jobs over the year. This represented an increase of nearly 4.2%.
In Ventura County, the unemployment rate was 6.4%; down from the year ago estimate of 7.5%. Last month, total nonfarm employment increased by 1,600 jobs. Over the year ending in January, the number of nonfarm jobs in Ventura County was up by 3,600 (up 1.2%).
To sum up, the California labor market remained on track in January while the unemployment rate fell to 6.9%, the lowest rate since may 2009. Moreover, the annual revisions that accompanied this release show that statewide job growth last year was considerably faster than was previously reported. (Kimberly Ritter-Martinez)
Sources: CA Employment Development Department
California Financial Report for February
The State Controller's office has released the February financial report for the California General Fund. Eight months into the fiscal year (2014-15), total receipts were up by 10.6% to $68.1 billion compared with the same period last year. Total disbursements ($81.8 billion) increased by 11.8% over the same period, exceeding cash receipts by $13.8 billion. As of February 28, the state's cash balance stood at -$11.9 billion.
Total revenues (receipts from taxes, licenses, fees or investment earnings) were up by 11.0% to $66.3 billion compared with the first eight months of the previous fiscal year. Most of California's general fund revenues come from personal income taxes, retail sales and use taxes, and corporate income taxes, collectively known as the "big three".
In February (fiscal year-to-date), personal income taxes increased by 12.2% to $44.7 billion, beating expectations by 1.3% or $558.2 million.
Corporate income taxes rose by 41.1% to $4.0 billion, running ahead of expectations by 1.9%.
Revenue from sales and use taxes was up by 4.5% to $15.3 billion, surpassing projections by 2.3% or $342.4 million. The February figure also included a one-time adjustment of $343.3 million for an under-allocation of sales and use tax due to local government in prior fiscal years.
The schedule of cash disbursements in the Controller's report showed that expenditures on Local K-12 Education were $30.3 billion during the first eight months of the fiscal year, which was up by 3.6% compared with the previous year. Disbursements to Community Colleges increased by 6.8% to $3.4 billion. Funds received by the UC and CSU systems rose by 12.0% to $4.1 billion. Contributions to CalSTRS (the state teachers' pension fund) increased by 11.3% to $969 million.
Spending for the Department of Corrections rose by 11.1% to $6.5 billion, while outlays for Health and Human Services increased by 3.6% to $1.6 billion. The amount the state paid to service its debt obligations jumped by 16.3% to $2.5 billion (debt service amounts are net of offsets such as federal subsidies and reimbursements from other services).
So far this fiscal year, General Fund revenues are running 1.6% (or $1.0 billion) ahead of projections. Disbursements were also slightly higher than expected – 0.4% more than forecast by the Department of Finance or $300.2 million.
As of February 28, the General Fund had $29.9 billion in borrowable resources against $11.9 billion in outstanding loans (5.3% less than projected at this point in the budget cycle). The loan balance is comprised of $9.1 billion in internal borrowing and $2.8 billion of external borrowing in the form of revenue anticipation notes, which will be repaid by the end of the fiscal year. (Kimberly Ritter-Martinez)
Source: CA State Controller's Office
Retail Sales Decline for Third Straight Month
In spite of firming consumer confidence and improvements in the labor market, retail sales declined in February for the third consecutive month. Spending on U.S. retail and food services fell by 0.6% last month following a decline of 0.8% in January and 0.0% in December. Core retail sales, which strip out vehicle sales, building supply centers and gasoline stations, were flat.
Weakness in the retail sector was broad based. In February, eight of the thirteen major sales categories posted a decline in sales over the month. The largest drop occurred at motor vehicle and parts dealers where sales fell by 2.5%. Building material and garden supply dealers also posted a sharp decline (-2.3%), followed by electronic and appliance stores, general merchandize stores, and miscellaneous store retailers, all of which saw sales fall by 1.2% over the month. Smaller declines were posted by health and personal care stores (-0.7%); food services and drinking places (-0.6%); and furniture and home furnishings stores (-0.1%).
Not all retailers had cause for complaint last month. Sectors that recorded an increase in February were sporting goods, hobby, book and music stores (2.3%); nonstore retailers (2.2%); gasoline stations (1.5%, on rising prices); and food and beverage stores (0.3%). Sales at clothing and clothing accessory stores were flat.
On a year-over-year basis, total retail sales in February were up by 1.7%. Every major sector posted a gain over the last 12 months except for gasoline stations, which saw sales plummet by 23.0%. The largest gains were in nonstore retailers (8.6%); food services and drinking places (7.7%); and furniture stores (5.8%).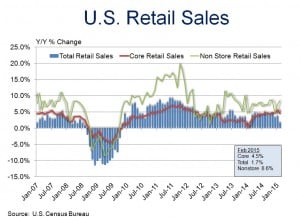 Current trends in retail sales are running counter to improving fundamentals that support increased consumer spending. The obvious culprits are the piles of snow on the ground and the nasty weather that hit a large part of the U.S. again this winter. Although the retail sales numbers are seasonally adjusted, the seasonal factors are based on a history that does not always reflect the situation in the current year. Therefore, if weather is harsher than normal, sales will fall below normal even after accounting for seasonality. Given the booming labor market and recent wage gains, we should see most of the retail sales lost to the winter weather made up as the spring thaw sets in. (Kimberly Ritter-Martinez)
Source: U.S. Census Bureau
Port Slowdown Continues into February
The total number of containers handled at the ports of Long Beach and Los Angeles in February dropped by 15 percent on a year-over-year basis to 915,777 TEUs (twenty-foot equivalent units). For the second consecutive month the San Pedro Bay ports handled less than 1 million TEUs.
At the Port of Los Angeles, total containers fell by 10.2 percent on a year-to-year basis while the Port of Long Beach saw total containers drop by 20.1 percent in February when compared to last year. While activity at the San Pedro Bay ports has been decreasing over the last five months, the steep drop over the last two months is a result of labor disputes and congestion.
Imports (loaded inbound traffic) at the Port of Los Angeles fell by 10.7 percent from February 2014 to February 2015, decreasing from 284,812 TEUs to 254,225 TEUs. Meanwhile, imports at the Port of Long Beach slid by 24.7 percent from February 2014 to February 2015, falling from 271,671 TEUs to 204,462 TEUs. Across both ports, the number of loaded inbound containers slowed by 16.7 percent.
Exports (loaded outbound traffic) at the Port of Los Angeles witnessed a 10.3 percent decline from 146,926 TEUs in February 2014 to 131,807 loaded outbound TEUs in February 2015. Meanwhile, exports at the Port of Long Beach decreased in February with a reported 110,711 loaded outbound TEUs (excluding empties), down 22.9 percent from 143,572 TEUs in February 2014. The combined ports experienced a year-to-year decline for the eighth month in a row, slowing by 16.5%.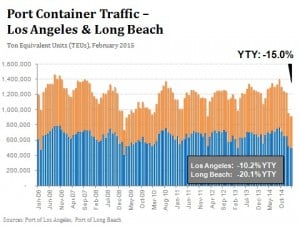 Bottom Line: A strong domestic economy in 2014 contributed to a 4.8 percent rise in loaded inbound containers (imports) at the San Pedro Bay ports. On the other side of the trade ledger, loaded outbound containers (exports) contracted by 2.5 percent as a strengthening U.S. dollar made American goods and services more expensive abroad. Total loaded containers saw gains of 3.8 percent during the last calendar year. Despite a weak start to the year, contract negotiations at the port have ended and cargo activity should pick up as congestion improves. (George Entis)
Source: Port of Los Angeles and Port of Long Beach
Events of Interest
REGISTER NOW!
The Otis College of Art and Design and the LAEDC invite you to experience the 2014 Otis Report on the Creative Economy.
2014 Otis Report on the Creative Economy
In celebration of this year's Otis Report on the Creative Economy, Otis College of Art and Design invites you to an advance screening of The State of Creativity: A Look into the Otis Report on the Creative Economy followed by a conversation on the creative economy. The 2014 Otis Report on the Creative Economy of the Los Angeles Region and the State of California has been prepared by the LAEDC's Kyser Center for Economic Research.
Los Angeles Event: Wednesday, March 11, 2015
Location: The Premiere House at Regal Cinemas L.A. LIVE Stadium 14, 1000 West Olympic Blvd., Los Angeles 90015
Orange County Event: Wednesday, March 18, 2015
Location: Bowers Museum, Norma Kershaw Auditorium, 2002 North Main St., Santa Ana 92706
SAVE THE DATE!
Tuesday, April 21, 2015: San Gabriel Valley Economic Outlook
Location: Pacific Palms Resort and Conference Center, City of Industry
Presenting the only study on the San Gabriel Valley Economy. The San Gabriel Valley Economic Outlook, produced by the LAEDC's Kyser Center for Economic Research, provides the information business and community leaders need to make decisions for investment, business expansion and job creation.
Join LAEDC Chief Economist, Robert Kleinhenz who will present the forecast, and a panel of expert speakers who will address energy issues in Southern California. Master of Ceremonies will be Frank Mottek, voice of business news in Los Angeles and anchor of Money News with the CBS all news station.