v.19 n. 11 – Released March 10, 2015
This Week's Headlines:
February U.S. Employment Report: Strong Hiring Continues
The U.S. Labor Market Report covering the national employment situation in February showed stronger than expected gains that were accompanied by a small uptick in wages. The labor market added 295,000 jobs last month and the unemployment rate dropped to 5.5%. After increasing by twelve cents in January, average hourly earnings on private nonfarm payrolls increased by three cents to $24.78 in February. Over the year, average hourly earnings were up by 2.0%, well ahead of inflation and thus boosting real wages and consumer spending power.
The employer payroll survey reported that total nonfarm employment in the United States increased by 295,000 jobs in February. The December employment figure remained unchanged, but November employment was revised down from 257,000 jobs to 239,000. Job growth has averaged 288,000 jobs over the last three months. February was also the twelfth consecutive month where job gains topped the 200,000 mark.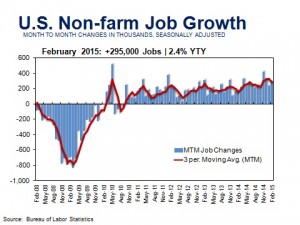 On a year-to-year (YTY) basis, U.S. employment expanded by nearly 3.3 million jobs, an increase of 2.4%. With the exception of mining and logging, every major industry sector including government added jobs over the year, an indication of a stronger and more diverse economy. The fastest growing sectors were construction (5.3% or 321,000 jobs); transportation and warehousing (4.2%, 192,200 jobs); administrative and waste services (3.8%, 322,700 jobs); leisure and hospitality (3.6%, 527,000 jobs); and professional and technical services (3.6%, 296,400 jobs). The manufacturing sector continues to grow as well – jobs in durable goods were up by 2.6% or 195,000 jobs, while employment in nondurable goods edged up by 0.3% or 13,000 jobs.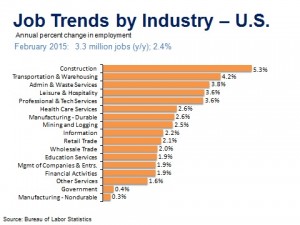 The unemployment rate fell to 5.5% last month from 5.7% in January, which is very close to what many economists consider to be full employment. However, 178,000 individuals left the labor force causing the labor force participation rate to tick down 0.1 percentage point to 62.8%. Since only individuals in the labor force are used to calculate the "headline" unemployment rate, a decline in the labor force will result in a lower unemployment rate, which was partially the case last month; but the unemployment rate continues to fall because the economy has been creating over 200,000 jobs per month over the last year. The last time the economy experienced job growth of this magnitude was back in the late 1990s.
While job gains and a declining unemployment rate point to steady improvement in the labor markets, indicators of underlying distress have also made significant gains. The more comprehensive U-6 unemployment rate, which counts part-time workers who would prefer full-time work and persons who would like to work but have given up looking for a job fell to 11.0% from 12.6% a year ago.
Also encouraging, as of February, someone who is out of work would need a little over 13 weeks to find a new job. A year ago it would have taken over 16 weeks. Improvements in the labor market have also helped to bring down the share of workers who have been jobless for 27 weeks or more. In February that share was 31.1% versus 36.8% in February 2014 (not counting individuals who have given up looking for work). Over the year, the number of long-term unemployed persons has fallen by nearly 1.1 million. Since 1990, the percentage of long-term unemployed has averaged 25%, reaching as high as 45% in 2010.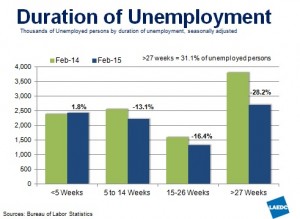 Summary: February was another month of solid, broad-based job, and sustained growth – good news for the economy. The gain in manufacturing jobs and the number of production hours worked was an indication of improving industrial production. There was a loss of 8,000 jobs in the mining sector, mostly in oil and gas extraction, a consequence of declining oil prices. While bad for the energy sector, the net impact of the decline in energy prices has proven to be more than sufficient to offset those losses and provide an overall boost to the economy. (Kimberly Ritter-Martinez)
Sources: US Bureau of Labor Statistics
Consumers Back Off on Auto and Student Loans
Total consumer credit outstanding (all non-mortgage debt) increased by 4.2% ($11.6 billion) over the month in January to $3.33 trillion (seasonally adjusted annualized rate). January consumer credit was revised up from a gain of $14.7 billion to $17.8 billion. Over the 12 months ending in January, total consumer debt was up by 6.9%.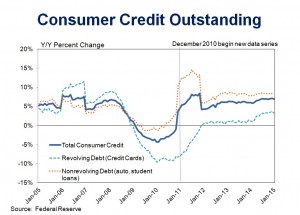 Non-revolving debt is composed primarily of credit for new automobiles and student loans, and makes up nearly three-quarters of non-mortgage consumer debt in the United States. In January, non-revolving debt grew to $2.44 trillion, an increase of 6.3% (or $12.7 billion) over the month. In December, growth in non-revolving debt was initially reported at 4.5%, somewhat below trend, but in the current report, the December growth rate was revised up to 5.8%. On average, this category of consumer debt has expanded by $15.5 billion per month over the last 12 months.
Revolving debt (mainly credit cards) contracted by 1.6% (-$1.1 billion) in January. In December, revolving debt increased at its fastest pace (8.4%) since April of last year. The prevailing pattern of revolving debt since the end of the recession has been a month or two of gains followed by a decline as consumers run up and then pay down their credit cards. Revolving credit tends to be volatile since it is often used for discretionary purchases and more readily impacted by swings in consumer confidence, employment reports and retail prices.
Consumer credit continues to expand at a steady pace and growth is expected to remain solid. Delinquency rates across all types of consumer loan types have continued to decline and remain low relative to the peaks reached in the aftermath of the last recession. Although, there is some concern that given the rapid expansion of student and auto loans, these sectors may be overextended. The ratio of debt-to-disposable income has also been rising steadily and now stands at 25.1%. The long-term average ratio going back to 1995 is 22.9%. (Kimberly Ritter-Martinez)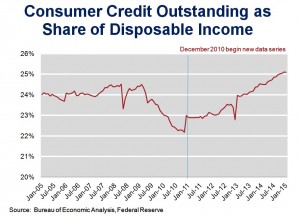 Source: Federal Reserve
U.S. Light Vehicle Sales Pause in February
Light vehicle sales in February were up by 5.4% over the year to 16.2 million units (seasonally adjusted annualized rate), the slowest rate of increase since April 2014. On a per unit volume level, 1.25 million light vehicles were sold, a 5.4% increase compared with February last year when much of the nation was experiencing similar winter weather conditions.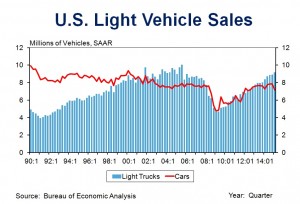 Total passenger car sales, including foreign and domestic models edged down by 1.6% to 7.0 million units. Sales of foreign models have been on a downward trend since July of last year, partially or completely offsetting increases in sales of domestic models.
Sales of domestic autos ticked up by 1.4% over the year to 5.2 million units
Foreign auto sales dropped by 8.9% to 1.9 million units
Compared with January, total passenger car sales were off by 4.1%, the third consecutive month-to-month decline.
Sales of light trucks, SUVs and crossover utility vehicles continue to be brisk in spite of moderate increases in the price of gasoline in February. Sales were up by 11.5% over the year to 9.1 million units and accounted for 56.6% of the sales mix, the highest since the share of light trucks peaked at 61.1% in July 2005.
Sales of domestic trucks increased by 12.1% over the year to 7.7 million units
Foreign light truck sales, a much smaller segment of the U.S. truck and SUV market, rose by 8.8% over the year to 1.4 million units
Compared with January, sales of light trucks were down by 0.9%
Sale of medium-heavy trucks, used primarily by businesses to haul freight and make deliveries, posted another large gain last month, rising by 23.4% over the year in February to 453,000 vehicles.
The more moderate pace of sales in February was likely due regional weather effects. If so, the slowdown should reverse course as the automotive industry moves into the spring selling season. All the fundamentals supporting light vehicle demand (low fuel prices, available credit, expanding employment, and improvements in the construction industry) remain intact. (Kimberly Ritter-Martinez)
Source: U.S. Bureau of Economic Analysis
Events of Interest
REGISTER NOW!
The Otis College of Art and Design and the LAEDC invite you to experience the 2014 Otis Report on the Creative Economy.
2014 Otis Report on the Creative Economy
In celebration of this year's Otis Report on the Creative Economy, Otis College of Art and Design invites you to an advance screening of The State of Creativity: A Look into the Otis Report on the Creative Economy followed by a conversation on the creative economy. The 2014 Otis Report on the Creative Economy of the Los Angeles Region and the State of California has been prepared by the LAEDC's Kyser Center for Economic Research.
Los Angeles Event: Wednesday, March 11, 2015
Location: The Premiere House at Regal Cinemas L.A. LIVE Stadium 14, 1000 West Olympic Blvd., Los Angeles 90015
Orange County Event: Wednesday, March 18, 2015
Location: Bowers Museum, Norma Kershaw Auditorium, 2002 North Main St., Santa Ana 92706
SAVE THE DATE!
Tuesday, April 21, 2015: San Gabriel Valley Economic Outlook
Location: Pacific Palms Resort and Conference Center, City of Industry
Presenting the only study on the San Gabriel Valley Economy. The San Gabriel Valley Economic Outlook, produced by the LAEDC's Kyser Center for Economic Research, provides the information business and community leaders need to make decisions for investment, business expansion and job creation.
Join LAEDC Chief Economist, Robert Kleinhenz who will present the forecast, and a panel of expert speakers who will address energy issues in Southern California. Master of Ceremonies will be Frank Mottek, voice of business news in Los Angeles and anchor of Money News with the CBS all news station.