v.19 n. 07 – Released February 12, 2015
This Week's Headlines:
Events of Interest

February 18, 2015: LAEDC Economic Forecast Event Featuring Tourism and Hospitality
January Labor Market Report: Strong Hiring Continues
The U.S. Labor Market Report covering the national employment situation in January showed strong gains that were accompanied by a rebound in wages. The labor market added 257,000 jobs last month and although the unemployment rate edged up to 5.7%, that was because there were over one million new entrants to the labor force last month. After falling by five cents in December, average hourly earnings on private nonfarm payrolls increased by twelve cents to $24.75. Over the year, average hourly earnings were up by 2.2%.
The employer payroll survey reported that total nonfarm employment in the United States increased by 257,000 jobs in January. The change in November employment was revised from 353,000 jobs added to 423,000, and the change in December was revised from 252,000 jobs to 329,000. With these revisions, employment gains in November and December were 147,000 more than previously reported. Job growth has averaged 336,000 jobs over the last three months, a pace not seen since 1977. In addition, annual revisions completed by the BLS showed that employment increased by 194,000 more jobs in all of 2014 than previously reported.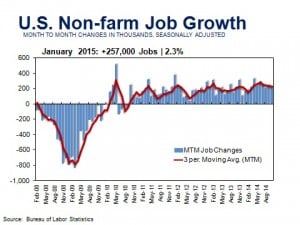 On a year-to-year (YTY) basis, U.S. employment expanded by 3.21 million jobs, an increase of 2.3%. Every major industry sector, including government added jobs over the year. The fastest growing sectors were construction (5.1% or 308,000 jobs); administrative and waste services (4.2%, 356,000 jobs); mining and logging (4.1%, 36,000 jobs); professional and technical services (3.8%, 315,500 jobs); and transportation and warehousing (3.4%, 155,800 jobs). The manufacturing sector also posted an increase in employment – jobs in durable goods were up by 2.8% or 210,000 jobs, while employment in nondurable goods inched up by 0.4% or 18,000 jobs.
The unemployment rate edged up to 5.7% last month from 5.6% in December. However, there were over a million new entrants to the labor force last month. The labor force participation rate bumped up by two tenths of a percentage point to 62.9%. The labor force participation rate peaked in the late 1990s at 67.1% and has been declining ever since. The more comprehensive U-6 unemployment rate, which counts part-time workers who would prefer full-time work and persons who would like to work but have given up looking for a job, was 11.3%, down from 12.7% a year ago.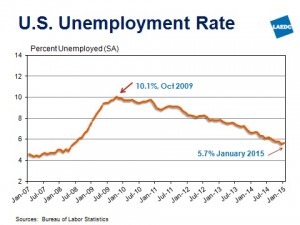 The percentage of long-term unemployed (over 27 weeks) was down significantly over the year to January. Last month 31.5% (or 2.8 million people) of all unemployed persons have been out of work more than six months compared with 35.6% a year ago and down from 31.9% in December. The median duration of unemployment was 13.4 weeks, up from 12.6 weeks in December, but down from 15.9 weeks in January 2014.
Summary: Momentum from the last part of 2014 carried into January with the strongest yearly job gains in nearly 15 years. The upward revisions to the 2014 employment numbers and the strong start to 2015 tell us growth in the labor markets remains solid. The ratio of part-time workers to full-time jobholders is approaching its long-run average, more people are returning to the labor force and upward pressure on wage growth appears to be building. Significantly, industries that have been the biggest source of job gains locally fared very well nationally in January. (Kimberly Ritter-Martinez)
Source: US Bureau of Labor Statistics
U.S. Light Vehicle Sales Off to a Strong Start
Light vehicle sales in January were up by 9.0% over the year to 16.6 million units (seasonally adjusted annualized rate), mainly on the strength of light truck sales. On a per unit basis, 1.15 million vehicles were sold, an increase of 14.0% compared with year ago levels.
Total passenger car sales, including foreign and domestic models ticked up by 3.2% to 7.3 million units. Over the last several months sales of domestic models have been relatively strong, but weaker demand for foreign passenger cars have pulled down the overall increase.
Sales of domestic autos increased by 7.3% over the year to 5.4 million units
Foreign auto sales dropped by 6.8% to 1.9 million units
Compared with December, total passenger car sales were off by 7.3%
Lower gasoline prices continue to support brisk sales of light trucks, SUVs and crossover utility vehicles. Sales were up by 14.0% over the year to 9.2 million units and accounted for 55.8% of the sales mix, the highest since the share of light trucks peaked at 61.0% in July 2005. With gasoline prices expected to remain low through the first half of 2015, coupled with an improved outlook for the construction industry, light truck sales should hold on to their current momentum.
Sales of domestic trucks increased by 14.2% over the year to 7.9 million units
Foreign light truck sales, a much smaller segment of the U.S. truck and SUV market, rose by 12.6% over the year to 1.3 million units
Compared with December, sales of light trucks were up by 3.8%
Sales of medium-heavy trucks, used primarily by businesses to haul freight and make deliveries, shot up by 31.4% over the year in January to 473,000 vehicles, the fastest rate since January 2007 when heavier trucks sold at a pace of 492,000 units.
January's selling rate was slightly slower than December's pace, but it was good enough to kick off 2015 on a strong note. Although 2014 got off to a slow weather-impacted start, it was the best year for light vehicles sales in eight years. All of the factors that supported sales of cars and trucks last year (easier credit conditions, low interest rates, churn of old vehicles, rising employment and later in the year, lower gas prices) are expected to continue in 2015. (Kimberly Ritter-Martinez)
Source: US Bureau of Economic Analysis
Events of Interest
SAVE THE DATE!
Location: L.A. Downtown Hotel; 333 S. Figueroa St., Los Angeles 90071
LAEDC's Economic Forecast is our region's most established and valuable event offering intelligence about our business and jobs climate.
Join LAEDC Chief Economist, expert speakers, and hundreds of leaders as we present the 2015-2016 forecast for LA County, our region, and the U.S. This year, the event's focus is on our regional tourism and hospitality industry cluster, the challenges and opportunities it faces and the forecast for growth in the industry. Because this industry factors into the success of so many sectors – from entertainment to arts and culture, from international trade to Foreign Direct Investment, we encourage you to sponsor and attend.