v.19 n. 05 – Released January 26, 2015
This Week's Headlines:
December State and Local Employment Report
The Employment Development Department (EDD) released the state and local employment reports for the month of December. Total California nonfarm employment increased by 700 jobs over the month in seasonally adjusted (SA) terms. This followed a gain of 82,800 jobs (revised) in November. In nonseasonally adjusted terms, the state gave up 2,700 jobs last month.
The year-over-year change showed an increase 320,300 jobs (SA). This equated to a growth rate of 2.1%, matching the December national increase in nonfarm jobs. California's private sector added 323,800 jobs (an increase of 2.5%) over the year, while employment in the public sector edged down by 0.1% (3,500 jobs).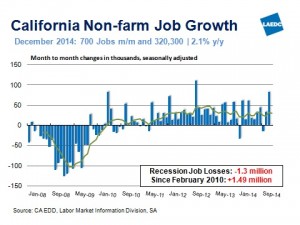 Eight of the 11 super-sectors added jobs over the year to December: mining and logging; construction; manufacturing; trade, transportation and utilities; information; professional and business services; educational and health services; and leisure and hospitality for a gain of 325,000 jobs. Professional and business services posted the largest gain on both a numerical and percentage basis, adding 110,900 jobs and increasing by 4.7%.
The three sectors that posted a decline in employment last month were financial activities (down 4,700 jobs); other services (1,000 jobs); and government (3,500 jobs).
California's unemployment rate fell to 7.0% in December, down from 7.2% in November and down from the year ago rate of 8.3%. The state's unemployment rate has now been well below the long-run average unemployment rate of 7.7% for several months. California's civilian labor force rose by 0.1% over the month and by 1.5% over the year. This means the unemployment rate in California is falling for the right reason: the state is adding jobs as opposed to workers dropping out of the labor force. The state's labor force participation rate is currently 62.3%, slightly lower than the national rate of 62.7%.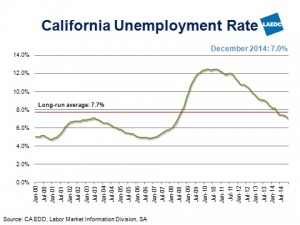 County highlights:
(Note: With the exception of the Los Angeles unemployment rate, county level numbers are not seasonally adjusted, which means there can be large month-to-month fluctuations in jobs counts. A truer picture of how local labor markets are faring is revealed by focusing on the year-over-year numbers. Annual trends "correct" for the seasonal factors that influence certain industry sectors over the course of the year.)
In Los Angeles County, the seasonally adjusted unemployment rate was 7.9%, down from 8.0% in November and below the year ago rate of 9.2%. Total nonfarm employment rose by 7,300 jobs over the month and by 70,600 jobs over the year, an increase of 1.7%.

Educational and health services posted the largest year-over-year gain in December with an increase of 26,500 jobs. Most of the increase was due to the addition of 22,000 health care jobs over the past 12 months.

Also posting solid employment growth was professional and business services with a gain of 19,300 jobs. Breaking that down by subsector, administrative, support and waste services added 11,000 jobs, employment in professional, scientific and technical services increased by 5,100 jobs and management of companies and enterprises was up by 3,200 jobs. Leisure and hospitality added 11,300 jobs over the year, while trade, transportation and utilities employment was up by 11,000.

The largest job declines continue to be in the manufacturing sector. Nondurable goods employment was down by 4,500 jobs, most of which were in apparel and food manufacturing. Durable goods lost 2,200 jobs mostly in computer and electronic product manufacturing (-1,600 jobs). While Los Angeles County still has the largest manufacturing employment base in the nation it has not shared in the employment gains seen elsewhere in the country.

In December, the unemployment rate in Orange County was 4.4%, down from 5.0% in November and below the year-ago figure of 5.3%. The average unemployment rate for Orange County, going back to 2000 is 5.6%. Nonfarm payrolls increased by 800 jobs over the month and by 33,500 over the year (an increase of 2.3%).
In the Riverside-San Bernardino area, the unemployment rate in December was 7.2% compared with 8.0% in November and was below the year ago rate of 8.7%. This was the lowest unemployment rate for the Inland Empire since April of 2008 when it was 6.7%. Nonfarm payrolls increased by 4,700 jobs over the month and were up by 24,700 jobs over the year. This represented an increase of 1.9%.
In Ventura County, the unemployment rate was 5.9%; down from the year ago estimate of 7.0%. Last month, total nonfarm employment increased by 1,600 jobs. Over the year ending in December, the number of nonfarm jobs in Ventura County was up by 5,800 (up 2.0%).
To sum up, the California labor market remained on track in December with the unemployment rate falling to 7.0%, the lowest in five and a half years. The state registered solid job gains for all of 2014, outpacing the nation in yearly percentage terms for the third straight year. Los Angeles County and the rest of the Southern California region finished the year with unemployment rates that improved considerably throughout 2014. Job gains occurred in a number of local industries, led by health care and social services, professional and business services, and leisure and hospitality. Local economic conditions should improve further in 2015, as the national economy continues to expand. (Kimberly Ritter-Martinez)
Source: California EDD
California Home Sales and Median Prices in December
The California Association of Realtors released their report on California existing home sales and median prices in December. The statewide median price rose over the 12 months ending in December by 3.1% to $452,570. Compared with November, the median price was up by 1.7%, ending three months of price declines. The statewide median price has risen on a year-to-year basis for more than two years, but price gains have moderated considerably over the past few months.
In the Los Angeles metro area, the median price increased at a slower rate than the statewide average, inching up by 2.8% to $411,050 in December, while in the San Francisco Bay Area, prices moved higher by 8.9% to $718,370.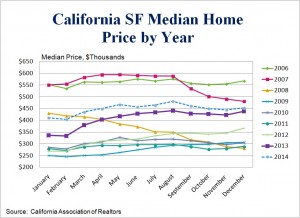 Statewide, the number of single-family homes that closed escrow in December edged up for the first time in nearly a year and a half. Home sales in California were up over the year by 0.6% to 366,000 units (seasonally adjusted, annualized rate), but were down from November by 2.9%. There were some pockets that saw sales gains in sales last year, notably the Central Valley and Southern California, but sales continued to trend down in the Bay Area where inventories are the tightest in the state. In December, the Bay Area had just a 1.7-month supply of homes for sale versus a 3.8-month supply (still low) in the Los Angeles metro area.
For all of 2014, an estimated 383,320 single-family homes closed escrow in California, which was down by 7.6% compared with 414,900 homes in 2013.
Mortgage interest rates fell again in December. The average 30-year fixed rate was 3.86%, down from 4.00% in November and 4.46% a year ago.
Here is a year-over-year summary of sales and price activity in Southern California by county. Sales results were mixed across the region while prices continued to climb.
Los Angeles County: unit sales were down by 0.8% over the year in December while the median price increased by 5.6% to $464,650.
Orange County: sales declined by 2.8% last month but the median price edged up by 0.9% to $683,490.
Riverside County sales of existing homes increased by 2.3%; the median price rose by 3.9% to $322,020.
San Bernardino County: sales were up by 5.5% in December; the median price rose by 8.5% to $216,020.
San Diego County: unit sales increased by 6.8% and the median price rose by 3.1% to $494,500. (Kimberly Ritter-Martinez)

Source: California Association of REALTORS

How Much Does the United States Spend to Treat Different Medical Conditions?

Health care is a large and growing share of the U.S. economy – 17.4% of GDP in 2013. In order to provide more detail on this important sector, the Bureau of Economic Analysis (BEA) has developed the Health Care Satellite Account (HCSA). With this new account, BEA aims to improve the measurement of health care spending, and help researchers and policymakers better understand this sector's spending and trends. Providing statistics for health care spending by disease is the first step in developing an account that would allow one to better assess the value in health care spending.

Source: US Bureau of Economic Analysis

Events of Interest

SAVE THE DATE!

Location: L.A. Downtown Hotel; 333 S. Figueroa St., Los Angeles 90071

LAEDC's Economic Forecast is our region's most established and valuable event offering intelligence about our business and jobs climate.

Join LAEDC Chief Economist, expert speakers, and hundreds of leaders as we present the 2015-2016 forecast for LA County, our region, and the U.S. This year, the event's focus is on our regional tourism and hospitality industry cluster, the challenges and opportunities it faces and the forecast for growth in the industry. Because this industry factors into the success of so many sectors – from entertainment to arts and culture, from international trade to Foreign Direct Investment, we encourage you to sponsor and attend.